DIVERSIFIED agribusiness investor the Manildra Group has launched a public expressions of interest campaign to sell its Cootamundra multi-species abattoir in the NSW Riverina region.
The troubled plant has been mothballed since early 2017, in the face of soaring cattle and sheep prices at the time, and a "critical lack of livestock supply and export markets unwilling or unable to pay more for Australian meat."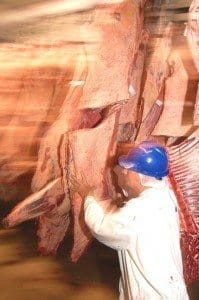 Export licensed for both beef and lamb, Cootamundra processed up to 4200 sheep and 200 cattle daily when it operated, delivering output of up to 800,000 lamb and 25,000 beef carcases each year.
Current owner Manildra Group fought off Chinese investor competition to purchase the abattoir from original owners GM Scott in 2014, just before the surge in livestock prices occurred. The investment was made to diversify Manildra's agribusiness interests, which include flour and sugar milling, stockfeeds, ethanol production and other commodities.
Sale advertisements appeared this week, directing expressions of interest inquiries to ANZ's corporate advisory division.
The prospectus describes Cootamundra as a "modern, efficient and low-cost processing facility, currently in care and maintenance, and able to quickly return to production."
The plant held export accreditation to major markets and retained established domestic and international customer relationships, the notes said. Growth opportunities included expanding cold storage capacity and upgrading the plant to apply for China accreditation.
Original lowers GM Scott invested about $7 million in a major plant upgrade in 2012 through a new processing floor, with a view to upgrading from tier-one to tier-two export status, opening up premium export markets like Japan, Korea and the US. The upgrade was started well in advance of any decision to sell the plant. Cootamundra also employed a retail-ready line producing case-ready MAP and Darfresh packed beef and lamb.
In December, current owners Manildra Meat Co confirmed to Beef Central that a sale process was 'well advanced', but chose not to comment on details until it was finalised.
Rumours at the time suggested a deal was close to being signed with veteran processor Joe Catalfamo's Australian Meat Group, which operates the former Castricum-owned export-licensed beef plant at Dandenong, south of Melbourne, and a smallstock plant processing 3000 lambs and sheep a day at Deniliquin. Mr Catalfamo was the owner of the Tasman Group, which sold its six Victorian and Tasmanian processing and lotfeeding interests to JBS in 2008.
Local livestock industry sources in the Cootamundra area late last year said there had been rumours circulating for several weeks that a Chinese consortium might be lining up to purchase the plant.
An ANZ corporate advisory spokesman would not provide further details when approached this week about the sale.
The current expressions of interest process has been interpreted in two ways:
Several industry contacts suggested a foreign investor might already be engaged to purchase the asset, and the current campaign might be appearing simply in order to comply with Foreign Investment Review Board requirements designed to give domestic investors a 'fair go' in securing Australian food production assets.
Others said the campaign was more likely to represent a new marketing process, after earlier discussions with prospective buyers fell through.
At the time it closed the factory in February 2017, Manildra Meat Co said the plant would not be put on the market, but would remain closed until trading conditions improved. Three months earlier in December 2016, Cootamundra lost its lamb supply contract with Woolworths, which accounted for about 1500 lambs a day.
Through its stockfeeds and by-products connections, Manildra established a feeder cattle business some years ago, and started its investment in the meat sector in 2013 through a joint venture in a retail-ready boning room operated as Argyle Prestige Meats.
The Cootamundra plant received a significant industry accolade in 2012, earning the Australian Meat Processors Corporation Innovation Award for its development work with a robotic lamb carcase cutter. It also became one of the first processors in Australia to undertake a carbon mitigation project, receiving Federal Government funding support under a $200,000 project to improve efficiency in the facility's two industrial refrigeration units.