IT'S official: Construction of the first significant greenfield beef processing plant to be built in Queensland in more than 20 years will begin on November 1.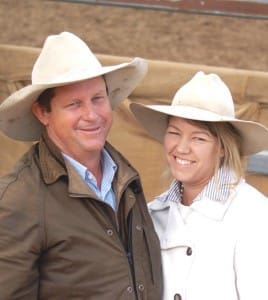 After four years of detailed planning and approval applications, a new $27.9 million facility will be built by Signature OnFarm, part of Blair and Josie Angus' Angus Pastoral Company, on their property Sondella Station, 125 kilometres north west of Moranbah, with a time frame pointing to operation of the plant commencing late next year or early 2021.
There have been a number of significant investments to rebuild, refurbish or modernise large scale Queensland abattoirs in recent decades, such as Gympie, Beenleigh, Dinmore, Kilcoy and Oakey, among others.
But this project is, to the best of Beef Central's knowledge, the first major new processing plant to be built on a greenfield site in the State since the construction of the Coominya abattoir west of Brisbane in the 1990s.
In addition to processing cattle under the Angus' own Signature Beef brand, the new abattoir will give other producers in Central Queensland access to a local, state of the art custom kill service.
The 'boutique-scale' facility will be export accredited and will have the capacity to process up to 200 cattle per day when fully operational.
Bespoke processing
A feature will be a unique degree of customisation and specialised processing capability throughout the plant.
"It is designed to be able to be very bespoke in how it processes, particularly in the boning room," Josie Angus explained to Beef Central this morning.
"Everything is a cellular design so you can be running a different spec on each individual animal and it doesn't then affect the overall productivity of the boning room because it is that cellular design.
"It is basically one team of people working on one animal rather than a chain scenario."
Blair Angus said the on-farm facility would eliminate the need for live cattle to be transported interstate for specialist processing services some 1250 kilometres away.
"At Signature Beef we pride ourselves on our quality, and having the abattoir just 500 metres from the feedlot will improve animal welfare resulting in a superior finished product," Mr Angus said in a statement released by the Queensland Government announcing the new plant yesterday.
The project will also include the construction of a workers' village to cater for up to 70 employees, including abattoir workers and other support staff.
The Angus Pastoral Company is a privately-owned, fourth-generation cattle breeding operation that dates back to 1960.
Starting with a single farm, the company has grown into a significant supplier of beef, running 35,000 cattle across four properties on 400,000 acres of prime cattle country in central Queensland.
In addition to supplying the domestic market, the Angus Pastoral Company has been growing international demand for its premium beef products under its Signature brands for the past 13 years, and this understanding of export markets will assist the company's expansion plans.
The provision of service kill capacity for CQ producers is a key feature of the new project, and Mrs Angus said they believed it will create a healthy environment to have more producer brands operating out of the plant.
Investment in regional processing
She said she also hoped other recently floated proposals for abattoirs to be built at other regional centres around Australia were able to get up and running too.
"Each individual one that has been proposed is so different but for me the more we end up with regional processing the better it is for the industry," she said.
She said a recent trip to western Queensland provided a stark reminder that Qantas aircraft were once manufactured in Longreach.
"It is so much about a regional strategy, that we can once again support industry in some of these regions, it is really good for local economies and for people in the regions to have these diversified opportunities."
The opportunities the plant would create for members of local cattle producing families to both find off-farm employment and also to improve their knowledge of the post-farm gate part of the supply chain was also important.
"This will really suit kids from the bush and from the cattle industry to get involved beyond the farm gate and to see what it looks like in a smaller and more bespoke and more-like-home environment," she said.
"I think it would be amazing; they turn out to then be much better cattle and beef producers at the back end of it because they have that greater understanding of what happens beyond the farm gate.
"It is a unique opportunity for producers and young future producers to get closer to their product and involved beyond the farm gate."
Construction is expected to take approximately 13 months, suggesting a possible opening date in January 2021.
The abattoir project will create in excess of 80 new jobs.
While the bulk of the project cost will funded through private investment, the project has also received some support fromt eh Federal Government and from the Queensland Government's $175 million Jobs and Regional Growth Fund, Minister for State Development and Manufacturing Cameron Dick announced yesterday.
Queensland Minister for Agricultural Industry Development and Fisheries Mark Furner said the company's success epitomises the hardworking spirit that defines Queenslanders.
"The expansion is a great example of the innovative job-creating projects that the Palaszczuk Government's Jobs and Regional Growth Fund is designed to assist," Mr Furner said.
In an earlier interview with Beef Central Mr Angus said the operations will emphasise production of high-quality, value-added beef products, completing an integrated supply chain for the Angus family's Signature Beef brand program, currently exporting to 30 countries.
Innovative features in the new design include:
New hide-pulling equipment, which promises to do away with some of the perceived drawbacks of existing technology, surrounding carcase fat-stripping. This project is received MLA Donor Company support.
A new approach to the breakdown of the carcase. Instead of a chain system where cuts are harvested from a moving side of beef, the plant's breakdown system will see cuts taken from the carcase from a central, stationary point.
"We've done plenty of trials on the carcase breakdown concept, and feel there are a lot of positives in it," Mr Angus told Beef Central. "We're confident we will get a better primal to trim yield, using the system – we're estimating an additional 3pc."
He said he did not accept that 'bigger' necessarily equalled 'more efficient' in the meat processing industry. "We're confident we can extract high efficiency from a plant of smaller size," he said.
While profitability had changed in processing since the abattoir project was first floated in 2016, Mr Angus said the emphasis was more on capturing greater value from each carcase.
"Profitability and access to kill space will change from year-to-year, but our budgeting suggests that even operating at 40pc of capacity, this plant concept would still be cost effective," he said.