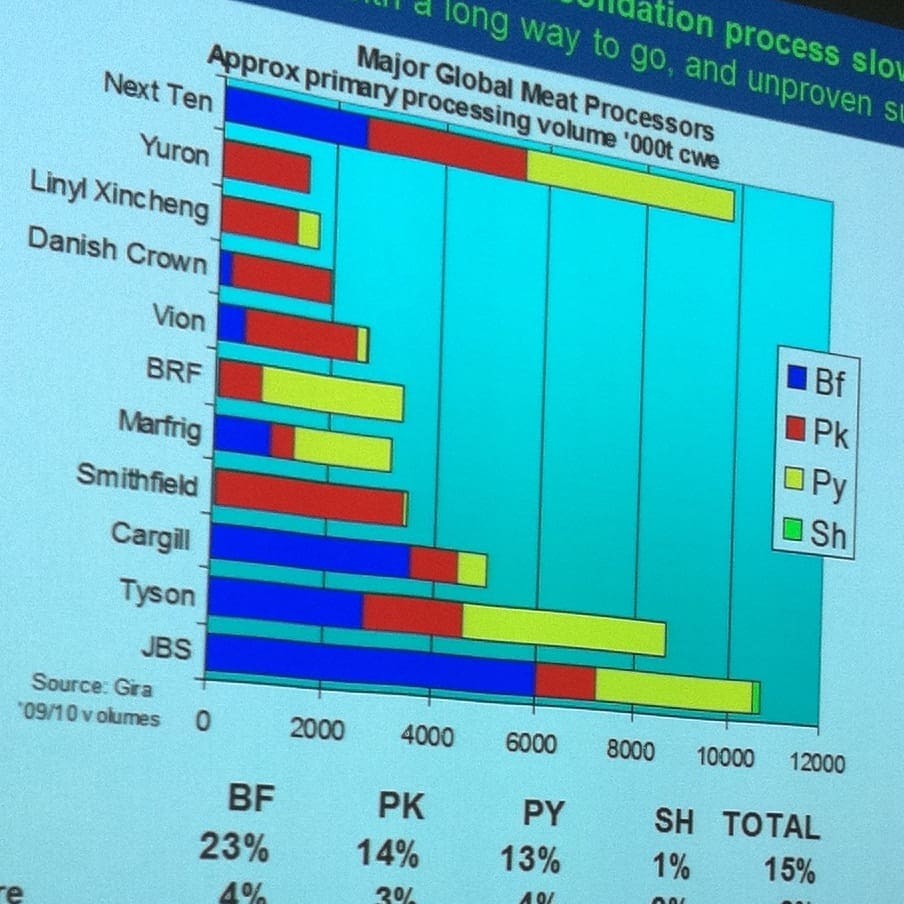 Just as the world's largest meat packing companies in past eras crumbled due to a variety of challenges, there is a risk of something similar happening to multi-species, inter-continental players today, an analyst says.
Economist Richard Brown, from international forecasting consultancy GIRA, told MLA's projections update last week that while international consolidation of meat processing operations had slowed for now, he held some concerns about the future trends.
The general trend in the Top Ten list in recent times had been towards Brazilian ownership (three) and away from US control (three). As can be seen in the image on this page, the other four spaces were taken by Europe (two: Vion and Danish Crown) and China (two: Lynil Xyncheng and Yuron, and growing very rapidly).
JBS is clearly the biggest meat processor in the world, and had moved incredibly quickly from being a Brazilian beef processor to a multi-species operator with exposure in many regions of the world, Mr Brown said.
"It has clearly achieved this through a phenomenal series of acquisitions to get to a position of being the world's biggest meat company. But it is really quite extraordinary that nobody in the world outside the company has a very good understanding of JBS, how it is managed, and how successful it may be in the future," he said.
"Mr view is pretty negative, and that's important because as the world's biggest processor, what happens at JBS is fundamental to everybody else in most significant meat producing countries of the world. That applied especially in Australia, where JBS was easily the biggest processor in the market," Mr Brown said.
"I don't see a very happy story here at the moment. Last year, JBS lost money almost everywhere where it kills cattle in South America – Argentina, Uruguay and Brazil – and also lost a lot of money in its chicken business in the US."
"You have to think to yourself, where on earth are they making any money? It's not easy, but they need to make some money somewhere, because there's lots of reorganisation and reinvestment taking place. This year, I gather the JBS beef division in the US is also losing money, while the Pilgrim's Pride US chicken division may be making some. US cattle are short in supply, and quite expensive, and the US consumer is reluctant to pay more for the end product."
Similar situation in Europe
In Europe, a similar story applied. Mr Brown said he was "very worried indeed" about Vion, Europe's largest meat processor, which, to use a quaintly English expression, he said was having a "horrid time."
"Like JBS, Vion is very big, producing 2.5 million tonnes of meat each year. It, too, is a multi-species operator in a variety of countries, and that is an incredibly difficult business to manage," he said.
For all that to work, a great variety of things needed to be done very well, and that was quite evidently not happening with Vion. As with JBS, Vion grew quickly, making big acquisitions over two or three years, but was now finding it very difficult to manage the entire business, and sort-out all the problems at a site-by-site level.
Vion had lost quite a lot of money, and would now go through a period of painful restructuring, if it was to survive, Mr Brown said.
"Although it is not as certain, we think similar problems apply at JBS. What is extraordinary is that it's incredibly difficult to speak to anyone who really understands what's going on in the JBS business – the biggest meat company in the world – and that includes a number of Brazilians I speak to."
Mr Brown said the way he read it, JBS was a company that had grown phenomenally quickly through opportunistic acquisitions, firstly Swift and Co, and the Pilgrim's Pride and others.
"They just went for it, with a very supportive lender in the form of the Brazilian Government's BNDES bank. The company has huge, aggressive aspirations to be a global player, even bigger than it is today, and is being fuelled by a supportive bank and government, for the time-being."
"However I find it incredibly difficult to see how this is all going to work – but my comments are more to do with Brazil and the South American operations, rather than Australia, where the business has been around for a long time in the form of AMH."
Multi-species strategy favoured
Mr Brown said the biggest global meat companies (like JBS, Tyson, Cargill, Marfrig and Vion) all thought it was useful to be multi-species operators, but they often found that incredibly difficult to manage.
"There's a different culture in the chicken business from beef, for example, and there is not much evidence of such a strategy having ever worked well. Cargill US has sold out of a great chunk of its chicken operations which it had in Brazil, and Tyson would probably now have great reservations about buying IBP. It has not been a happy experience, so why should it be for JBS, BRF, Marfrig and others? What is it that they can do specially and different to everybody else to make it work?"
Mr Brown illustrated the current performance among the top 10 with a slide showing their share price trend, which did not reflect well on profit performance.
"I have a theory that the meat business is fundamentally very risky, and does not tend to work well under stock market public ownership. There are just too many things which can go drastically wrong, undermining profitability, and therefore, share price. It just doesn't work."
Mr Brown was asked what prospect there was for other "Top Ten" processors on his global list making advances in coming years. Brazil Foods Corporation, for example, currently heavily weighted towards chicken processing, had made comments about possible expansion in other proteins, and into other parts of the world.
He agreed that BRF could become a more significant player in a global sense, expanding into beef production more strongly through acquisitions recently.
"But I wouldn't bet on further beef expansion outside of Brazil."
Greater concetration in Europe
Mr Brown said mostly through merger and acquisition activity, ownership of slaughtering was becoming quite concentrated in a number of European countries. Five companies in Germany, for example, control well over 50pc of all processing operations. A similar story applies in France, and the UK was also becoming more concentrated.
"But when it is looked at across a Europe-wide scale, this is still a hopelessly fragmented business, with many hundreds of companies killing cattle. The top company across Europe, Vion, only has 6pc of Europe-wide kill. There's an enormously long tail, and it is going to take a million years through painful merger and acquisition to get it into the short of industry shape and scale seen in America and Australia."
Asked about the future for another large European player, Irish Food Processors, fronted by the ebullient Larry Goodman, Mr Brown said the company had a very different strategy.
IFP had a lot of slaughter houses in Ireland, before moving into the English processing sector through a series of purchases in the 1990s and 2000s.
"Larry Goodman's vision is that cattle supply is incredibly important, and that he needs to have smaller-to-medium sized processing plants reasonably close to where the cattle are, and to cultivate good relationships between the local slaughterhouse and the farmer.
"He says that is impossible to achieve, in a European context, by having one mega-plant and bringing in the cattle from a much bigger area. Such a move would break the contact between the plant and the farmer supply base, and would risk losing the cattle supply, Goodman says."
While that was quite a good argument in Europe, players would have to be careful about how appropriate that was in the US or Australia.
"But the point is, slaughter cattle are in short supply everywhere, and processors have to work very hard on their strategies to make sure they can buy the cattle they need," Mr Brown said.
Goodman's plants, dotted all over the UK and Ireland, were 'pretty well run', but the big challenge was how to extract economies of scale from having such a large network of smaller plants.