Beef kills across Eastern Australia displayed a widely-anticipated decline last week due to the Monday Queen's Birthday holiday, but perhaps not as much as some had anticipated.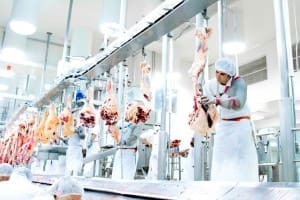 The National Livestock Reporting Service logged a seven-day kill to Friday for the four mainland eastern states plus Tasmania of 154,293 head.
While that's back 11 percent on the previous week, it was nowhere near the 'theoretical' decline of 15-20pc that a blanket weekday closure would normally entail.
The reason is that a number of large plants, where workplace agreements allow it, carried out a Monday kill as normal. In Queensland, that includes the likes of NH Foods' Oakey and JBS Rockhampton, which helped prop-up the weekly tally better than might have been expected.
It meant Queensland's kill was back only 9pc from the week before, at 79,675 head for the week. To put it into context, however, the tally last week was still +4pc on this same period last year.
States further south were back 13-20pc on the week before, due to the holiday effect:
NSW killed 35,438 head, -13pc
Victoria reported 26,281 head, -13pc
South Australia was at 8923 head, down 10pc, and
Tasmania reported a kill of 3976 head, down 20pc.
It looks unlikely that the Eastern states beef kill will get much above 170,000 head for the next few weeks, for several reasons.
Firstly there is the end of financial year accounting/tax effect.
The last two weeks in June are typically tough slots to fill for processors, because of some producers holding cattle back til the new financial year, for tax/accounting reasons.
Conversely, the first full week of July often produces a mild spike in bookings, for the same reason.
Secondly, there has been some tantalising rain across areas of western NSW and Queensland in the past 48 hours, and more in prospect in coming days. Anybody receiving an inch or two on a moisture-stressed oats crop might adjust immediate turnoff decisions as a result.
There's also a general 'softening' evident in the flow of cattle through both saleyards and direct consignment channels, especially for good slaughter-weight cattle.
Saleyards numbers in Queensland last week were down 11pc on the previous week, although there were large variations from centre to centre. Victoria recorded a 23pc decline in saleyards numbers over the same period to June 11, while NSW was back 28pc. Keep in mind there was a holiday closure effect within those figures, but it did not explain the entire decline, agents suggested.
Grid price stability continues
Direct consignment price grids for slaughter at southeast Queensland plants remained largely unchanged again this week -in some cases for a seventh straight week.
Best Southeast Queensland public grid prices seen yesterday included four-tooth grassfed export steers at 430-440c/kg; heavy cows 410-415c/kg; and 475-485c/kg for MSA grassfed steer.
Southern slaughter grids in Victoria and southern NSW remain 15-25c/kg above those rates, but so far there has been little evidence of southern processors pushing north to source cattle.
The Eastern Young Cattle Indictor jumped 7.75c/kg yesterday, reaching 486.75c, and picking up much of the lost ground experienced sicne the recent record high at 489.5c on May 21.