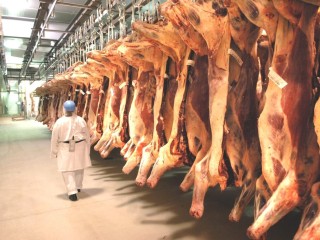 Public and trade holidays in Victoria and Queensland contributed to a significant decline in the national beef kill last week, back more than 5 percent to 136,377 head.
While the New South Wales kill of 35,358 head for the week ended Friday remained unchanged from the previous seven-day cycle, processing activity in Queensland and Victoria fell 8pc and 7pc respectively.
A Butcher's Picnic lay-day holiday at some large Queensland plants last Monday saw that state's slaughter numbers fall from 75,051 to 68,859 last week.
In Victoria, the annual Melbourne Cup Day Tuesday holiday had a similar effect, reducing kills to 18,551. Victorian saleyards also showed a lighter throughput trend last week, for the same reason.
The recent trend towards low female numbers in Queensland weekly kills was again evident last week, with females again making up less than 30pc of overall processing numbers. That's only a slight rise on the 27.5pc figure recorded a week earlier, and reflects the female retention/herd rebuilding mood among Queensland producers who are increasingly optimistic about another solid summer rainfall season.
Widespread storm rain across the state's northwest and the Barkly region of the Northern Territory, with registrations of more than 100mm around Mt Isa, have added early season enthusiasm to the view that another wet summer lies ahead across the region.
For the final week of October, Queensland male cattle slaughter, at 54,440 head, was the highest weekly total since July 1999, with most cattle coming in much heavier than in previous years. While the run of better seasons has helped facilitate the recent surge in male turnoff, it may also be a case of cattle finally emerging, that in previous years would have been processed in late winter and early spring.
Additionally, the higher prices of recent weeks may have spurred some producers into selling mode, along with not wanting to be caught again with market-ready cattle over the summer period, as many were last year. That's especially so if the forecast wet summer conditions return to disrupt cattle movements.
One of the positives seen by processors last week was relative stability in the A$, which traded in a much narrower band against the US currency than had been the case over the preceding month. With the A$ quoted at US 103.79c this morning, the currency has now traded within a narrow US0.8c range for the past week, giving export processors some confidence to re-engage.
A week earlier, in the midst of wild daily swings of US2c or more, one major national processor took the somewhat unusual step of withdrawing their grid offers until a clearer sense of currency direction was restored. The A$ rose 12pc in value during October, capped by a late blitz last Friday week when it jumped 3.5c overnight.
Both JBS and Teys Australia a fortnight ago dropped their grids for grassfed ox, ex southern Queensland, by 5c/kg, in the first sign of a fundamental correction in the market since August.
Since then, grid prices on heavier cattle have remained largely unchanged, with the exception of MSA yearlings, where Teys Australia has pushed its best offer out to 390c for MSA grassfed boning groups 1-8, 280-340kg – a full 25c/kg better than the 365c/kg currently offered for best grassfed Jap ox.
Trade sources say Teys Brothers started killing MSA grassfed for the new Woolworths supply program on October 17, and prices might yet go higher. Beef Central discussed potential shortage of MSA stock and its possible impact on price in its weekly kill summary last week.
Another noteworthy movement in the market is the re-emergence of a wider split between grassfed and grainfed Jap ox in meatworks grids. While the premium for grain over grass was as little as 5c/kg carcase weight at one point earlier this year, the JBS grid issued yesterday showed 15c (355c/370c) and some others are showing a 20c variance, closer to the 'historical average.'
The NLRS Eastern States Young Cattle Indicator closed yesterday at 401.25c/kg, up 1c on Friday and down 0.5c from a week earlier. The heavy steer indicator (191.9c) was down 2c, and medium cows (146.7c) down 2c on a week ago.