THE next four to six weeks is shaping up as a bleak supply period for eastern states beef processors, with only modest supplies of winter oats-finished cattle starting to come forward, and limited support from channel country cattle that normally hit the market in numbers from this point.
While there was a modest rise in eastern states slaughter numbers reported by NLRS for the seven days ended Friday, most of that was simply cattle held-over from earlier commitments due to rain disruptions, processors said.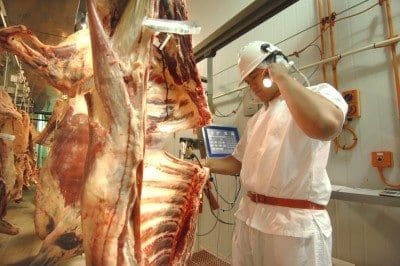 Last week saw 124,630 head processed for the five states for the week, a rise of 7 percent on the previous seven-day cycle, which was badly impacted by rain. The recent rain impact during July is clearly reflected in this morning's separate July beef export report.
Reduced weekly shifts and minimum daily throughput continue to be the norm among beef sheds from Central Queensland all the way into Victoria and Tasmania.
Many plant livestock managers are struggling to put a week's kill in front of them. A few in the highly concentrated southeast Queensland corner will skip a day next week as part of Brisbane (and surrounding districts) Show holiday, but that will hardly put credit in the bank for following kills, they say.
"Each week, there's just less and less saleyards cattle and paddock cattle suitable for slaughter," one large export processor said this morning.
'Everything is making way too much money, but it is not delivering any more cattle to the receival yards, and the Australian dollar (above US76c as recently as yesterday) continues to make life difficult," he said.
"There's only a handful of oats cattle coming forward at this stage, and many crops were late this year anyway, because of the way the rain fell. August is going to be real tough, supply wise," he said.
Water is hampering stock movements
While there had been a few Channel Country cattle coming forward (normally a solid backbone at this time of the year), the Cooper was now in flood after recent rains, and far western places that had cattle virtually ready to go a few weeks ago are now under water, and won't be shifting stock any time soon.
Further west into the Northern Territory and Central Australia, cattlemen that typically trap cattle onto controlled waters in the back half of the year have surface water in their paddocks – highly unusual in August – rendering trapping impossible for the time-being.
All that is contributing to an opinion, heard more than once this week, that while August will be tough enough for slaughter cattle supply, it might deliver a (very modest) lift in supply during September-October. That's provided it stays dry and people can get onto paddocks.
It's hard to get excited about the size of that prospect, however.
Processors say they are seeing no effect yet in carcase weights as a result of rain events since early June, but cold weather has probably withheld any grass-growth benefit to this point. September weights might provide a better picture on that.
But equally, there's a growing mood evident among producers that meatworks prices are probably at the 'top of the tree' right now, and might not be around in another month or two, even with additional weightgain.
That appears to be encouraging producers in a position to sell to 'take the money' rather than 'take the risk.'
Generally speaking, saleyards are probably still 10-15c/kg better than direct consignment across many parts of eastern Australia at present, even with direct-consignment grids at record highs.
Current record-level grid price offers for southern Queensland slaughter remain unchanged again this week. Competitive quotes for SEQ kills have now been unchanged for the past six weeks, currently sitting at 570c/kg for four-tooth grassfed heavy steer, and 525c on heavy cows.
Queensland's kill last week rose 16pc, to 67,755 head – still 20pc short of where it sat this time last year.
In NSW, the kill was unchanged at 28,434 head (-28pc on last year), while Victoria was off 3pc to 19,533 head (-18pc on last year). South Australia's kill was down 1pc on the previous week, with a major plant closure in place, down 46pc on a year ago, while in Tasmania, kills fell 9pc to 4250 for the week ended Friday.