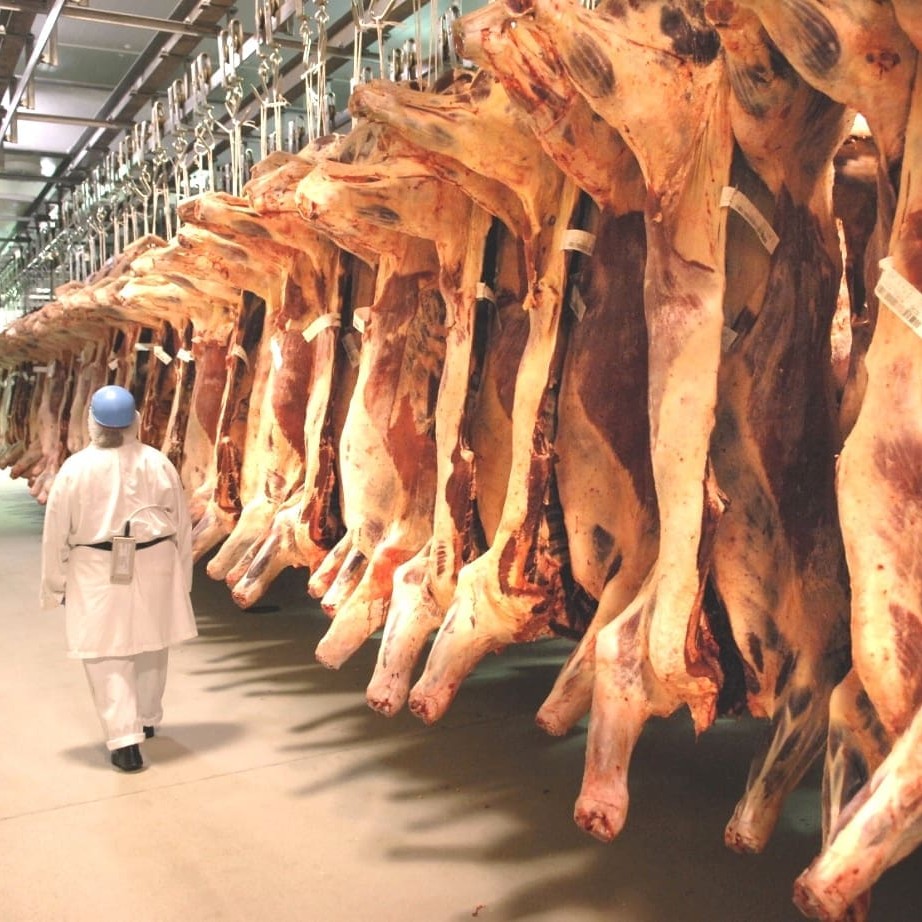 The Eastern States beef kill took a short breather last week, as Thursday's Anzac Day national holiday put a dent in the sequence of near record beef kills in recent times.
The weekly Eastern States tally recorded by the National Livestock Reporting Service declined more than 20 percent due to the four-day week, to 124,639 head – a long way from the previous week's all time record of almost 156,000 head.
All states fell by double-digit numbers, with Queensland's throughput down 19pc to 65,850 head. The female portion of the state's kill also eased a little to 40pc, representing 26,550 cows and heifers.
The NSW kill was much the same, declining 25pc to 28,154 head, although the female kill remained stubbornly above 50pc of the total tally.
In southern states, Victoria was -16pc at 20,011; South Australia -21pc to 6763 head, and Tasmania -17pc to 3862 head.
Processor contacts said that softer kill numbers would only be short-lived, as the relentless tide of drought impacted cattle being liquidated continues. Supply-side pressure remains very high, as very dry to severely droughted areas of western Queensland, NSW and Victoria continue to challenge the processing sector's capacity to slaughter stock.
Judging by the depth of forward bookings, a return to extremely large kills can be expected across the East Coast for at least the next six weeks, likely to be broken only by the June 10 Queen's Birthday holiday, major processors said yesterday.
Southeast Queensland processor grids this week are unchanged to 5c cheaper than seven days ago across most categories, but there is still a big gap evident between direct consignment rates and saleyard rates for similar cattle. Four-tooth grassfed heavy ox are making 290-300c/kg this week, with best heavy cows 250-260c on public southeast Queensland grids.
The nation's largest selling centre at Roma is again set to draw for 10,000-plus store cattle again tomorrow, continuing the extraordinarily high yardings seen over the past three months as western beef producers started to lighten their inventory.
While there was a mild recovery in the Eastern Young Cattle Indictor this afternoon to 306.25c, given recent trends it still looks likely to soon fall through the 300c barrier for the first time since 2009.
Grinding meat price falling away
A sure sign of the emerging disconnect between supply and demand has been the big slump in 90CL grinding meat price into the US.
The weekly price has declined 28c, or 8pc from its February high-point of 419c/kg (measured in A$ terms) to just 391c on Friday (see Beef Central's home page graph for an impression), and remains under 'huge pressure', one exporter said yesterday.
The weekly US imported beef report produced by Steiner Consulting said beef prices took a step back last week, but volume was relatively light as US end-users and overseas packers were quite far apart in their price expectations going forward.
Market participants last week continued to point out that business remain sluggish, especially considering that this is the end of April, with the US Memorial Day demand around the corner.
The price of domestic lean 90CL boneless beef is currently hovering around US$2.10/lb – a relatively high price based on historical levels, but about US20c lower than forecasts earlier in the year.
While domestic US lean beef prices are expected to stay at elevated levels through the first two weeks of May, the current price levels have many end-users wondering how much lean beef prices could fall once retail ground beef demand slows down in June.
"Based on seasonal models, one would expect a 10-15c decline into mid-June, putting domestic lean beef prices for that time frame at levels similar to where imported forward lean beef is trading," the Steiner report said.
So what's behind the absence of support for imported manufacturing beef in the US?
Steiner says the first factor is that the overhang of frozen supplies in cold storage will tend to blunt some of the demand for imported 85-90s going into spring. The latest USDA survey of refrigerated warehouses pegged total boneless beef stocks (domestic and imported in origin) at 208,000 tonnes.
This volume is 5.7pc higher than a year ago and 24pc higher than the five-year average.
Slow sales during the January-March period caused some of this product to back-up.
While no data is available to distinguish what's in the frozen stockpile, Steiner does not think the big increase is domestic fat trimmings. "After all, the price of 50CL boneless beef is currently above year ago levels and 35pc higher than what it was earlier in the year. Those prices do not indicate an oversupply of fat grinding beef," it said.
"Rather, we think the larger inventories are a result of some boneless beef cuts backing-up (round cut values were especially weak for this time of year), more imported beef coming in and larger supplies of domestic lean beef."
The second contributor to the US frozen stocks relates to the supply of domestic US cow meat coming to market.
US cow slaughter in March was estimated at 5pc higher than a year ago, and it will likely increase 9pc from a year ago in April. If anything, those estimates maybe conservative, Steiner said.
"If they prove correct, the supply of domestic cow grinding beef in March and April was about 13,500t larger than a year ago. That is a significant increase, considering that it is larger than one month's worth of grinding beef shipments from Australia."
The increase in domestic cow meat availability clearly had limited demand for imported product.
"This at a time when domestic demand has been quite soft, in part due to the ongoing US economic weakness, but also due to cold weather across a number of heavily populated areas," Steiner said.
While New Zealand cattle slaughter remains above year-ago levels, the sharp drought-induced spike in production during March has now settled.
Offsetting that, however, has been the sequence of extremely high kills in Australia over the past two months, reported weekly on Beef Central, with the eastern states slaughter for the week ending April 19 pegged at a record 156,000 head, 16.4pc higher than the comparable week last year.
It is this combination of higher overseas supplies, weaker US domestic demand and larger domestic supplies that has so far weighed heavily on prices and caused the notable decline in the 90CL market observed in the US last week.
The expectation is that warmer northern hemisphere weather will lead to better demand and some price improvement into May, but until/unless that happens, US end-users likely will remain on the defensive and limit their forward purchases, market watchers say.