WITH the beef industry on the cusp of a new era where producers are starting to receive feedback on lean meat yield through DEXA, and potentially, on meat quality traits using advanced objective camera technologies, yet another 'value-based marketing' feedback tool is being readied for launch.
Teys Australia told a recent producer gathering at Duaringa in Central Queensland that detailed animal heath reporting, based on offal condition, would soon start to filter through to producers supplying the company slaughter cattle, in next generation feedback sheets.
"Effectively throughout Australia there are eight million cattle post mortemed each year, but currently only full condemnations are reported, which is not particularly useful as a feedback tool," Teys manager for industry and corporate affairs, Dr John Langbridge, told the gathering.
"We see the situation as it currently exists as a wasted opportunity. There's plenty of other information coming out of a slaughter plant that could in fact be very helpful in improving productivity on-farm," he said.
Numerous previous studies had shown that poor animal health adversely affects weightgain, and may also have an effect on meat quality.
The liver, for example, tended to be an organ that is quite often involved with parasites or disease, and is also an essential organ in processing of glycogen – which everybody who has ever been exposed to MSA knows, is a major contributor to dark cutting.
"Accurate individual animal health data is part of the whole picture of information that we now want to relay back to cattle suppliers," Dr Langbridge said.
"We believe it can add value. But to enable us to extract this data, we've actually moved away from government meat inspection, and gone with third-party service providers who are expert in this area of post mortem meat inspection."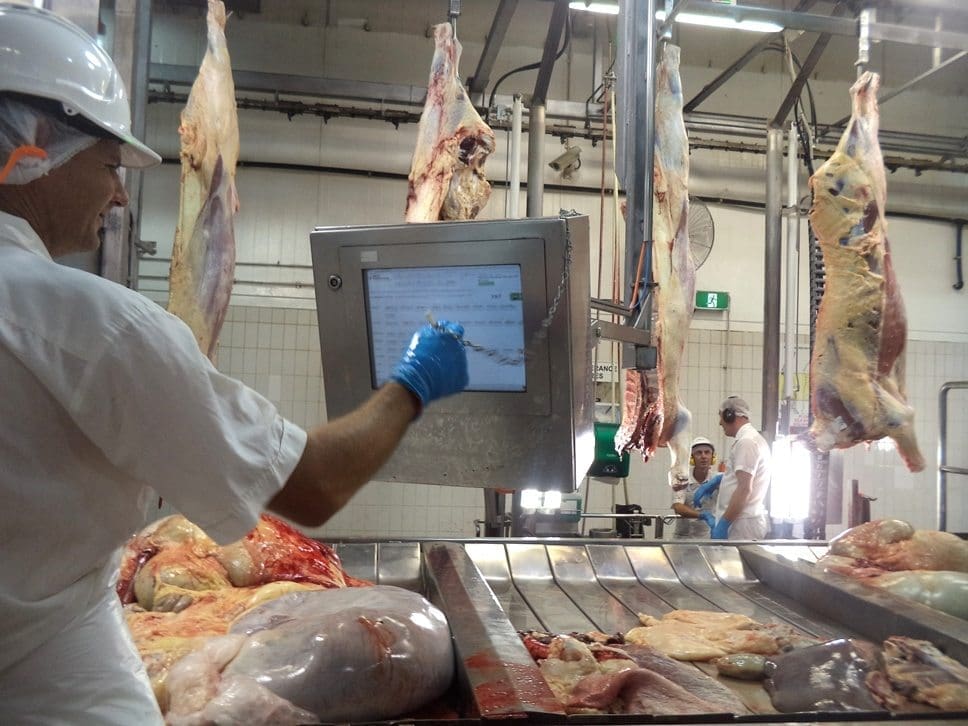 As this photo shows, data recording 'stations' have been set up in Teys killfloors to capture individual carcase offal information.
Dr Langbridge said offal condition data had been collected for the past five weeks, and the first reporting back to producers will take place some time in early July.
"It will essentially become another part of our standard animal feedback systems," he said. "We want to present it in a form that producers will find useful, and which can allow management changes on-property, if necessary."
Results will be recorded on offals from each individual carcase, for direct consignment cattle to Teys plants. At this point, data collection will be limited to the five major offal conditions that affect cattle at each company processing site, including Biloela and Rockhampton in Central Queensland; Beenleigh in southern Queensland; Wagga in central NSW; and Naracoorte in South Australia. The five conditions recorded will vary, depending on which location the cattle are drawn from.
Particularly as disease patterns change, additional reporting on conditions may be added later.
"Each vendor's animal health report will give a summary of how the whole mob has done for animal health performance for the top five conditions at that plant; the number of animals affected; and the current average for all kills for those conditions at that plant," Dr Langbridge said.
The feedback sheets will also supply data on each individual animal, based on NLIS tag numbers, listing the offal condition (s) that were found. That will align with feedback on hot standard carcase weight, the carcase's MSA Index figure, and in future, lean meat yield courtesy of DEXA – allowing producers to draw conclusions of the negative impact on animal performance from offal problems.
Management information
"We're very aware that there is no point in feeding back this animal health performance information, if the producer is not too sure what they can do with it," Dr Langbridge said.
To this end, Teys will upgrade its website, and produce information 'tips and tools' sheets for the top five offal conditions recorded at each plant, and what can be done about managing them.
An important part of that will be some guidance about likely effect on growth rates, for example, from a particular offal parasite or disease condition.
"It will allow the producer to quantify what that particular disease or parasite means to their bottom line. Having said that, apart from the general information sheets provided, we'd be keen for suppliers to discuss their results with their livestock buyer, or veterinary practitioner," he said.
Dr Langbridge said Teys would analyse the broader data over time, and report back about what particular diseases and conditions have cost producers' 'bottom-lines', and potentially suggest how much bigger the "cheque might have been" without the presence of the problem.
"There's obviously often a cost to get those conditions under better control, and it's then up to the producer to determine whether it is worth doing anything about."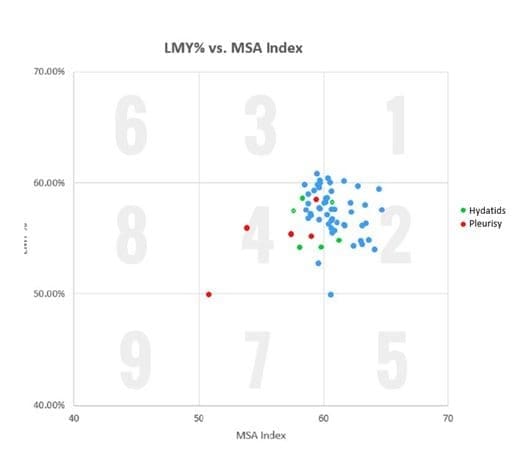 Dr Langbridge displayed this graph (click on image to enlarge) plotting a mob of cattle for Lean Meat Yield versus MSA Index, which included a number of clear 'outliers' (red and green dots) suffering from problems like pleurisy and hydatids. The 'number one' cell at top right is the optimum position.
It was clear that those carcases were of lesser value than the general run of cattle plotted in blue, due to their disease/parasite setback.
He also presented some alarming statistics on the rate of condemned offals across Teys processing sites, including 9.29pc of livers condemned from grainfed animals for abscesses, and 5.98pc from grassfed cattle. From previous research, that produced an 11pc reduction in average daily weightgain on animals affected by abscess, and 9pc reduction in feed conversion efficiency.
"Essentially what that means is 10kg less carcase weight, and 100kg more feed to get there," Dr Langbridge said. "That's worth around $65 per head, on affected cattle."
"We'll be able to assemble a fair bit of data over time on the various conditions at each plant."
How significant is the offal condemnation impact?
During question time, producers at the Duaringa open day asked about the incidence of various diseases in northern Australia, in offals.
"We're still collecting data, but it's not unusual for your local plant at Biloela to record 65 percent of slaughter cattle with hydatids in the offal – whether it be liver or lungs," Dr Langbridge said. "It's a similar figure in Rockhampton."
"Those rates are quite high, and we think there will be a pretty marked effect on growth rates in those affected cattle."
There's obviously an issue in trying to control those particular parasites, but what it could do is give us quite a good cost argument to take back to the government, in areas like wild dog control (known carriers of hydatids)."
"But until we know more about those diseases and what their prevalence is, we effectively 'don't know what we don't know," he said.
Hydatids are definitely a huge problem in Central Queensland, and if we can collectively do something to reduce their prevalence, that obviously means improved growth rate performance. But the solution to this particular problem is not going to be as simple as worming your cattle."
"Some of the solutions may be simple, and relatively easy to implement, while others will be quite complex. But until we collect the data, it's hard to have the discussion – but 65 percent of condemns due to hydatids is an enormous amount of (edible) offal to be losing – and that is not to mention the productive effect on growth rates."
Currently, Teys, like all processors, 'socialises' that loss across the payment system.
"But before we start changing the way we pay for cattle, through value-based payment, and sending better price and performance signals back, let's understand what the offal problems are costing us now."
"But it's critical that we give all cattle producers the tools to improve, and that's what this project is all about."
Teys' Tom Maguire said customers were prepared to pay around $9/head for beef livers.
"If you accept that roughly half the cattle killed in Queensland have livers condemned due to hydatids, there's $36 million lost each year. That's huge money," Mr Maguire said.
Dr Langbridge said the whole purpose in the animal health feedback project was to try to improve the productivity, and the average value of the animals coming off all farms.
"We think there is an opportunity for all animals to increase in value, so effectively, everyone can be a winner in this – it's not about taking money from somewhere else to pay for it, but growing the overall value of individual carcases," he said.
Teys plans to elaborate on the animal health feedback project with suppliers at a local level, once a greater volume of performance data starts to build-up at each site.
Central Queensland cattleman and Australian Brahman Breeders Association boardmember, Brett Coombe, said most of the region's beef producers would be staggered to learn that half their cattle were producing offals condemned at local plants because of parasites like hydatids.