TOOWOOMBA construction company FK Gardiner & Sons has filed council plans for an $80 million beef and milk processing facility on the eastern Darling Downs which it says will have a capacity to process 2000 head of cattle per day in two shifts.
FKG on Friday submitted a development application to Toowoomba Regional Council and hopes to start construction early next year, with operations set to commence in 2017.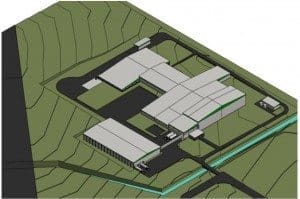 The site is the Witmack Industrial Park near Charlton, 10km west of Toowoomba.
The facility will be conveniently located near the new 747-rated Wellcamp Airport complex, providing international airfreight access direct into Asia.
FK Gardiner & Sons (FKG) is best known as a large civil construction company, with a major portfolio of commercial, residential, industrial and road construction projects under its belt across Queensland. Major clients include the Federal and State Governments, the mining and energy industry, the health sector and aged care/retirement villages.
The company has also been associated with agriculture for 30 years. It is already one of the Darling Downs' biggest farming companies, with 11,000ha of agricultural land leased or owned between Dalby, Cecil Plains and Bongeen. FKG was earlier connected with a large intensive dairy proposal, also targeting direct export into Asia.
FKG group manager of property development Dallas Hunter said the new project was about diversifying the company's operations.
"With the slowdown in the gas industry, we're hoping agriculture will fill the gap," Mr Hunter said. "We're spreading the company as wide as we can as part of our risk management and diversification."
Mr Hunter said FKG would build the facility and operate it with a commercial partner.
He said the opportunity was driven by overseas demand for Australian produce. "It's about food security around the world and the demand that is creating."
Mr Hunter said the proposed meatworks would operate two shifts daily, each killing about 1000 head, delivering weekly throughput of 10,000 head/week. If FKG delivers on that plan, it would rate the plant among the top six in Australia, measured by weekly throughput.
"We have a number of arrangements in place for the supply of cattle and most of the inquiry for beef at the moment is for export, so that's likely to be where most of the production will go," Mr Hunter said.
He said the site would not be like a "traditional meat processing facility." We won't have a lot of external yards and settlement ponds and that sort of thing. Everything will be enclosed within the building, so it's a large structure of about 20,000 square metres."
Toowoomba mayor Cr Paul Antonio said the FKG abattoir plan had his in-principle support, but a final decision would take months.
Cr Antonio expected Toowoomba's prime position and new infrastructure would see it become a major hub in coming years.
"With the advent of the airport, with the advent of the range crossing and with the possibility of the inland rail, it can only get better," he said.