A MAJOR upgrade happening over the next 12 months at the Northern Cooperative Meat Co processing plant near Casino will greatly improve the facility's efficiency, productivity and daily kill capacity.
The $30 million investment in four main projects is helping position NCMC for long-term growth, and will enable its many service kill clients to meet increased national and international demand for premium Australian meat.
Brisbane-based international food facilities designer and engineer, Wiley has been commissioned to design and deliver on the four-stage project, set to run over 2016.
The projects include the design and construction of a new state-of-the-art cold chain management facility (artist's impression pictured below); design and construction of a new beef knocking-box and race system; design, supply and installation of a new steam services gantry; and an upgrade to the plant's tannery wastewater treatment plant.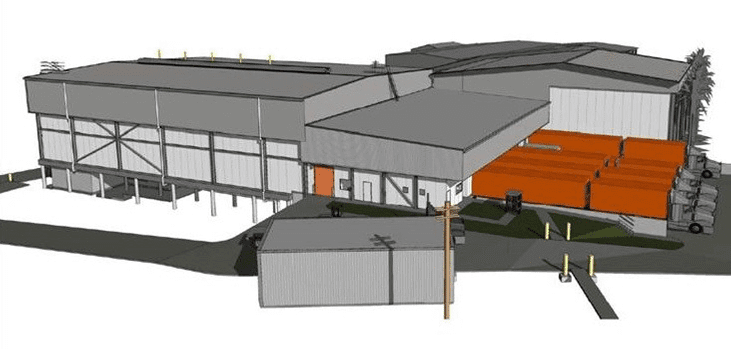 NCMC chief executive officer Simon Stahl said the company had more than 100 service kill operators who used the facilities near Casino to process their livestock.
"Our main focus is to provide them with efficient facilities using a highly-trained workforce and specialised equipment to service all major global markets including Australia, the US, China, Japan, Korea, European Union, Halal and organic markets," he said.
The new knocking box and race system were a pivotal part of the fabrication process, and would 'set the rhythm' for the rest of the facility, Mr Stahl said.
Wiley has experience in designing to international standards of animal welfare, and NCMC's new installation complied with design principles created by US animal welfare expert Dr Temple Grandin.
For the plant's new cold chain management facility, NCMC wanted to freeze and chill all beef and veal cartons on-site, reducing the transportation of products offsite, and improving staff and product flows throughout the facility.
The design developed by Wiley in collaboration with NCMC improves carton management, increases storage capacity on-site, and improves load-out capabilities. This will ultimately reduce manual handling, forklift movements, and create a safer environment for all workers.
The project will also include installation of an Automated Sortation and Retrieval System (ASRS), which is the first of its kind used in a frozen environment in Australia and only the second in the world. The system will provide NCMC with the ability to better manage product flow and traceability.
Works started earlier this month on a new steam services gantry to enable steam to be delivered to the new knock box and other areas of the plant. Previously, those services were delivered via an old gantry which will be demolished as part of the overall upgrade.
"Although this is the smallest of the four contracts we are currently delivering at NCMC, the delivery is integral to the success of other works being carried out and had more than its share of challenges," Wiley's senior project manager Barry Murphy said.
"During the design process it was found that the existing structures at NCMC were incapable of supporting the loads identified during the steam design process, which necessitated a substantial amount of creative design and provision of support structures within operating areas of the facility," he said.
On-site access was limited due to the ongoing production operations at the plant. Wiley's solution involved working to a schedule outside of normal operating hours, sometimes through the night.
The final component of the upgrade, to the site's tannery infrastructure will improve the segregation of the water waste streams, through a new wastewater treatment plant.
"We chose Wiley to undertake the design and construction of our latest projects because we're confident in their specialist knowledge of the demanding standards of food safety and hygiene, especially in meat and across the cold chain production line," NCMC's Simon Mr Stahl said.
Wiley managing director Tom Wiley said his company's team had worked closely with NCMC over the last few years to understand the requirements of each project and the processor's objective of continuing to provide quality services and products to domestic and international customers.
In a press statement, senior project manager Barry Murphy said Wiley's multi-disciplinary team had drawn upon nearly a century of food industry experience to design and deliver highly innovative and best practice solutions in line with NCMC's budget and timeframes.
"We're pleased that the building footprint and the equipment we have selected will allow NCMC to expand and modify their operations in the future. We look forward to working with NCMC on all four projects, which will take about a year to complete," Mr Murphy said.
Wiley specialises in food engineering, design and delivery and is at the fore of creating food provision solutions that are safe and accessible to all. Whether it's innovation in growing, producing or manufacturing food, Wiley believes in bringing people and food together in a better way.
Click here to access the Wiley website
Click here to access the Northern Co-operative Meat Co website