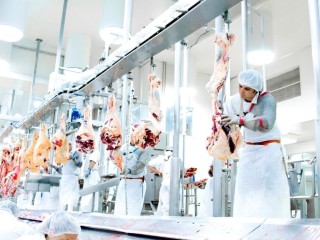 Teys Brothers is nearing completion of a major $25 million upgrade of its Naracoorte processing plant in South Australia, and will launch its first-ever Certified Organic kill in coming weeks.
Chief executive Brad Teys said the 18-month-long project at Naracoorte had already seen the extensive transformation of the factory's kill floor, installation of plate freezers, additional chiller capacity and revamped boning room.
The final components due for completion during the plant's annual July shut-down for maintenance will include the completion of a rebuilt rendering and by-products area, at a cost of $2 million.
The refurbishment has taken daily capacity at Naracoorte from 500 to 750 head daily, lifting annual throughput to about 150,000 head, and delivering a plant which can better manage MSA requirements – particularly in terms of sorting carcases by boning group category.
Two new chillers were built as part of the expansion, Mr Teys said, and the plan is to upgrade one of the six existing chiller rooms each year with better refrigeration and more sorting capacity.
"Greater adoption of MSA is one of the key parts of the project," he said.
Expansion could possibly see a greater proportion of Naracoorte's kill heading into export markets, Mr Teys indicated. Currently, the plant has the highest ratio of domestic-to-export of all Teys factories. While Teys' other plants in Queensland average about 15pc domestic, Naracoorte is between 30 and 40pc, partly due to the success of brand programs like Teys Black Angus.
But with emerging opportunities in markets like the EU, for which Naracoorte is accredited, more output could be destined for overseas markets. The Naracoorte development pre-dated any merger plans with Cargill, announced in an exclusive article on Beef Central on May 11.
In other company news, Teys expects to launch its first-ever Certified Organic kill out of the company's Biloela plant in coming weeks.
The factory is currently undergoing its organic accreditation phase, and hopes to activate the chain before the end of June. Certified Organic livestock supply will be sourced out of Central Queensland and the Arcadia Valley.
Product will be directed into a major domestic supermarket chain, as well as export into the US and other markets. Some value-adding work may also be applied, at Teys VA facility in Brisbane.
The developments at Biloela and Naracoorte are yet another example of major Australian processors seeking ways to reduce exposure at the commodity end of the beef market, instead finding higher-return niche outlets for their product.
More details on Biloela's new specialised Organic kill in coming weeks.