TEYS Australia is investing heavily in infrastructure at its Wagga Wagga (NSW) beef processing facility, as the plant transitions to greater supply into the premium European Union grain and grassfed markets.
Southern beef producers learned more about the projects which will drive the plant's enhanced capability to service the EU market during a recent field day held at the nearby Teys Jindalee feedlot.
The Teys Wagga processing facility attained its EU export license just before Christmas, and follows the company's Jindalee feedlot in gaining eligibility to supply the non-HGP EU market.
The plant has received a capital injection of $18.5 million in stage-one of a multi-stage development to improve performance, with the EU market in mind.
With sea-freight shipping times of up to 55 days from Australia to European ports, and a need for adequate remaining shelf-life for the EU customer after delivery, optimum shelf-life performance of up to 140 days is required on Australian chilled product entering the market.
That's the primary reason for the current expenditure at Wagga Wagga, which last month commissioned new best-in-class carcase chillers as part of the upgrade. Major refurbishment of other existing chillers will follow over the next six months, as well as de-commissioning of older chilling units no longer required.
Stage two of the two-year project, yet to get underway, will involve automated load-out infrastructure, under the ARAS system.
Teys Wagga has already commenced small airfreight shipments of chilled beef into the EU market since gaining its licence, but will gradually transition into sea-freight once the new infrastructure is bedded-down. The company is now engaging with cattle suppliers to expand its current supply chain of EU-eligible slaughter and feeder stock.
While operating on reduced kills of around 1100 head/day this year like most other Australian beef plants due to cattle supply constraints, Wagga has an operating capacity of 1300 per day, using a single shift. The plant employs up to 900 local staff, representing up to 40 nationalities.
Half the plant's output currently goes into more than 40 export markets, and the balance stays domestically, through major clients like Woolworths and Aldi. Production of branded product including Teys Angus and Riverine has been a big growth area for Teys Wagga in recent years.
Plant manager David Jenkins told the recent producer gathering at Jindalee that up to 80 percent of the output from the plant could in future be consigned in chilled form rather than frozen, depending on prevailing market conditions.
Features of the plant's new carcase chiller infrastructure included unit-zoning in three sections, removing the need to have to wait until the chiller was fully-loaded before it got up and running.
Over the past 18 months, Teys beef plants have installed hot carcase wash systems, where each carcase exiting the killfloor goes through an 86 degrees C wash for ten seconds, followed by spray-chill in the chillers.  Spray-chill technology (see technical explanation below) delivers more rapid chilling of carcases.
The main contractor for the current plant upgrade at Wagga is Wiley engineering, which in turn is sub-contracting specific work out to companies like G&B Stainless and others – some local, and some from as far distant as Queensland.
The recent investment is the largest seen at the Wagga plant since 2005, when $35 million was spent on a new boning room, and a new value-adding facility added in 2012.
The license approval at Wagga now means five of Teys' six Australian beef processing plants are now eligible to export to the EU market, either grainfed or grassfed.
What is spray chill technology?
For readers unfamiliar with spray chill technology, we've sourced the following information from CSIRO and other sources on the web:
Spray chilling, now increasingly widely adopted across the Australian processing industry, involves intermittently spraying carcases with ice-cold water mist during the first few hours of primary carcase chilling in the blast chiller.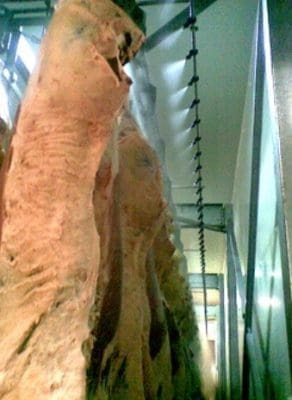 The process, pictured right, increases the rate of chilling in carcases, especially those with heavy weights. The quicker a carcase's core temperature is reduced in the chiller, the better the shelf-life.
The procedure also reduces carcase weight loss due to evaporation, CSIRO literature says.
Conventional chilling systems evaporate surface moisture from the carcase by circulating cold air over the hot carcase. Refrigerated air becomes low in humidity as it moves through the heat exchanger. Dry air attracts moisture as it removes the residual heat from the carcase. Over time, moisture continues to be drawn to the surface of the carcase, resulting in shrinkage and weight loss.
Spray chilling counters that evaporative loss, because sprayed water is evaporated from the carcase, rather than drawing moisture from deeper in the tissue. Research suggests that carcase weight losses of less than 0.4pc occur from spray-chilled carcases compared with losses of about 1.5pc from conventionally chilled ones.
Other benefits include savings on energy costs and increased production rates. Claims are also made about more uniform meat colour in spray-chilled carcases. It is possible that spray chilling can also reduce heat-ring and pale discolouration of deep meat tissues – conditions caused by slow chilling, CSIRO says.
There are also some suggestions that the fat on spray-chilled carcases is softer than on conventionally chilled carcases at the same temperature. That may allow boning at lower temperatures, which in turn offers improvements in shelf-life performance.
Another advantage of spray chilling is that chiller floors are kept cleaner and less time is spent on cleaning chillers between loads.