Staying ahead of community expectations, cutting red tape and improving productivity were recurring messages that wove a common thread through several speeches at last Friday's 2017 Yulgilbar Beef Expo.
The expo, organised by Rob and Lorraine Sinnamon of Yulgilbar Santa Gertrudis Stud and their team, featured a high calibre array of industry, Government and corporate speakers.
Straddling majestic reaches of the Clarence River valley between Casino and Grafton in NSW's northern rivers region, Yulgilbar Station, owned by the Myer family of Myer Department store fame, must rank as one of the most picturesque cattle properties in Australia.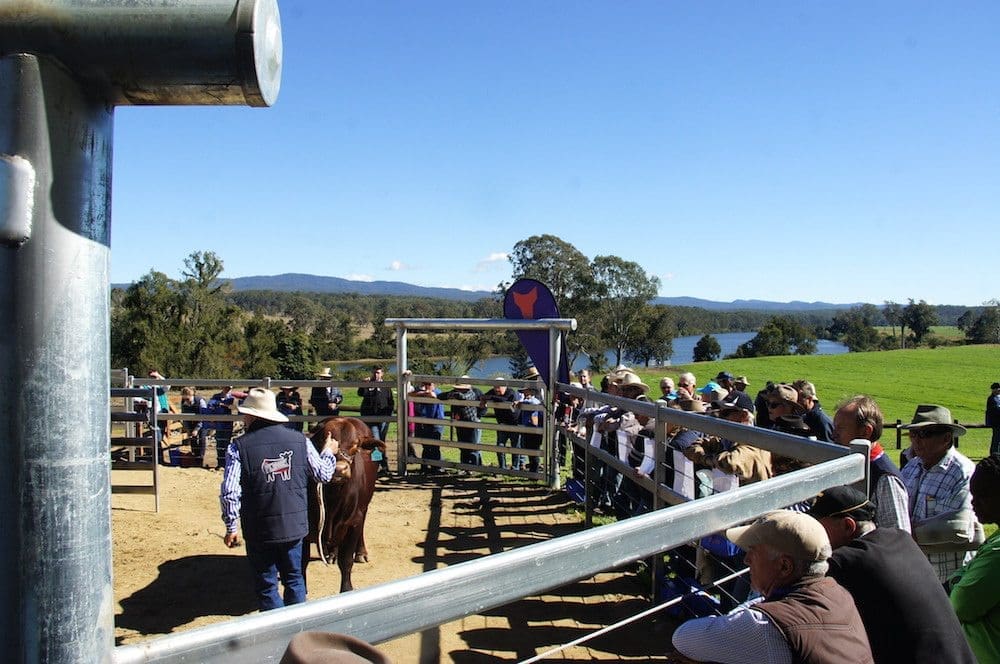 It is hidden away behind winding mountain roads seemingly a long way from anywhere, but still managed to attract a crowd in excess of 500 people, possibly the single largest on-property cattle producer event held anywhere in Australia so far this year.
It is hard to imagine that anyone who made the journey would have left feeling the effort wasn't worthwhile. The forum was held in an impressive, freshly constructed selling complex overlooking the Clarence River, the venue that will host Yulgilbar's future on-property sales. The comprehensive array of speakers and information presented, rare for a single property event, would have given all attendees plenty of food for thought on their journeys home.
It's hard to do justice to the day in one article but here are some of the key messages and recurring themes that played out as the day unfolded:
LPA a small price to pay to stay ahead of consumer expectations
Recent changes to Livestock Production Assurance, including the introduction of a new $60 fee, have attracted some push back from growers.
But Red Meat Advisory Council Don Mackay said the changes are a small price to pay to keep the most important people in our supply chain – the end-customers – happy.
"I know there is some noise about why you have got to pay $60, why you have got to fill out these (farm biosecurity plan) forms," he said.
"This is a $20 billion industry.
"If we don't come to grips with that and accept that people are going to judge us, we have got to be ahead of that… we are going to be challenged every day."
Objective measurement to improve transparency, customer-focused production
MLA managing director Richard Norton noted that he was returning to the scene of his very first address as MLA managing director at the Yulgilbar Beef Expo three years ago.
At that time, he said, the clear message from producers was the need for more transparency in the processing sector.
In the three years since that first address, he said, he has spoken in front of some 18,000 levy payers in all corners of Australia.
Last Friday he used the Expo to unveil the latest phase of MLA's response to those producer concerns, a $28 million investment that will explore the use of CT scanners as a means of enabling objective measurement of eating quality traits.
"The more objectivity we can introduce into our measurement systems the better," he said.
Red meat industry should support and work with RSPCA, WWF
Mr Mackay and Australian Beef Sustainability Steering Group chair Prue Bondfield, both had messages indicating  there was more for industry to gain than lose in engaging with groups such as the RSPCA and World Wildlife Fund (WWF).
A clear and important distinction existed between animal welfare and animal rights groups, Mr Mackay said.
"I am happy to work with WWF and RSPCA but it is very difficult to work with someone who is an animal rights person," he said.
"Welfare is our business, we have been involved in it for a long time and we want to continue to be there.
"But rights are different, because if somebody doesn't want you to have a pet dog at home or ride a horse, the fact that you are going to kill an animal humanely is not going to help.
"The fact these people are getting traction is causing great difficulty for the RSPCA around funding, because a lot of money is flowing in the other direction.
"We need to make sure we support these organisations, because we are doing the right thing and we have to make sure we have systems to indicate where we are."
As the leader of the committee that developed the Australian Beef Sustainability Framework, Mrs Bondfield has spent a lot of time in the past year or so talking to interest groups such as the RSPCA and WWF, among others, about beef production.
"I think that (having open discussions with interest groups) was the most valuable thing that perhaps our committee did," she said.
"It was really enlightening to see that groups like WWF want beef production to continue and they want it to continue in a sustainable way.
"It is not a conflict, it is not a difference of opinion.
"We all have the same objective, and that is that beef production should be sustainable, it is just a matter of how we do it."
WWF sustainable beef leader Ian McConnell, who is from a well-known and respected cattle producing family the Brisbane Valley and has strong beef industry experience, agreed that WWF wanted cattle producers to be profitable. "You can't be green if you're in the red," he said.
Cutting red tape
Numerous speakers focused on the pressing need to reduce red tape that is inhibiting industry efficiency and stifling market access.
In a video presentation prepared specifically for the Yulgilbar Beef Expo, Hancock Prospecting head Gina Rinehart said the future of Australia's export-dependent cattle sector relied on how successful it will be in cutting red tape.
Northern Cooperative Meat Company (NCMC) chief John Seccombe said it takes the company 60 days just to complete the audits it is required to do each year.
He said the company strongly supported efforts by the Australian Meat Industry Council and Cattle Council of Australia to lobby for more action by the Australian Government to reduce the many expensive non-tariff barriers our red meat industry faces around the world.
(In his address Don Mackay noted that there are things being done in this space – in particular the Federal Government has recently appointed a dedicated minister, Keith Pitt, to focus specifically on non-tariff trade barriers.)
Mr Seccombe also highlighted how foreign political decisions can directly impact on the bottom line of Australian red meat processors.
US President Donald Trump's decision to move the US back to coal generation and away from renewables had triggered a drop in the palm oil price, which in turn had depressed the tallow price.
"Tallow has dropped about from $900 a tonne earlier to about $600 a tonne," Mr Seccombe said.
"It doesn't sound much, but that is about $100,000 off our bottom line per month.
"So Government decisions can impact directly on our bottom line without any influence from us."
The US decision to pull out of the Trans Pacific Partnership had also delayed any tariff benefits the Australian industry was hoping for.
"So now we have to rely on the more time-consuming and cumbersome free trade agreements (FTA's)," he said.
"We certainly do have some very good FTAs in place and there are many others being worked on which may take years, with Europe they are talking about a 4-7 year timeline."
Beef operations showing how to improve productivity
Improving industry productivity is a perennial catch cry, but speakers last Friday proved that achieving it in reality is more than just wishful thinking.
AACo managing director Jason Strong told the forum the company is now making more revenue from less cattle (see separate article).
Yulgilbar Station has achieved something similar.
In his closing address Mr Sinnamon explained the operation has been able to increase the value of cattle sold five times since 2002, and has significantly reduced the cost of production of kilos of beef produced, with the help of consultant Bill Hoffman.
It has also been able to increase the weight of kilograms produced from its cattle by a further 57pc, and also now runs more than 1100 head than 15 years ago.
This was due to a wide range of factors, including a strong commitment to staff training, extensive pasture improvement and forage cropping programs and sustainable farming practices, Mr Sinnamon said.
A real game-change for Yulgilbar Station in the past five years had been attaining a better understanding of the financial position the operation is in at any given time, he said.