AS the Royal Queensland Show ramps up for another year, the incredible story of Australian red meat and livestock is being showcased at the Brisbane Showgrounds between 12 August and 20 August.
With Meat & Livestock Australia staff and the industry's Red Meat Ambassadors on hand at a dedicated display stand, a new initiative is being launched at this year's Ekka: the Australian Beef and Lamb Paddock to Plate story.
Through an immersive 360-degree reality tour, the seven-minute-long videos cater to consumers of red meat by sharing the story of Australian beef and lamb production and explaining why Australia produces the greenest and cleanest red meat in the world.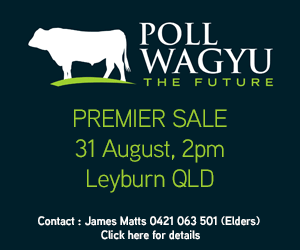 According to MLA's group stakeholder collaboration manager Samantha Jamieson, the Paddock to Plate Stories at events like the EKKA are incredibly valuable to help link consumers with the positive stories of the industry.
"As a service provider to the red meat and livestock industry, MLA has a range of programs that aim to engage and educate people about the Australian red meat industry," Ms Jamieson said.
"A key aim of these videos is to share the great stories around environmental sustainability, nutrition, and our traceability systems. We love telling this story and we encourage everyone visiting this year's Ekka to come and chat to us at the MLA Australian Good Meat stand this year."
"This year we have enhanced the paddock to plate with the new augmented video, where at the end of each scene, users can touch on various icons that take them to more information on specific topics."
"It works on a touch screen, which we'll have at the Ekka and will be promoting it through our Aus Good Meat website and schools for deeper learning experience," Ms Jamieson said.
The videos feature various aspects of the beef and lamb supply chains, including producers, feedlot managers, processing facility managers, butchers and chefs.
The Paddock to Plate Stories have been developed as a community engagement tool to educate all Australians about the provenance of their food and showcase the production systems we have in place to ensure the best quality red meat in the world.
MLA consulted a range of subject matter experts both internally and externally to ensure the videos are accurate and representative of the Australian red meat industry and its practices.
Ms Jamieson said for the story to be a true representation of the industry, MLA used people who actually work in the industry to tell their story.
"These are real people at the coalface, unpaid, but passionate about telling the industry's story," she said.
"MLA worked with them to ensure the messages they delivered are authentic and representative of the industry itself."
The Australian Paddock to Plate experience is located in the RNA Agricultural Hall and is available from 9am to 6pm each day of the Ekka.
Click here for more information Australian Good Meat.
Source: MLA