This month's resurgence in young cattle prices, as reflected in the EYCI graph below, raises the question: Is it early signs of a rally after the earlier spectacular falls, or is it a 'dead cat bounce?'
Originating from the finance and stockmarket sector, the term, 'Dead cat bounce' describes a small, brief recovery in the price of a declining stock. It is derived from the idea that "even a dead cat will bounce if it falls from a great height." The term is popularly applied to any case where a subject experiences a brief resurgence, during or following a severe decline.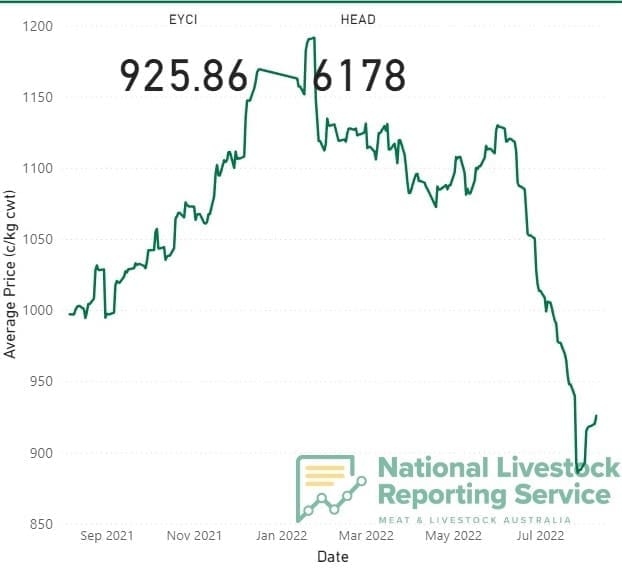 The Eastern Young Cattle Indicator was yesterday reported by NLRS at 925.86c/kg (dressed weight equivalent), continuing a nine-day rally that started back on 28 July. Since that date, the indicator has risen more than 40c/kg, or 4.5 percent.
But to classify the recent movement as the start of a price rally is still a bold call.
As the graph shows, there was a dramatic collapse in the young cattle market from the start of June through to the end of July, falling 245c/kg or almost 22pc over the following two months.
The big change in recent EYCI reporting has been the number of cattle sold, that contribute to the indicator.
The NLRS seven-day rolling-average reported yesterday accounted for just 6178 young steers and heifers – less than half what it was during periods back in July. On 26 July, for example, there were more than 16,500 young cattle contributing to the NLRS seven-day rolling average.
Fewer numbers on offer has intensified demand, helping push prices up.
Yesterday's Roma store sale, for example, accounted for only 1294 EYCI-eligible cattle, in a meagre yarding totalling only around 2800 head. Part of that small yarding was rain-influenced, but yardings are down, regardless. Last week's Dalby sale (today's results are not yet posted) yarded barely 3000 head, and 2300 the week before.
Back in November, a panel of independent market analysts* put together by MLA had predicted the EYCI to be at 1020c/kg by 30 June (it reached 1018c), and the same group had more recently predicted it to reach 953c/kg by the end of December. (*ABARES, Thomas Elder Markets, Mecardo, NAB, Rabobank, AuctionsPlus).
More upside ahead?
Based on market fundamentals, MLA's Stephen Bignell said it looked like there was still upside to young cattle prices between now and the end of the year.
Asked whether a sense of unease over FMD risk had contributed to the dramatic falls in young cattle prices since July, which may now be passing somewhat, Mr Bignell said there was a whole range of factors in play.
"When young cattle saleyards throughput reduces by about a third, in a week, it would indicate that there is not a rush in supply," he said.
Late July and early August are historically low points in the seasonal supply cycle, but its perhaps intensified this year. Some of the hysteria has now gone out of city media reporting about FMD, and as time goes by (without a disease event) it seems likely that producers will become more 'accustomed' to having it persist on our doorstep.
Mr Bignell said given the continued strong seasonal trend, producers might now be holding onto young cattle, as prices declined earlier.
"If, indeed, FMD concerns were influencing sale decisions earlier, it looks like market fundaments are now coming back into play more," he said.
"The independent analysts certainly see the ability of prices to lift by year's end, from where they currently sit."
Regional spread diminishes
"If we look at the spread of average young cattle prices reported on the EYCI, ten days ago some of the southern sales like Bairnsdale, had averages for EYCI-eligible stock in the mid-600s (c/kg live), while other centres were still as high as 950c. There were still some saleyards performing reasonably well, but it was a very big spread, from region to region.
"But what's happened is the spread (EYCI price reported by each of the 23 contributing saleyards across eastern Australia – see details below) is now much less. Scone yesterday sat at the top of the EYCI averages at 1042c, while Wagga was 1012c. Tamworth and Ballarat yesterday were the lowest at 838c/kg and 826c respectively.
"Some of those regional difference we saw earlier is much less pronounced now. In essence, there is less regional influence on young cattle saleyards results," Mr Bignell said.
On Friday, Meat & Livestock Australia reported that stronger confidence had returned to the cattle markets last week, with buyers recognising opportunity in the market dynamics and driving increased demand, heightening competition for a tighter supply pool.
Smaller yardings in north-east NSW at Tamworth and Gunnedah, as well as Carcoar in the Central Tablelands, saw prices lift strongly across most categories.
"Increased restocker activity has driven heightened demand, with confidence evidently returning in the market as rains fell across supply regions and buyers recognised the opportunities available," market information analyst Jenny Lim said.
Restocker versus feeder
A key indicator of renewed market confidence was the restocker-to-feeder buyer premium in the within EYCI.
As the EYCI declined from 1130¢/kg in early June, the premium between restockers and feeder buyers tightened to 3.7pc by Monday last week. Since then, it's recovered a further 5pc as the EYCI price rose. This increasing premium demonstrated the strong demand from restockers at the saleyards to put cattle back on grass and continue their herd rebuilds.
Feedlot buyers retract
In a separate discussion, MLA on Friday pointed out that the percentage of young cattle sales going to feedlot buyers has decreased in the EYCI, as well as nationally.
The increasing cost of inputs, forward contracts and the additional return for adding the extra weight on to an animal are all contributing to this.
With the EYCI price easing since early July, there was also a shift in the split of sales occurring each week.
Nine weeks ago, feedlot buyers contributed 50pc of sales included within the EYCI. For the week ended yesterday, that percentage decreased to 40pc, and was as low as 36pc last week.
Meanwhile, restocker sales have been on the rise since the beginning of the year.
Factors affecting sales
The recent easing in feeder sales could be due to several factors: the increasing price of inputs, the use of forward contracts and the additional return for adding the extra weight on to an animal.
Increasing price of inputs
The price of grain and oilseed have been increasing rapidly over the last few years. This makes the input costs in the feedlot sector more expensive per kilogram put on and lowering margins.
The export grain market is also extremely lucrative at the moment, making it relatively difficult to keep supply domestic. This leaves poorer quality grain left over, which makes processing and rationing more difficult.
Forward contracts
Filling forward contracts and buying out of the paddock has been common practice for quite some time. Most feedlots prefer to buy out of the paddock and use the saleyards to fill any gaps they may have. This reduces the feeder presence in the saleyard, as feeders are just bought as needed.
Returns for higher weights
Lastly, with the easing of the EYCI since June, some vendors are considering the benefit of putting more weight on animals and selling them in later sales. This is also supported by the current processor backlog, with many processors being booked out for weeks.
Future feeder sales
The feedlot sector is still strong, with expansions planned and pens filling up. It will be interesting to see how movements in saleyard and input prices impact future demand or if filling forward contracts is the way of the future.
* Understanding the EYCI
The Eastern Young Cattle Indicator, or EYCI, is a seven-day rolling average of young cattle (vealer and yearling weight steer and heifer categories. 0-380kg) from 23 saleyards across Queensland, NSW and Victoria. It is expressed in c/kg, carcase weight equivalent.
The EYCI is designed to be applicable to a wide range of beef industry participants across the supply chain. It describes general movements in cattle market prices in much the same way that the All Ordinaries share index describes general price movements in the stock market. It is generally a good indicator of the physical market, with movements closely reflecting movements in other MLA cattle prices, including the National Vealer and Feeder Steer Indicators. Movements in the EYCI also closely reflects movements in young cattle prices in states outside the EYCI's (Queensland, NSW and Victoria). This is expected, as many major Australian and global factors that influence beef demand and supply have an impact across all states. Price movements in WA, SA and Tasmania follow the general trends of the EYCI due to the influences described above. However, these states show evidence of other price trends related to distance from major markets, focus on other trades such as live export and local factors such as meatworks closures or openings and regional weather influences.
Thanks for your comment "Bernard". We're looking into your IP address and will be in touch shortly… Editor