Seven young beef producers will travel to Canberra next week to participate in the Cattle Council of Australia's NAB Agribusiness Beef Industry Rising Champions Initiative.
Throughout the three-day program, the fifth group of NAB Agribusiness Beef Industry Rising Champions initiative participants will have the opportunity to meet with leaders of the Australian beef industry, develop their knowledge of key industry issues, participate in policy sub-committees and network with a group of likeminded young beef industry leaders.
The Beef Industry Rising Champions will also have the opportunity to meet agriculture minister, Barnaby Joyce, shadow minister Joel Fitzgibbon and key policy makers from the Department of Agriculture.
This year's Rising Champions are:
Stewart Moroney, Victoria
Mick Doolan, NSW
Hayley Goad, WA
Cassie Cox, NT
Sam Becker, Queensland
Amanda Giles, SA
Courtney Lloyd, Queensland.
Cattle Council president Andrew Ogilvie said he was thrilled with the strong calibre of participants this year.
"Cattle Council is proud of the five year history of the Rising Champions Initiative and the myriad of opportunities that are provided to young beef producers through participation in the program," Mr Ogilvie said.
"I look forward to meeting the 2014 Rising Champions and hearing about their roles in the industry and their aspirations for the future of the Australian beef industry," he said.
Rising Champions Bios:
Courtney Lloyd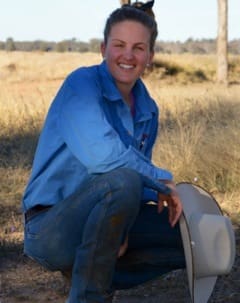 "Home for me is a cattle property in the Queensland Channel Country where my parents run a herd of USDA, NOP, Organic Herefords. Like most bush kids growing up, my siblings and I were a part of the workforce from a very young age. It was this grassroots love for the land and livestock that inspired me to make agriculture my career choice, specifically the beef industry. With this goal in mind I completed a Bachelor of Agriculture majoring in Animal Production at the University of New England. During my degree I was exposed to the many different agricultural industries, however the one that I could most relate to, and therefore found most interesting, was the beef industry. I am now fortunate enough to be heavily involved in the industry through my work as a Trainee Manager at Stanbroke Feedlot, Chinchilla, whilst also still being involved in our family breeding property. Being a part of the next generation of Australian producers is an exciting prospect for me and I cannot wait to see how the industry evolves in the future to continue to provide a protein source to the worlds growing population."
Mick Doolan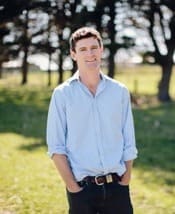 "From a young age I have had a keen interest in beef cattle. This saw me taking part at every opportunity possible as I grew up on a family farm. Through my schooling I competed in parading, junior judging and carcass competitions and enjoyed it thoroughly.  Following high school I completed a Bachelor of Livestock Science at UNE. Following the completion of my studies I had the opportunity to work on a cow/calf and feed lotting operation in Alberta Canada. Following this I returned home to my family's mixed farm at Coonabarabran where I continue to work. I take great pride in our cattle and constantly look into how we can improve our business. I take part in all parts of the running of our farm with a particular interest in breeding. I have used AI to produce replacement bulls and preg test to maintain herd fertility. Last year I, in partnership with another young local purchased a property in the Coonamble district where we run cattle as a stand alone business to our family farms. I have also taken any chance when possible and time has allowed, to do cattle work for other producers. This has included mustering near Normanton, Alice Springs and various other producers closer to home."
Cassie Cox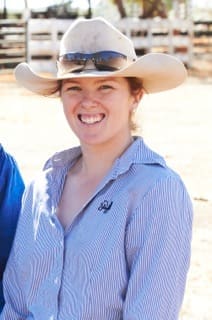 "I grew up on a cattle property between Mundubbera and Chinchilla in Queensland before moving to Toowoomba in 1993.  We then spent 6 years in Toowoomba and a further 10 years in Brisbane where I completed my high schooling and a Bachelor of Ag Science at UQ, St Lucia.  After finishing uni at the end of 2008, I was offered a job with the Northern Territory Primary Industries Department based in Tennant Creek with the Pastoral Production team.  This was a great experience travelling to stations all over the Territory collecting data for various research projects including the Liveweight Gain Project.  After 2 years in Tennant Creek I met my now husband, Anthony, and moved out to Brunette Downs where I began my employment with the Australian Agricultural Company (AACo) as Office Co-ordinator.  In June 2011, Anthony and I were then offered the management of Delamere Station, 160kms west of Katherine.  We spent 2.5 years on Delamere before moving back to the Barkly to take up senior management of the jointly run Anthony Lagoon & Eva Downs Stations in April this year.  We are based at Anthony Lagoon with an Operations Team running Eva Downs.  Anthony & Eva sit approximately 400km north-east of Tennant Creek.
Stewart Moroney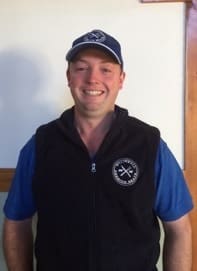 "I grew up on the Mornington Peninsula, Victoria and completed a Bachelor of Agricultural Science at Melbourne University in 2005. I took a position on a sheep and beef property located in Buchan, Victoria where I worked for 18months prior to taking a position as an Agronomist and Animal Nutritionalist with Elders Rural Services for 7 years.  Over this time, my wife and I purchased an irrigation block in Gippsland and began running our own farming operation as well, specialising in supplying the 'Paddock to Plate' market with a premium quality product throughout Gippsland, Mornington Peninsula and Melbourne.
In November, 2013 I met Melbourne Businessman, Peter J. August, who passion for the future of Australian Agriculture was enormous and together we developed Gillingall Premium Meats and commenced operation in December, 2013. In April 2014, Gillingall Premium Meats commenced trading in its first retail outlet located in Heyfield, Victoria and began supplying the markets of Gippsland, Melbourne and the Mornington Peninsula with the highest quality, premium Beef and Lamb product available in the market place today.
Today, as the Business Development Manager for Gillingall Premium Meats, I manage the day to day operation of the Historic  Gillingall Station located near Buchan, our Gillingall Premium Meats outlet in Heyfield,  our irrigation block near Heyfield as well as a fantastic workforce who help us produce the best possible product to supply direct to our consumers."
Hayley Goad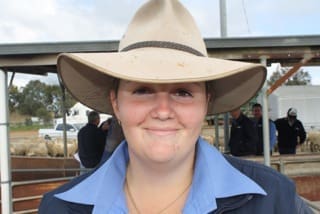 "I was raised in the hills of Perth in the small suburban town of Roleystone. Since leaving school I've worked on a few different properties whilst gaining a Certificate III in Agriculture. In 2008 I established my own Red Poll Cattle Stud and have shown at the Perth Royal Show and numerous regional Agricultural Shows since –winning ribbons and gaining plenty of experience and knowledge. In 2009 I was accepted as a Livestock Trainee for Elders Rural, which saw me achieve a Certificate III in Rural Operations."
"In 2011 I was approached by another livestock agency, Primaries of WA. Over the last 3 plus years with Primaries, I have excelled in all aspects of the business. I manage the Muchea Saleyards which involves completing the weekly cattle and sheep auctions from start to finish, processing private cattle and working closely with the saleyard. I'm also the assistant to our Live Export Manager, which enables me to be heavily involved in the process of exporting livestock. In addition, I have gained my Auctioneers Licence and in doing so I have become the first active female livestock auctioneer in WA.
"In the last 4 years I've branched out within the industry to continue my passion and expand my knowledge. I now sit on the RAS Perth Royal Show Trade Cattle Committee, WA Farmers Meat Council Committee, Muchea Users Group and attend a number of Agricultural based functions."
Amanda Giles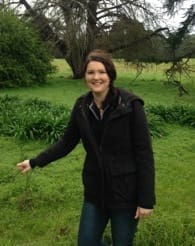 "I completed a Bachelor of Science (Agricultural Science) at The University of Adelaide in 2010 before beginning work on my family's beef and prime lamb property in the Limestone Coast region of South Australia. The business is focused on breeding and finishing livestock for the MSA, EU, PCAS and JBS Farm Assured markets. My main focus while working within the family business was to improve the genetics and management of the cattle with the aim to more consistently produce high quality MSA grade beef. Together with my family we have had great success in the Southern Grassfed Carcase Classic winning Grand Champion carcass in 2010 and 2012. While working on the farm I began using social media as @limestonecoastfarmer on Instagram in an effort to help reduce the gap between city and country.
"In 2011 I placed third in the Cattle Assessment School held by the South Australian Committee of the Angus Society selecting me to compete in the National Livestock Judging Competition at the Sydney Royal Show.  In 2012 I studied meat and animal science at Michigan State University through Angus Australia's Scholarship program.
"Early in 2014 I started a position as an animal health adviser with PIRSA Biosecurity SA and I am passionate about protecting Australia's export markets and helping producers maximise productivity through minimising the spread of pests and diseases.  I am currently the treasurer of the Southern Grassfed Carcase Classic, the president of Agri-Links Social Group and an active member of the Mackillop Farm Management Group."
Sam Becker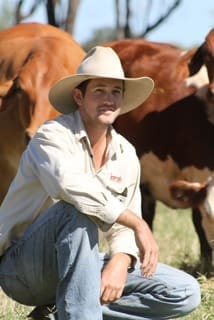 "I am a Central Queensland cattle producer and from an early age I have had had an innate passion for agriculture and, particularly, beef cattle which has led me to strive to develop my career in the beef industry. Currently I am involved in my family's cattle enterprise in the Dawson Valley where I am responsible for the running of the cattle operation. Our operation Jarrah Cattle Company is a vertically integrated beef operation incorporating seed stock production along with an extensive backgrounding operation servicing local feedlots and grass fed beef markets.
"The ever evolving beef industry is in exciting times, and my involvement and passion for developing beef genetics which are suited to the environments of Queensland and the Northern Territory requires a constant and sustained approach to education in what is required for grass roots beef producers.  Jarrah's commercial backgrounding and seed stock program puts me at the coal face to identify such industry requirements.  This requirement has led to the development of our tropically adapted herd that has three tiers of beef cattle, being Pure Modern Herefords, Redfords (minimum 25% modern Hereford remainder % Red Brahman) and Jarrah Reds, the clean-coated flatback which combines the Redfords and elite Santa Gertrudis genetics.  The need to maintain British content in our beef cattle whilst still maintaining a tropically adapted animal for the beef industry has been the driving force behind our breeding evolution.
"I pride myself on the professionalism of the Jarrah Cattle Company enterprises and my thirst to always improve my knowledge both formally and informally through industry networking with other professional young beef producers.  I consider that the initiatives such as Cattle Council of Australia's Rising Champions program is a perfect platform for this industry networking and I look forward to participating and contributing to the program."