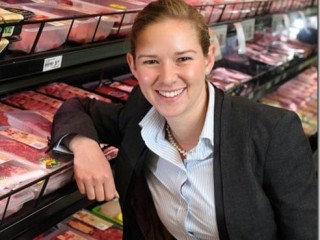 Four young farmers from throughout regional Australia will soon be sharing their farming journeys with school students after being named as the Target 100/Art4Agriculture Young Farming Champions for 2013.
The Young Farming Champions Program pairs young farmers with schools that are participating in the Art4Agriculture program.
Art4Agriculture is a network of young people with a shared passion for communicating the pivotal role Australian farmers play in feeding the world.
A key component of the network's activities involves the annual "Archibull Prize", an initiative which provides a blank, life-sized fibreglass cow for school groups to use as the canvas for an artwork which focuses on the theme:"What does it take to feed and clothe your community for a day sustainably?"
Each school is given a primary food or fibre industry to explore and showcase, and is paired with a Young Farming Champion, who shares their farming journey and works with the students throughout the duration of the project.
The Young Farming Champions program aims to help to bridge the gap between city and rural communities by increasing knowledge, generating trust and understanding of modern farming practices.
It also plays a key role in helping to build the capability of young rural people spark the next generations' interest in an agricultural career.
The Target 100 Young Farming Champions for 2013 are Jasmine Nixon, 24, from Wagga Wagga in NSW; Hannah Barber, 22, from Gunningbland, NSW; Danille Fox, 19, from St George, Queensland and Naomi Hobson, 23, from Georgetown, Queensland.
You can read their personal stories on the Art4Agriculture website here