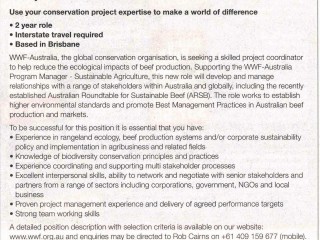 The World Wildlife Fund says livestock producers have no reason to fear its sustainable beef production campaign, but has also acknowledged that the end result could be a new certification scheme for the industry.
The WWF has been running advertisements in the rural media in recent weeks calling for a sustainable beef project coordinator.
The ads discuss the need to reduce the ecological impact of beef production, and have sparked concerns from some producers about the organisation's big picture plans for the industry, and whether a new layer of regulatory controls over beef production will be the ultimate result.
WWF spokesman Rob Cairns told Beef Central yesterday that the position represented "new territory" for the organisation and its sustainable agriculture program.
He said the organisation was not campaigning to develop new regulations against the industry, and had no interest in seeing new processes implemented that sent producers broke.
He acknowledged that a system of voluntary certification of sustainable beef operations was a possibility to be considered (more detail later in the article).
He said the successful candidate will work directly with producers, the Cattle Council of Australia, Meat and Livestock Australia and the beef industry supply chain to facilitate the adoption of sustainable beef Best Management Practices across the industry.
The organisation was still in the process of developing an agreed set of criteria to define sustainable beef production, and was looking to industry to help with that process through the Australian Roundtable for Sustainable Beef.
However at ground level he said the WWF's interest was in issues such as how stocking rates and groundcover were managed to reduce top soil and sediment runoff to sensitive ecosystems such as the Great Barrier Reef.
"What we want to come up with are Best Management Practice criteria that are good for farmers by putting more money in their back pocket, and that have environmental benefits to them as well," Mr Cairns said.
"When we look at the programs that MLA are promoting, they are good for farmers as well, you don't' want your topsoil running down the rivers.
"These solutions are existing, it is nothing that is radically new or bizarre that we're looking at promoting.
"We have no desire to promote practices that send people broke, because that is not the right answer for anyone."
Mr Cairns, who draws from an agricultural science background and previously worked for Cotton Australia, said he was aware of producer concerns surrounding the organisation's interest in promoting sustainable beef production.
However he believed that being able to promote the good management strategies already being employed in beef production would benefit the industry.
"This isn't an anti-beef campaign, it is not a stop eating beef campaign, and it isn't an organics campaign.
"This is about, how do we promote that widespread adoption of industry best practice, which is good for everybody, I think.
"If you have some sort of mechanism to be able to demonstrate that due diligence to those people who might be knockers, community, consumers, whoever that is, then I think that is good for the industry."
Asked if the end result of the sustainable beef process was likely to involve a system of certification to promote sustainable produced beef, he said such details were "yet to be decided."
"Some of the things we have seen in other commodities have been the marine stewardship council and the forest stewardship council.
"They're the sort of things that can open up as far as voluntary standards that people can choose to tick themselves off against.
"They're not anything bizarrely different to what MLA is promoting at the moment, but if you have got the mechanism to be able to prove that, and get some sort of third-party endorsement to it, maybe that does open up opportunities."
The Australian Roundtable for Sustainable Beef will be officially launched in Rockhampton during the Beef Australia 2012 expo in May, and will be attended by representatives of WWF and all other groups in involved in the process, including JBS, Cargill and McDonalds.
Mr Cairns said producers were encouraged to attend that forum to pose any questions about the the sustainable beef roundtable process.
Keep an eye out in coming days for Beef Central's new beef industry recruitment section