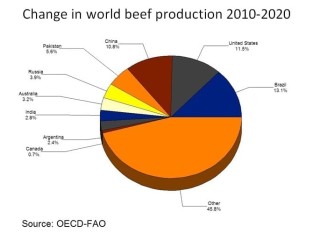 The latest OECD-FAO Agricultural Outlook forecasts beef and veal output to increase 13 percent by 2020, with production of pork, poultry and sheepmeat all set to increase by at least 20pc over the same period.
According to the OECD-FAO, world meat production is projected to average an increase
of 1.8pc per annum over the 2011-2020 outlook period.
The increase in production is driven by a 78pc rise in output from developing countries, with growth underpinned by the faster production cycles for both the poultry and pigmeat sectors.
World beef and veal production averaged 65.4 million tonnes in 2008-10, with production through to 2020 tipped to increase by 8.5 million tonnes, to 74.1mt.
Output growth by 2020 is forecast to increase by 7pc (31.8mt) in the developed world, with the
major producing countries of the US (12.5mt) and Australia (2.6mt) increasing 9pc and 12pc,
respectively, on the 2008-10 average.
Production growth for developing countries is expected to increase by 19pc by 2020, to
42.2mt, with Brazil (12pc) and mainland China (15pc) accounting for the largest
proportion of output, at 10.2mt and 7.1mt, respectively.
The main factor constraining meat production will be feed prices, which are expected to
remain high throughout the forecast period. As a result of the high prices, the OECD-FAO
report suggests that efficiency in the use of feed will be improved by technological
advancements, a more strategic use of feed and an expansion of grass-based production
methods.
Pigmeat production is expected to increase 20pc by 2020, to 127mt, while poultry meat is forecast to surge 29pc over the same period, to 122mt. Sheepmeat output is predicted to total 16mt in 2020, up 22pc on the average for 2008-10.
Click on the image below for a clearer view of the beef growth pie-chart