Retail supermarket giant Woolworths has stuck to earlier forecasts for modest profit growth for the 2012-13 financial year, despite the bleak state of the retailing landscape, shareholders were told at the company's annual general meeting on Thursday.
Chief executive Grant O'Brien told the meeting Woolworths was maintaining guidance for net profit growth of 3-6 percent this financial year, following a 14.5pc decline in 2011-12 – the first year that earnings had gone backwards.
"Despite the instability in consumer confidence and some uncertainty in global financial markets, our expectation for this year remains unchanged," Mr O'Brien said.
Retiring chairman James Strong also touched on the continuing tightness of the retail economy.
"The 2011-12 financial year was one that was marked by both tighter economic and retail market conditions. There is no doubt we are experiencing most challenging conditions for retailers, with low levels of consumer confidence and uncertainty, and significant deflation in many categories, fuelled by a continuing strong Australian dollar and increased retail competition," Mr Strong said.
However he noted Woolworths supermarket division – the largest red meat retailer in Australia – was gaining ground thanks to a revamped fresh food marketing campaign, new product ranges, promotions and community activities.
Increased global sourcing, new procurement strategies and shared services cost savings would also deliver benefits into the future.
"Results have been positive with increasing market share, basket size and customer visits being recorded," Mr Strong said.
Despite continuing tough retail conditions and low consumer confidence, Woolworths sales from continuing operations grew by 4.8pc during the 2011-12 year, with net profit after tax of 3.6pc. The result was underpinned by gains in customer numbers, market share and units sold.
CEO Grant O'Brien said the Australian food and liquor business, under which the supermarkets operate, delivered an increase in gross margin which "underlined the fact that efficiency and cost management remains at the heart of our operations."
"It also highlights a significant focus on shrinkage improvement, improvements in buying, and the roll out of new store formats. Much of the benefit received from these initiatives has been reinvested in price reductions for customers," Mr O'Brien said.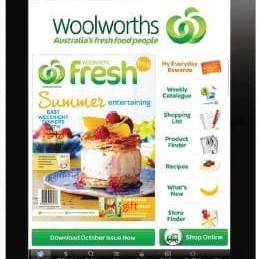 Australian food and liquor earnings were up 5.2pc on a year earlier, delivering ten consecutive months of fresh quarterly share growth on last year.
"Customers benefited substantially from lower prices across all our brands. Woolworths has played an important role in helping consumers to manage their cost of living, and I think that role will continue to increase," he said.
During the year Woolworths opened 30 new supermarkets in Australia.
The company now claims to be Australia's largest online retailer, with more than two million customers having now downloaded the Woolworths mobile phone and tablet app, pictured left.
Shareholder questions:
This year many shareholders raised questions about the competition between Coles and Woolworths supermarkets, focussed on pricing and marketing strategies, and the need to source Australian-grown and manufactured products.
Mr Strong said in the fresh food category, 100pc of fresh meat and 96pc of fruit and veg were sourced from Australia, through Woolworths' relationships with3490 large and small businesses supplying the company with fresh food.
"WE pride ourselves on our relationships with Australian farming communities and will continue to work with them to ensure our products are of the highest standard," he said.
Chairman James Strong has retired after 12 years on the Woolworths board, and 11 as chairman.
His successor, Ralph Waters, joined the board in 2011. He is a former chief executive officer of Email and Fletcher Building Ltd, and a director of Fonterra dairy co-operative and Asciano, and a former director of Westpac NZ and Fisher and Paykel appliances.
Woolworths shares closed up 18c at $28.66 on Friday.