NATIONAL supermarket group Woolworths bought around 157,000 tonnes of beef for its domestic retail operations during the 2021-22 financial year, the company says in a new Regional Footprint report.
That figure includes product from both Woolworths' grainfed cattle supply contract holders as well as boxed beef bought out of the general market.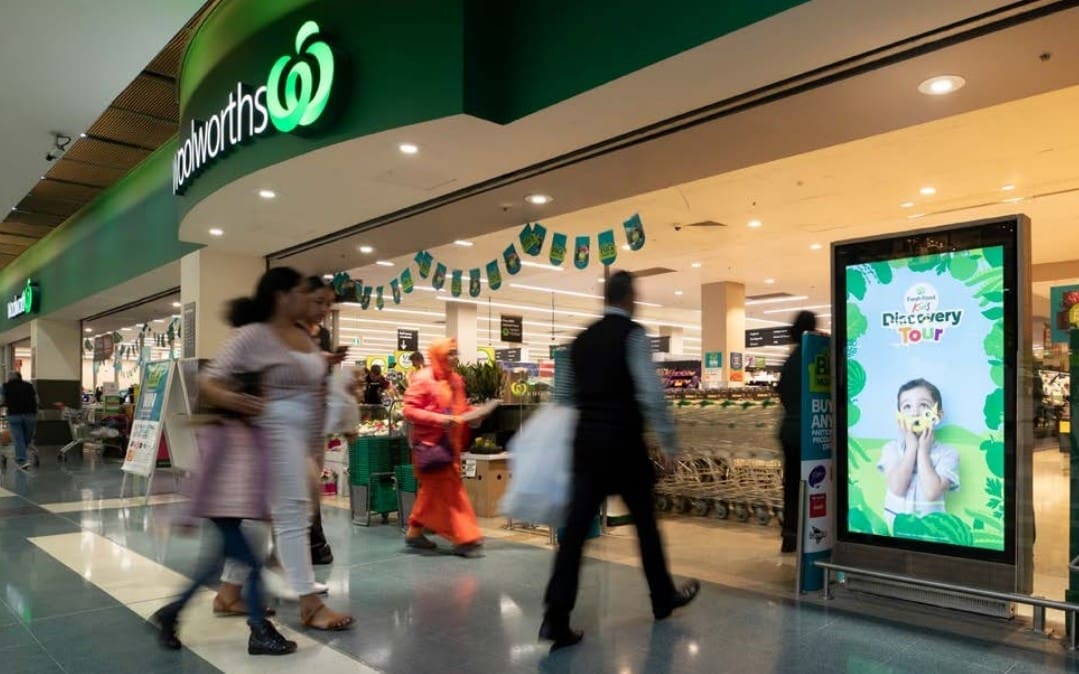 Doing some sums, at an average carcase weight of 280kg, the figure aligns pretty closely with Woolworths' known weekly national beef kill of 10,000 head, or 500,000 head per year, plus boxed meat purchases.
Woolworths says it has more than 2500 farmers engaged in its red meat supply chain, and utilises output from more than 100 beef feedlots.
Among other proteins, the company last financial year bought 39,000t (also understood to be carcase weight equivalent) of lamb, 57,000t of pork, and 174,000t of chicken. Significantly, despite the dramatic difference in price/kg, chicken volume is only 17,000t or 11pc higher than beef.
Over time, Woolworths has grown its reliance on beef sourced from outside of its own committed supply network. One recent independent estimate suggested that 54pc of Woolworths overall beef sales are now made up of mince, sausages and pre-formed burger patties.
Woolworths' 2022 Regional Report released this week attempts to quantify the company's contribution to regional communities and Australian agriculture.
Among other findings in the report:
$2.4 billion in meat* purchased from Australian producers by Woolworths Group (*excluding fish, but including beef, lamb, pork and chicken)
Woolworths Group employs 48,000 regional team members, paying $1.5 billion in regional wages annually
400 Woolworths supermarkets, BIG W stores and Woolworths Group distribution centres are located in non-metro regions
In FY22, regional customers accounted for 32pc of Woolworths Group customers – an increase of 3pc since FY19.
"We are seeing a growing number of Australians move from cities to regional areas as hybrid work has become more accessible," the report said.
"This is a welcome trend and we have voiced our support for the Regional Australia Institute's goal of building robust regional economies and a better quality of life in our regional towns."
The report emphasises Woolworths' progress in emissions and sustainability, including reducing scope 3 emissions through its suppliers, and the Futurefeed asparagopsis seaweed project in beef and dairy.
"FutureFeed is driving the commercialisation of the use of asparagopsis, that can significantly lower the environmental footprint of meat and dairy products by reducing their methane emissions," the report said.
"Scientists from CSIRO, James Cook University and Meat & Livestock Australia discovered that by adding a small amount of a seaweed native to Australian waters, emissions can be reduced by up to 98pc, with early suggestions of productivity improvements too."
"FutureFeed is working to build this new global industry through research and development and is building out a certification program for quality assurance and providing education on the innovation."
Woolworths Group is an investor in FutureFeed and is collaborating on a number of trials near Armidale, NSW using the additive in commercial feedlots. These trials are an important step in the technology reaching scale as they build on the foundation science to provide larger-scale demonstrations that are similar to commercial applications.
Several Woolwrths beef supply chain stakeholders are featured in the Regions report.
Michael and Kate Owen, North Star NSW
Michael and Kate Owen, from Tullin Tulla, North Star, NSW have been supplying cattle to Woolworths for almost 30 years, dating back to when Michael's parents Bill and Penny bought the property.
Since the mid-1990s, Tullin Tulla has been a family affair, run by Bill and Penny alongside Michael and his wife Kate. Over the decades their 9000ha property has grown to supply Woolworths with around 8000 head of cattle each year
The Owens employ 10 staff, all from the local North Star community. Michael said their long-term partnership with Woolworths Group had underpinned their cattle operation and allowed them to add additional value to their business.
As a mixed enterprise with both cropping and cattle, the Owens have diversified and this has allowed for them to invest in an on-farm breeding operation. They have also been busy modernising the farm, adopting new technologies such as automation and GPS for farming work, including planting, harvesting and spraying.
Their farming ethos promotes sustainability and self-sufficiency – irrigating from deep-water bores and producing the majority of their feed on-site, allowing them to control quality, reduce their footprint and reduce costs.
The farm is part of a remote Soil Organic Carbon mapping pilot program that uses five years of historical satellite data combined with the farm's 20 years of soil sampling to identify areas that will capture the most SOC, which determines where they should spread composted waste from the feedlot to obtain the most benefit.
Sam Ditchfield, Woolworths National Strategic Sourcing Manager for Beef
Operating from Armidale NSW where he lives with his family, Sam Ditchfield is Woolworths National Strategic Sourcing Manager for Beef.
He has family history and experience in the industry dating back 30 years, with his family's old feedlot near Inverell operating as a supplier for Woolworths.
In his role, Sam oversees the purchase of more than 10,000 cattle every week, servicing Woolworths supermarkets across Australia. His team of five livestock sourcing specialists source cattle from NSW, South Australia, Victoria, Tasmania, southern Queensland and Western Australia, and are the point of contact for Woolworths' cattle supply partners, including farmers, feedlots and traders.
Sam and his team work closely with the supply partners to forecast quantities of beef needed to keep retail store shelves stocked, and have forged strong relationships, some spanning more than 40 years.
"A team with a strong background in agriculture ensures that we can relate to the challenges faced by our partners and work together to create the best outcome and continue supplying quality beef across Australia," he said.