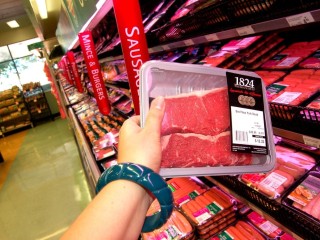 The nation's largest supermarket retailer, Woolworths Ltd, has posted a 4.7 percent increase in sales for the fiscal year just ended, aided in part by lower retail beef prices as part of its ongoing price war with competitor, Coles.
Annual results announced today by Woolworths chief executive officer, Michael Luscombe, included full-year company-wide sales of $54.1 billion, a 4.1pc increase worth $2.4b on the previous year.
Mr Luscombe said the result had been achieved in a challenging year for retail which saw continuing deflationary effects, disruption caused by natural disasters, increased consumer caution and higher domestic savings rates.
Within Woolworths' supermarket division, its Australian Food and Liquor business recorded sales of $36.2 billion, an increase of $1.5b or 4.3pc over last year. Same-store sales for 2010-11 increased by 3pc.
Trading during the fourth quarter (April 1-June 26), saw sales from the Australian Food and Liquor division increase by 6pc, while comparable sales increased by 4pc.
"In a highly competitive and challenging retail environment, we have increased our market share, customer numbers, basket size and items sold in the year," Mr Luscombe told the market.
A number of initiatives had contributed to the result including customer acceptance of the new '2015' store format and overall price competitiveness through Woolworths' price knockdown campaign.
"In addition, customers continue to respond positively to the quality and value of our fresh food as demonstrated via initiatives such as a major price reduction on beef, the promotion of our Fresh Food Guarantee, the expansion of our Macro Wholefoods Market organic and gluten-free range and continued development of our Woolworths Select and Homebrand products," he said.
"Trading does however continue to be impacted by tightened consumer spending with higher savings and interest rates, petrol and utility prices."
The standard 'shelf price movement index for the year was 2.6pc, while the fourth quarter was 3.1pc. Those numbers reflected the higher levels of inflation in fresh produce which were more than offset by deflation in some other categories.
"Our average prices have experienced deflation for the second half, of 3.6pc (first half 4.3pc), when the effects of promotions and volumes are included. Part of this deflation has been a result of Woolworths lowering its prices for the benefit of customers in a dynamic market," Mr Luscombe said.
Woolworths opened 21 new Australian supermarkets during the year, including seven in the fourth quarter, bringing total Australian supermarket numbers to 840.
On-Line sales
Solid progress has also been made in delivering a multi-channel online sales function, with sales in this new area increasing 63pc for the year. While most of this was in BIG W and Dick Smith on-line stores, Woolworths' supermarket on-line business has also expanded into new metropolitan and regional areas.
On-line business now represents about 1pc of Wooworths turnover.