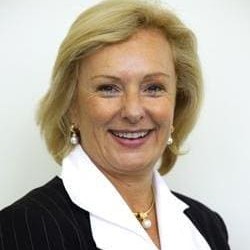 Question: What's the biggest difference between new Meat & Livestock Australia chair Michele Allan and her three most recent predecessors?
While the easy answers are gender or her scientific skills background, more significant is the fact that all three past chairmen to serve over the past 15 years have had extensive hands-on experience in cattle production, either through private or corporate channels.
Starting with David Crombie's election in 1998, and followed by Don Heatley and Rob Anderson, MLA boardmembers sitting in the chairman's seat have traditionally been able to 'walk the walk, and talk the talk' with grassroots levy payers.
While there's nothing in the MLA constitution that says the chair must be a hands-on beef producer, there is certainly still a sub-set of industry stakeholders who feel that it is an important pre-requisite to guiding the strategic direction of the producer-owned service delivery company.
New chair Michele Allan sees it differently.
In our first 'getting to know you' discussion on Friday, Beef Central asked Dr Allan whether there was a risk that some grassroots levy payers might feel a little uncomfortable that the incoming chair had no direct links with the production end of the industry.
"It's a legitimate question," she said.
"But the feedback we have had from peak councils and many other stakeholders is that the red meat industry has now moved to a point where the general principle of the skills-based board structure, from which the best person is chosen as the chair, is the right model."
"If that person is not from the producer ranks, as such, then they are now very comfortable with that," Dr Allan said.
"We have excellent producers from southern and northern Australia around the MLA board table who strongly represent our levy payers. My job as chair is to get the best out of the board, and that we focus on their skills-sets for maximum benefit. That's what they're there for – it is not just about the chairman."
Dr Allan said it was also important that connection between the board's role in strategic direction, and that of the company management in execution of the strategy, was as seamless as possible. The board and management views needed to be aligned, so that the industry got the maximum out of an organisation that was operating effectively.
"I believe we have the right balance on the board, given the breadth of matters we have to cover. Those boardmembers with production experience provide the right perspective about where the levy payers are at on any particular topic," she said.
Equally importantly for MLA, as a company, one of the board's key roles was to ensure that the financial and risk-based governance was in place.
"For this reason the board obviously felt these were important skills for the chair, going forward," she said.
Dr Allan's CV is both lengthy, and broad-based, including both operational management and board experience across a string of well-known public and private companies and government instrumentalities. She has sat on company boards since 1998, including a number with strong food industry connections.
Professionally, she comes from a research background, having graduated in diagnostic psytology – a branch of pathology that studies and diagnoses diseases like cancer at the cellular level.
She worked initially as an R&D chemist in quality control laboratories in the manufacturing industry, before moving into marketing and R&D roles in the food manufacturing sector with Nestle.
She then moved back into R&D to develop water-resistant sunscreens, before completing her Masters at Melbourne University and taking on a management position with paint manufacturer, Dulux, including management of factories, logistics and warehousing.
She then moved back into the food sector with Kraft Foods, where she was responsible for engineering, QA and environmental performance across the company's 15 factories, before moving to Bonlac Foods (predecessor to Fonterra) working in nutrition R&D and quality systems.
More recently she spent time running packaging manufacturer, Amcor's R&D program, where her primary role was in developing packaging solutions for food manufacturing customers facing packaging challenges.
Most recently, until 2008, she was chief executive officer and managing director of Patties Foods Ltd a manufacturer and marketer of frozen foods with well-known consumer brands like Four N Twenty, Herbert Adams and Creative Gourmet.
It was during this period that her exposure to the beef industry started to grow, in connection with sourcing raw materials used in pie manufacture, through suppliers like Australian Country Choice in Brisbane.
It was while sitting on the board of the Dairy Research and Development Corporation that her contacts within the beef industry started to expand, becoming well-acquainted with former MLA chairman Don Heatley and others. During this period, she also completed her Masters of Law in corporation law and directors' responsibility.
"MLA was looking for someone with my sort of skills in corporate governance, strategic planning and R&D to join the board, and they encouraged me to submit a board nomination," Dr Allan said.
She was ultimately successful, joining the MLA board at the 2010 AGM in Longreach. She has recently been re-nominated for a second three-year term by the MLA board selection committee, which levy payers will vote on at the upcoming AGM in Wodonga.
Stronger R&D focus?
Given her professional background, Beef Central asked Dr Allan whether there would now be a stronger R&D focus around the MLA board table.
Some former boardmembers have in the recent past suggested that R&D was often 'under-cooked', in terms of priorities, in balance with time spent on other board matters like marketing, market access and other matters.
Dr Allan said between her own skills-set surrounding strategic R&D, together with the R&D sector skills brought to the board via CSIRO's Dr Greg Harper, the board was arguably better equipped to handle R&D matters now than it had ever been.
"I'm confident that we currently have a very good skill-set around the board table that can question the direction and guidance of the company's R&D portfolio," she said.
"Getting the balance right between strategic and near-to-market R&D, and the risks associated with those and how we offset it, is critically important."
From an R&D perspective, she said the recent MLA Livestock Production Innovation independent review (see Beef Central's earlier detailed discussion of the review's contents here) was a "really constructive review for us, and we need to spend time thinking about how we change our systems to accommodate those findings."
"We need to look at the R&D implications going forward, and whether we have our portfolio balance right. There are a whole lot of questions around R&D."
In the absence of a Beef CRC since last year's closure, Dr Allan said the industry needed to continue to look at other ways to ensure it maintained its research base whether that be directly through universities, CSIRO or some other mechanism.
"That's on our radar," she said.
Direct engagement with producers
Beef Central asked Dr Allan where she stood on the chair engaging more directly with grassroots levy payers. After two chairmen in Don Heatley and David Crombie who were constantly engaged with levy payers across the country through countless speaking engagements with producers, there was a dramatic change in the approach taken by the immediate past chairman, Rob Anderson.
As part of a 'getting back to basics' MLA board strategy, Mr Anderson withdrew almost entirely from engagement with producers at an industry event speaking level, leaving that task to MLA managing director Scott Hansen and the peak councils.
"I plan to speak where and when I think I can add value," Dr Allan said.
"If it's more appropriate for Scott Hansen to represent the company, given he manages the day-to-day affairs of the business, then I would leave it to him. But if I can bring a different or broader perspective to the discussions, then I'll be happy to speak at industry gatherings," she said.
"I think it is important for the chairman to regularly engage with grassroots producers, and already we are working on an itinerary for me to get out across the industry in coming weeks to get a better appreciation of local and regional issues of relevance to MLA."
"But over the past three years I've spent time sitting-in on state farm organisation board meetings, and industry gatherings to get a better understanding of what grassroots producers are thinking," Dr Allan said.
"To some extent, that information flow comes also through some of my other responsibilities, as a member of boards like Ruralco, for example. I already get to meet and talk with people across the industry through a number of channels."
But having said that, Dr Allan professed that she would "Never be a Don Heatley."
"Everybody brings a different skill-set to the chair's position, and organisations like MLA go through transitions at different phases, and need different skills sets at different times."
"In my opinion, this producer company has now got to a stage where its levy payers and its board are comfortable with the sort of skills-set I bring as the new chair: a background in food and agriculture, but not as a grower; while making sure that we are attending to risk in the business; that our financials are up to scratch; and that the processes applied within the company ensure that levy payers get maximum value for the money they invest."