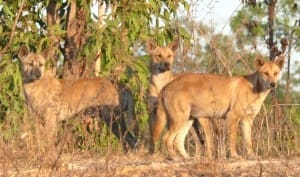 A western Queensland stock agent says wild dogs have become an even bigger problem for the region's livestock sector than drought.
While Federal Government funding for the problem is increasing, Marc McKellar from Landmark at Charleville said the fight against wild dogs was being lost because many landholders still chose not to participate in control efforts, such as coordinated baiting programs..
This was despite growing evidence of heavy impacts by dogs on sheep and cattle enterprises.
One local cattle producer recently mustered and yarded 60 cows and calves to find 30 calves with dog bites. In areas of heavier dog pressure such as along watercourses sheep producers were reporting lambings being down by 30-40pc.
Indicating how brazen dogs were becoming, another landholder close to Charleville recently reported that dingoes killed one of his working dogs at his homestead while the dog was tied to its chain.
The problem is preventing more producers from capitalising on a period of improved cattle, sheep and wool prices, and was also impacting heavily on small western towns which relied on the sheep industry for local spending.
Mr McKellar said that while it was pleasing to see more Government attention focused on the problem, the dog problem could only be overcome by greater landholder participation in control efforts.
"Unfortunately it is not one-in, all-in," Mr McKellar said.
"There are still a lot of gaps in the control effort which makes the fight much harder to win."
"You only have to think of how bad the dog problem is now and try to imagine just how bad it is going to be in another five years time."
He said some landholders still had a perception that dogs would keep kangaroos away.
Towns such as Tambo and Blackall in particular relied heavily on a strong local sheep industry to survive, he said
"Take the sheep out of an area and you take away a lot of people with a surplus income who spend money in town like your shearers.
"Because of dogs and the impact on the sheep industry you haven't got that money cycling around town like you do when you have a lot of sheep.
"The drought is a big problem in this country, but the number one problem now is dogs."
Mr McKellar said it now appeared that about the only effective solution for landholders, while costly, was to construct predator-proof fences to keep dogs out – either in clusters with other landholders or by fencing off their own properties.
"I think that is the only way to do it," Mr McKellar said.
"Back in the 1950s that is how they got rid of them, everyone had a six foot boundary fence, they didn't put them up just for fun.
"And some of these clusters are showing really good results already."
He said there were already a number of fencing clusters around Morven and Tambo with others either being built or in planning stages around Quilpie, Wyandra and Augathella.
In another sign of how serious the dog issue is becoming, Mr McKellar said there were also signs that feral goats were also tending to move out of the area as dogs were moving in.
"I think over the last couple of years they have started to migrate south away from the heavy dog pressure," he said.