"Google Glasses" caught the cattle industry's attention earlier this month when they were used by the judge of the Brisbane Ekka interbreed cattle competition to live stream his vision and commentary to outside viewers via the web.
The wearable high-tech glasses incorporate a microphone, video camera and wireless internet connection that allows others to see and hear what the wearer is seeing and saying. They also have an inbuilt "heads up display" that presents the user with a readable information display at the edge of their vision.
Google Glasses have many similar features to smart phones and seem set to offer a similarly limitless array of potential applications.
The Ekka experiment was a trial, and, for the small amount of time it worked, it worked very well. The livestream allowed viewers to see what judge Terry Nolan could see as he walked around the ring and could hear his reasons for selecting or excluding each bull or female that appeared in the vision before him.
Unfortunately those passages were only viewable for short bursts of 20-30 seconds at a time, with most of the video feed dominated by long-passages of "buffering" as the weblink to the glasses struggled to maintain a connection. Apparently competing signals from nearby TV mobile broadcast units and the dense concentration of mobile phones in the Ekka showgounds prevented the stream from working as smoothly as it had during pre-event practice runs.
However, such technical hitches are unlikely to be a long term issue for the technology, and it would seem likely that we will see Google Glass judging tried again soon.
So what other possible uses are there for Google Glass technology in Australia's beef cattle industry in future?
We put that question to Central Queensland University Professor Dave Swain, a scientist who is leading research into how technology can be used to unlock greater productivity advances in Australia's cattle industry.
Professor Swain and his team are currently focusing their attentions on precision livestock management, and exploring how wireless technologies such as RFID tags and readers, GPS collars, proximity loggers and radio-location eartags can be used to monitor animals and automate data capture, with a view to lifting profit by either saving costs, increasing production or lifting price.
Professors Swain said that while large-scale use of Google Glasses by producers is still some way off and practical testing by livestock researchers would be needed to help refine the technology, he sees potentially useful applications in future in helping producers to make quicker and better decisions.
The biggest point of difference with this technology against what is currently available, such as smart phones, is that it allows the user to access information while keeping both hands free to engage in other tasks, such as driving or working stock in cattle yards.
Picture a producer working with cattle in a crush, for example. As each animal moves forward the producer wearing a pair of Google Glass receives an instant heads up display of relevant summary data for that animal – information they can use to make instant decisions as to its treatment or destination for example.
Think a little further forward and the next step would be a producer wearing Google Glasses as they scan eyes across cattle in a paddock or on a forage crop. As the producer looks at each steer, for example, the glasses pick up summary data on each animal and presents it on the heads up display in the producer's field of vision.
The information on each steer includes it most-recently recorded weight, which was captured automatically by an RFID reader earlier that day and uploaded to a cloud-based database as the steer crossed a set of scales to access a watering point.
The updated information captured on each animal via remote RFID readers effectively sits in the cloud (the computing kind, not the sometimes rain-bearing kind) where it is then available to be accessed as required by the user with a smart phone wirelessly connected to a pair of Google Glasses.
The producer can also use voice recognition via Google Glasses to make an on-the-spot management decision. By combining information on the weight of the steer with market prices, weather and pasture availability displayed on the Google Glasses a decision to draft animals can be made in the paddock. The command is uploaded via the cloud and the drafting gate is now pre-programmed so that the next time the steer goes through the yards he is automatically drafted off.
Automated data has big potential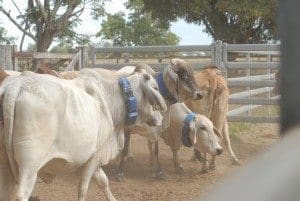 This concept of automated data capture and management is an area that Professor Swain sees as having serious potential for the northern cattle industry in particular.
This technology has the capacity to deliver larger amounts of performance data across a larger number of producers and in turn could lead to much-needed advancements in genetic improvement and productivity, particularly in the extensive northern cattle industry, he believes.
Professor Swain said the dairy industry has been collecting information on every single cow every day for use in highly refined selection indices, and has doubled its production in the past 30-40 years.
While the beef industry faces a unique set of challenges that make this difficult to achieve, it should nonetheless aspire to achieve the same goal.
"Lifting reproductive performance is a key driver of profitable northern beef cattle operations," he said.
"The Beef CRC data has shown that there are a group of cows out there that are highly fertile, the challenge is to find more of them and with more refined automated data capture tools this could enable us to access those animals with elite genetics.
"By providing more automated data capture this might also increase participation in genetic selection programs.
"Every day we should be collecting data or at least once a week on our cattle and in so doing refine the temporal knowledge gap that we have got at the moment.
"By narrowing that gap down, that is when you start to become much more informed and refined in the decisions that you're making and I think the genetic selections and improvement is where this starts to really have big benefits."
Prof Swain is aware of the challenges of internet access in remote locations and while these difficulties are seen as the immediate problem, he is confident they will be fixed by upcoming improved wireless communications and more integrated technologies such as emerging satellite technology linked to low bandwidth networks. As the improved networks roll out, producers will need to be prepared to take advantage of the opportunities, he says.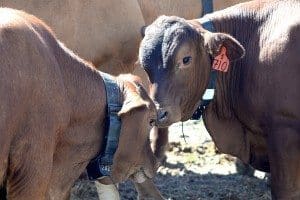 Technology trials already driving gains
The CQUni team is currently conducting research with telemetry at watering points and data collection via RFID readers, radio-location ear tags and proximity loggers. These data are automatically captured and are allowing data updates at intervals as frequent as every 10 minutes.
The aim is to deliver automated data on reproductive performance by identifying calving dates and delivering automated data on days to calving.
The calf alert project conducted by Charles Sturt and CQ University in conjunction with MLA is developing a potential technology to identify the date and time of calving. In addition the CQUni team is looking at movement and social behavior patterns to identify both date of calving and maternal parentage.
For example PhD student Chris O'Neill is looking at the social behavior patterns and is collecting data exploring creching behaviours of cows and calves and individual oestrus events. His work is providing valuable information on the potential for social behavior data collected in the paddock.
Some of the early monitoring work in trials indicated that some older cows seemed to be lacking as mothers in terms of the amount of time they spent in close proximity with their calf.
The researchers have hypothesised that some cows are separating from their calves earlier and are tending to look after themselves ahead of their calf, and, as a result, they are more likely to be in better condition at the next mating round and more likely to have a calf every year. Cows that have a calf every year stay in the herd longer and get to be old. However a cow that looks after its calf "too well" is more likely to be thin going into the next mating round, and may fail to calve and then be culled from the herd. More work needs to be done to confirm the hypothesis but maternal variance has important implications for both maternal traits and the links to calf growth rates.
"We are factoring in the importance of social behaviours and how this might have implications for more detailed decisions about the value of an individual cow in the herd," Professor Swain said.
Another PhD student, Don Menzies, with funding from Telstra and MLA is exploring how to automatically capture valuable information using a standard RFID reader for each individual animal as it comes to water to see if it possible to identify date of calving and maternal parentage combining the social behavior analysis with the telemetry technology.
Trials so far have achieved 90pc accuracy on mothering up.
The social network analysis has shown that when cows calve they isolate themselves. The researchers are now looking to see if the same thing happens when they come in to water. By combining this with changes in weight as identified by the RFID readers and scales, they believe they can accurately pinpoint that animal's correct date of calving.
This is all leading to a platform that can help to propel greater genetic gain in the north.
The northern beef industry has traditionally not had as widespread participation in genetic selection programs as the southern industry, which Professor Swain believes is largely due to the vagaries of distance and the challenge of collecting the information required in extensive northern herds.
However, he believes that if the industry can get fully automated systems in place to generate the data required with technology that already exists, then the northern cattle industry is far more likely to participate and benefit from greater rates of genetic gain.
"And once they start participating in that type of technology, we will see similar patterns of uptake that we saw with mobile phones – it starts out as a phone that you can take anywhere but ends up suddenly with a whole series of apps that can be used to check the weather, market prices or whatever else, and suddenly there are a whole heap of these other spin off benefits.
"The idea of producers starting to actively use fully automated data collection systems means that when Google Glass comes along producers will be ready to use them and they will be actively wanting a dedicated system to access more detailed information in the right place, in the right format and at the right time.