Plans to deregulate Bovine Johne's disease nationally are meeting stern resistance from Western Australia.
A national review committee recently recommended a framework which no longer recognises the current Johne's management zones across Australia, and would instead allow producers to manage the risk of introducing the disease to their farms.
If adopted the new policy would do away with the existing national BJD control and eradication program, under which properties with cattle suspected of being infected with Johne's must submit to herd quarantine and cattle culling programs, without substantial compensation.
An integral part of the current national control and eradication program is the Market Assurance Program (MAP) with which herds in south east Australia must comply before they can send cattle to Western Australia. The new framework proposes that the MAP be reviewed either modified or removed.
The new policy, if adopted, would require producers to make their own assessments about the risk of contracting Johne's Disease in their herds through deciding which animals to allow onto their properties. A vaccine is also available for use in the herds which are infected.
Johne's is a notifiable incurable disease. A range of different strains known as cattle, sheep and bison strains can infect cattle and can cause wasting and death in affected animals. Most impacts are in high-rainfall areas and affect older cattle.
The actual threat posed by Johne's to herd health and market access has been hotly debated, with some claiming the disease warrants stringent regulations to prevent its spread, while others say the disease has negligible consequences for most commercial herds, and eradication is an impossible goal because the disease survives outside livestock and lives in the general environment.
Some export markets will not accept cattle from individual properties that have had a clinically-proven case of the disease in the previous five years.
WA opposes deregulation
Under the existing national BJD Management program which does not recognise the sheep strain as a cause of Johnes disease in cattle, Western Australia is classified as a BJD free Zone.
WA farmers says WA is the only state in Australia to have been declared free of BJD and believes that status is valuable and must be protected.
The farm group has recently taken out a newspaper advertisement – reprinted below – calling for WA producers to support continued regulation of the disease in Western Australia.
WA Farmers says it is concerned the proposal to deregulate Johne's will severely impact the state's beef and dairy industries by exposing individual producers to higher costs to test individual animals or herds to prove herd freedom, which is not required at present because WA has 'Area' freedom.
It also believes removing existing zoning could increase the risk of WA producers being shut out of key export markets. Read more about WA Farmer's position in its submission here.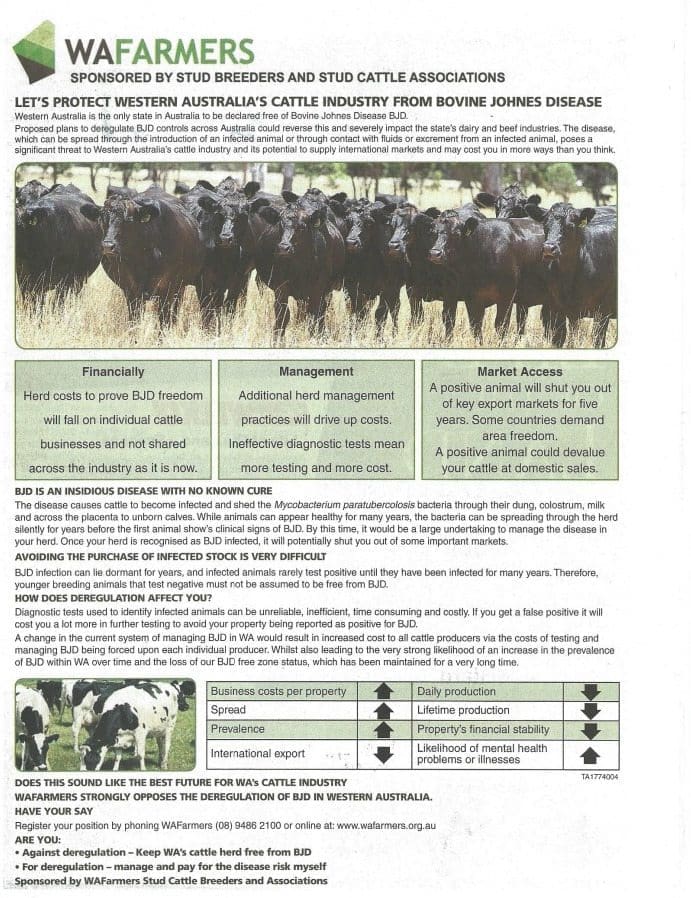 WA Farmers 'scare tactics'
However, other cattle producers who have been leading the fight against existing control and management policies say WA industry leaders are using scare tactics and spreading misleading information and their position will act as a means of restricting trade.
Producers campaigning for deregulation say the existing 'area' zones have no impact on the marketing of stock, with export status solely reliant on the status of the individual property from which stock are sold.
Victorian stud cattle breeder and long-time Johne's campaigner Don Lawson said WA Farmer's position in favour of continued access restrictions would only disadvantage WA commercial producers by preventing them from accessing cattle from other states.
He said WA stud beef producers will be forced to test to be able to claim their cattle are free of Johne's.
"The real losers are commercial operations in WA who want to restock from eastern states," Mr Lawson said.
"In the last drought in WA, 100,000 cattle cross the Nullabor to the eastern states.
"WA is now short of cattle and can really only restock from areas such as Alice Springs."
Mr Lawson also questioned WA's claim of being Johne's free.
He said the nature of the organism and its longevity in the environment made the disease impossible to eradicate.
The prevalence of Johne's Disease in WA sheep flocks also meant it was likely the same strain had infected co-grazing cattle, he said.
"The BJD review is now classifying both strains (bovine and ovine) as Johne's, so WA cannot be free," he said.
"This is history repeating itself. The original supporters of the Johne's eradication in southern NSW and WA were stud cattle and sheep breeders, who saw it as a useful trade barrier to protect their market from competition".
The Australian Registered Cattle Breeder's Association recently told Beef Central that cattle breeders in states such as Queensland and Western Australia had been under 'a misguided view' that the arbitrary zoning of their respective states as Free or Protected gave them an advantage in the live export market.
"Nothing could be further from the truth as the eligibility to export cattle is based on an individual property BJD status."
Queensland supports regulation
In Queensland, AgForce has also written a submission to the national BJD review panel calling for regulatory control processes for Johne's Disease in Queensland to be retained.
Animal Health Australia is now considering public consultation to its recently released national BJD framework document. If adopted deregulation could be in place by early 2016.