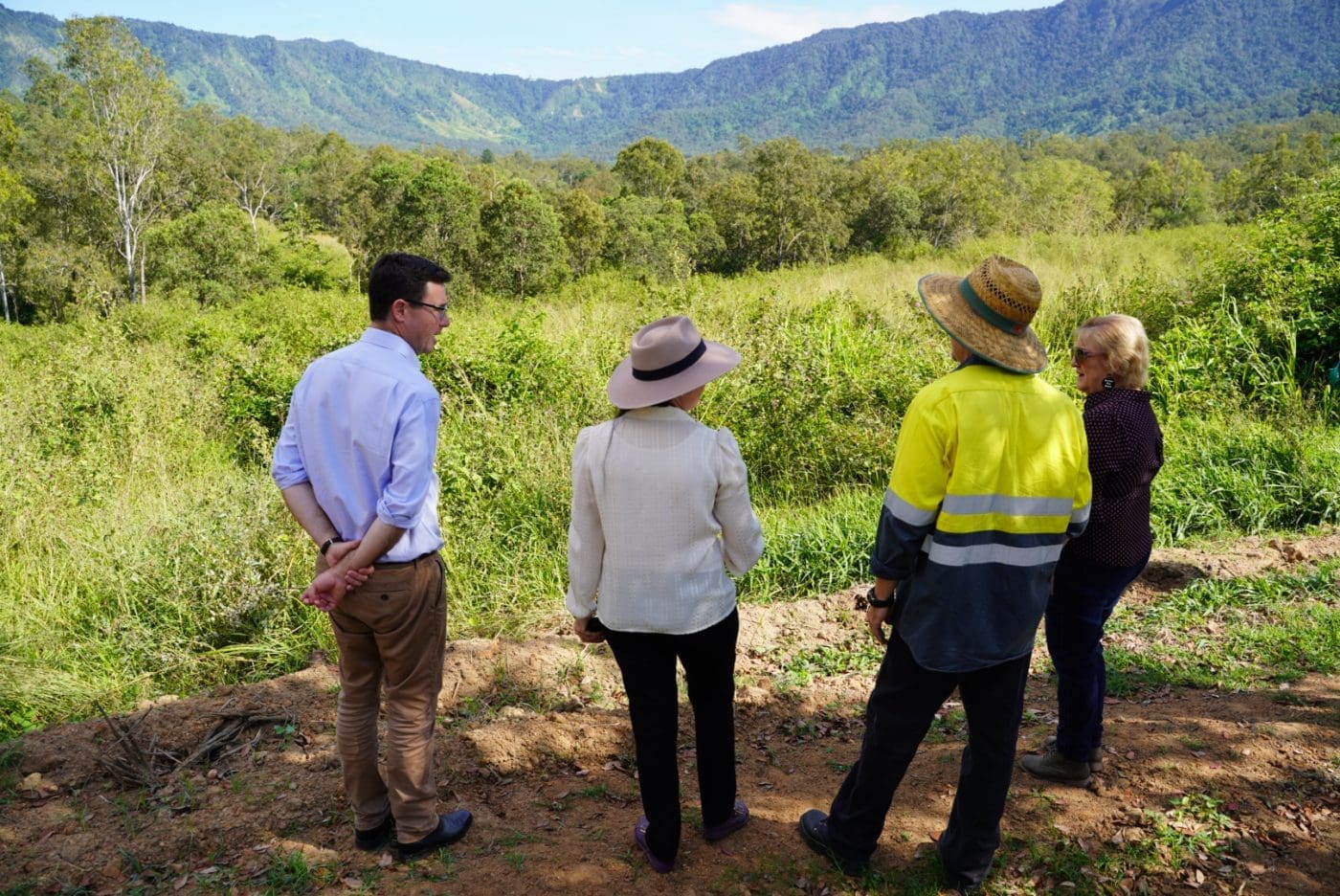 After visiting Central Queensland Nationals leader David Littleproud has raised concerns about impacts of renewable energy projects on farming areas, the environment and communities in the region.
 Chopping down thousands of hectares of native bushland and pristine farmland for the projects was senseless Mr Littleproud said, after meeting with Federal Member for Flynn, Colin Boyce, and Federal Member for Capricornia, Michelle Landry, and local Kalapa graziers in central Queensland.
Sixth-generation beef grazier Glen Kelly said the planned 10,910-hectare Moah wind farm project, 30 kilometres west of Rockhampton, along with other nearby projects including the Clarke Creek, Mt Hopeful and Boulder Creek, would involve extensive clearing of land, much of which has never been touched, on steep mountain ranges.
"We are facing the fight of our lives, and we're doing it for our next generation who are the ones who will be left to clean up the mess," Mr Kelly said.
"We have no say on this project as there is no compulsory public consultation phase in wind farm development applications. We feel like the guinea pigs – the Moah Creek turbines will be up to 275 metres to the blade tip, sitting on mountains up to 400 metres tall.
"They will also need to flatten these mountain ridges for the wind blades and cranes – the environmental damage will be enormous, not to mention the soil erosion and its risk to the Great Barrier Reef."
Federal Member for Flynn, Colin Boyce, said the renewable energy sector was proposing huge infrastructure projects to meet the Federal Government's 82 per cent renewable energy target by 2030.
"This target involves 22,000 solar panels every day between now and 2030, 40 wind turbines every month between now and 2030 and a proposal to build 28,000 kilometres of high voltage power lines to connect renewables to the grid," Mr Boyce said.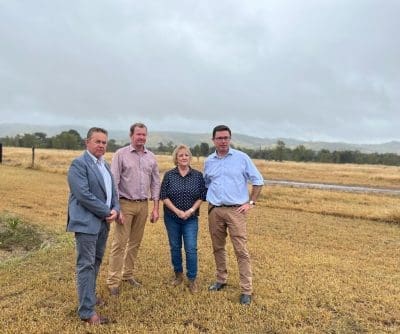 "These projects are now seen to be having an enormous impact particularly in rural and regional Queensland which I outlined in my maiden speech around 12 months ago.
"The environmental damage that will be caused, the fact the renewable sector does not have to comply with any current regulations in Queensland including tree clearing guidelines, reef legislation or environmental protocols that have been imposed on every other industry.
 "This is simply outrageous. It's time the Queensland Government implement legislation around the renewable energy sector that will apply governance over the renewable sector regarding how these projects are getting built and their impact on the farming sector and more broadly rural and regional communities."
Mr Littleproud also drew attention to another project in the Eungella and Pioneer Valley which he says is set to be flooded under Queensland Government plans to build the 'world's biggest hydro project'.
Mr Littleproud and Ms Landry toured grazing properties set to be affected by the five-gigawatt, large-scale, long-duration Pioneer-Burdekin Pumped Hydro Energy Storage (PHES).
The project's estimated construction cost is $12 billion, with the State Labor Government pushing the Federal Labor Government to fund it, Mr Littleproud said.
With 79 properties expected to be affected, Ms Landry said families were reaching breaking point. 
"I have met with families who have broken down in tears and asked me what do they do with their lives if they're forced off their land. Many of the properties have been in their family for generations. It's heartbreaking."
She said Eungella, best known for its pristine rainforests and platypus which inhabit the rivers and creeks, will be inundated with two dams forming the top reservoirs. At the bottom of the Eungella range, a 60-metre-high dam wall will be constructed to allow the prime farming land to go under for the lower dam. Furthermore, the energy required to power the hydro plant will require wind turbines and a solar field to be built, to assist in the function of the dams to create energy.
 Mr Littleproud said the community felt helpless.
 "It is senseless to destroy prime agriculture land and rainforest in this special part of Queensland. I urge Labor to listen to locals and to scrutinise this project properly, before it's too late."
Source: Federal Leader of The Nationals