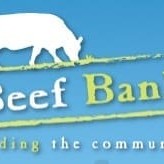 The national food supply chain charity, Foodbank, has received its biggest-ever single donation of livestock since entering a new beef cattle supply network development phase earlier this year.
Live export and shipping company Wellard has this week donated 25 head of cattle to the charity program, the beef from which will end up on the plates of needy and underprivileged people in coming months.
The donated cattle, a mixed mob of cows, bulls, steers and heifers that had fallen out of specification for live export programs for various reasons, were being held at Wellard's Lansdowne live export depot at Woodstock, near Townsville. They will be shipped next week for slaughter at JBS Australia's Dinmore plant, as the local Townsville JBS facility is at full capacity.
Beefbank coordinator Andrew Rodgers, a member of the Centenary Rotary Club which has pioneered the Beefbank concept over the past six years, said the generous livestock donation from Wellard would produce equivalent manufacturing meat sufficient to provide meat protein for thousands of meals for the needy in coming months.
JBS has been a long-term supporter of the Foodbank cause with regular donations of frozen patties supplied by the company's Food Partners business, and has agreed to slaughter and process the donated cattle free of charge.
JBS Australia director John Berry said the company had had a close association with Foodbank for some time, and supported the latest initiative.
"We are also working with Foodbank representatives like director, David Crombie, to develop a simple and easy method to engage with beef producers who want to donate a beast, or more than one, to the Foodbank cause," he said.
The Beefbank supply chain model is still in development phase, but ultimately it is hoped it will involve a considerable number of processors and abattoirs, and other supply-chain collaborators across Australia.
Mr Crombie is working towards finalising a more well-structured, flexible and efficient program that hopefully can be implemented in early 2013. Beef Central will keep readers posted.
In the meantime, the initial beef supply chain model pioneered over the past six years under the BeefBank program by the Centenary Rotary Club continues to operate.
Another producer who has recently donated a beast to the cause is Richard Pietsch, from Coolmunda near Inglewood on the Queensland/NSW border.
"We were at the end of our oats cattle turnoff for this year a month or so ago, and had one fellow who had had a bit of a bump on his hip. We'd heard about Beefbank, and rather than get him killed for our own consumption, we thought we'd turn him into a donation," Mr Pietsch said.
"It was a simple and easy process. He just went on the truck to Warwick, along with some other sale cattle, and straight into the Carey Brothers' abattoir pen," he said.
"We wrote out a separate permit, so Carey's could take him right through to their plant at Yangan for slaughter, but it was very simple and easy."
Mr Pietsch agreed that there would be a certain level of appeal to many producers in making a donation to a worthy cause in the form of a beast, rather than cash or other means.
"One of the points that appealed to us was that it takes all the middle men out of the equation. The beast was slaughtered by Carey Brothers for nothing, and transported for nothing. Foodbank gets full value for the meat," he said.
"Foodbank is not looking for your absolute prime, best animal. As long as it is fit for human consumption they are happy with cows or whatever, because it is all put through the grinder anyway. I found the whole process brilliant, Foodbank got full value out of the animal, and he would have been docked heavily if I had tried to sell him through normal channels," Mr Pietsch said.
In a further extension of the donation process, the Pietsch's steer was boned and packaged free of charge, using apprentice butchers in training at Symbio Alliance's butcher training facility at Eight Mile Plains.
Beefbank coordinator Andrew Rodgers, said the equivalent manufacturing meat from Wellards and the Pietsch family donations would provide meat protein for thousands of needy people in coming months.
Foodbank Australia is a national organisation established 15 years ago, dedicated to gathering and distributing donated foodstuffs among charities that help the needy. It doesn't cook or prepare meals itself, but acts as a food collection and distribution 'hub' sourcing and supplying raw ingredients to up to 300 registered charities that use the service.
Just one of those charities, the Wesley Mission, plans to feed 450 people on Christmas day in Brisbane, alone.
Readers can learn more about the Foodbank program, and its component Beefbank project in this earlier Beef Central article, "Beef industry's rally-call for the Foodbank cause."
Producers wanting to know more about the Foodbank beef project or how to make a donation can contact Andrew Rodgers on 0411 708 419 or email Andrew@beefbank.org