HELD only once every five years, Japan's Zenkyo Wagyu Cattle and Carcase Show is a unique experience in sight, sound, taste and smell.
A visit to Zenkyo on Sunday provided the perfect culmination for the Australian Wagyu Association's 2022 Japan Wagyu tour, held over the past fortnight. Thirty seven tour participants from all parts of Australia plus the US and Brazil took part in the tour.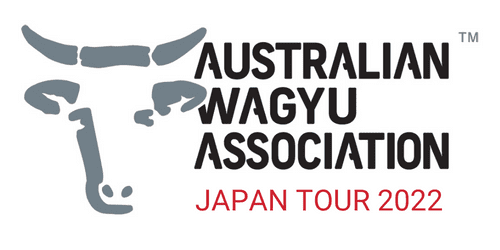 Described locally as the 'Wagyu Cattle Olympics', the colourful five-day event is the largest gathering of Wagyu stud cattle anywhere in the world. Held in the far south near Kagoshima, this year's Zenkyo was the twelfth held since the event started in 1966, each in different parts of the country.
More than 400,000 people visited the previous Zenkyo held in 2017, and expectations this year were closer to 500,000, given the Japanese' appetite for travel since COVID restrictions started to ease.
Cattle judging process
Classes for bulls and females of various ages included single cattle and groups of three, including dam's progeny groups judging grandmother, mother and daughter.
A team of six stud cattle judges included university professors in animal physiology, animal geneticists, and government ag department personnel, the tour group was told.
Subtle differences were observed between the cattle from different parts of the country – some displaying classic Tajima characteristics of lighter bone and smaller frame – a true 'dairy type' that produces abundant marbling – through to the larger-framed animals from regions like Hokkaido.
There were even a few Red Wagyu scattered among the classes, although they did not appear to catch the eye of the judges.
Each class took about an hour to judge, with cattle assessed for 'breed improvement' based on profile, conformation, feet and leg structure, temperament and walking ability. Judging appeared to be entirely based on phenotype, with no reference to performance data.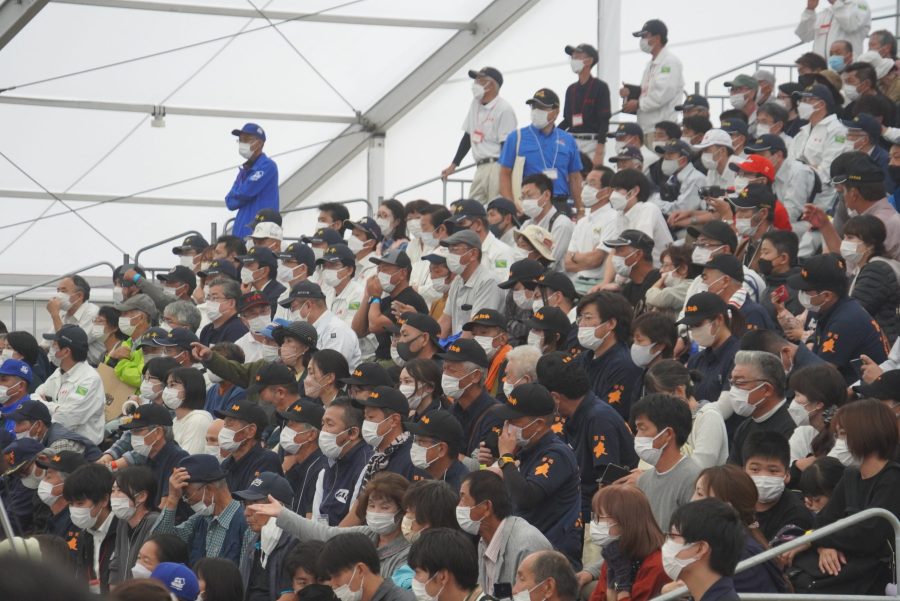 Each of the Japanese prefectures competing in this year's Zenkyo brought their own rowdy cheer squad, dressed in local colours and bearing banners and flags for support during judging.
Crowds eager to see the event after Japan's COVID issues started to ease in the past few months queued for up to two hours to get a seat in the main judging stadium – an enormous temporary structure set up specifically for the event with a seating capacity of around 6000.
About 440 head of cattle were involved in the 2022 Zenkyo event, representing 41 of Japan's 47 prefectures – from the snow-swept island of Hokkaido in the deep north to semi-tropical Oita in the far south. Separate competitions were staged for student led animals and a separate meat judging competition, involving 166 carcases, judged for marbling abundance and fineness, carcase yield and fat cover using the Meat Image Japan digital camera (see earlier story), as well as fatty acid composition.
For the Australian cattle group visiting the event this week, there was a lot to take in.
In trying to find local parallels, Zenkyo is like a combination of Royal Show stud beef cattle judging, Aquip or Primex farm equipment and merchandise field day, and Hobart Food Festival – all rolled into one.
In some ways, Zenkyo was unlike any stud cattle judging competition ever seen in Australia. In other ways, the similarities were great. The cattle handlers themselves obviously had a great sense of camaraderie and good-natured fun – just as they do in Australia – but took their job extremely seriously when they entered the judging ring. You could cut the tension in the air during judging time with a finely-crafted Japanese knife.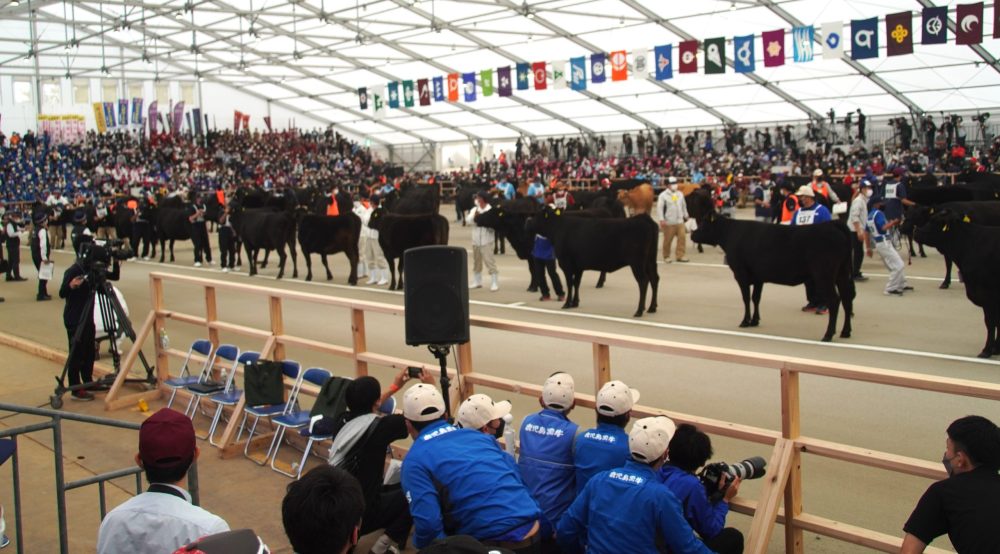 Temperament
One point that many of the Australian contingent remarked on was just how unbelievably placid every animal in the ring was.
Wagyu cattle in Australia have a reputation for good temperament, but these Japanese show cattle were on another level. Hundreds of generations of imprinting with extremely close connection between animals and their handlers has clearly had an effect.
Beside the cattle judging ring was a large commercial trade show with booths peddling everything from animal genetics and AI equipment to animal health products, cattle handling and dehorning equipment (all Fullblood Wagyu are HH horned), nutrition, stud grooming gear and electric fencing.
Japan Agriculture mounted a large display, covering everything from breeding, genetics, nutrition, animal health and welfare and genetics and beef exports.
The myriad food outlets celebrated Wagyu beef in many forms, from barbecue to beef noodles and even Wagyu-flavoured chips.
Carcase competition
COVID restrictions meant the public was unable to view this year's carcase competition, held in a separate venue in Chiran, Minamikyushu City. The highest price paid at this year's carcase auction was 110,000 Yen/kg (equivalent to about A$1200/kg, carcase weight), which on a 550kg carcase represents a price of around A$665,500. There may have been a charity donation component involved in that, Beef Central was told.
For comparison, typical Fullblood Wagyu A5 carcases in Japan make around $15,000-$18,000.
Big winners at this year's Zenkyo event were the 'heavyweight' prefectures of Kagoshima and Hokkaido, which is hosting the next event in five years' time, in 2027.
The winner of the Prime Minister's prize for overall results was Miyazaki prefecture, while Kagoshima claimed the coveted breeding bull championship.
There is no significant prizemoney attached to the competition, but the prestige and glory stakes are high. Several locals said beef from the most successful prefectures would shoot up in value after the judging results were known, as demand across the country for the best beef rose. All quality Wagyu beef sold in Japan bears its prefecture of origin.
The Australian contingent was warmly welcomed at the event, with many locals clearly curious about why we were there, and Wagyu beef production in Australia.
Pictures from the colourful Zenkyo event below. Click on images to enlarge.