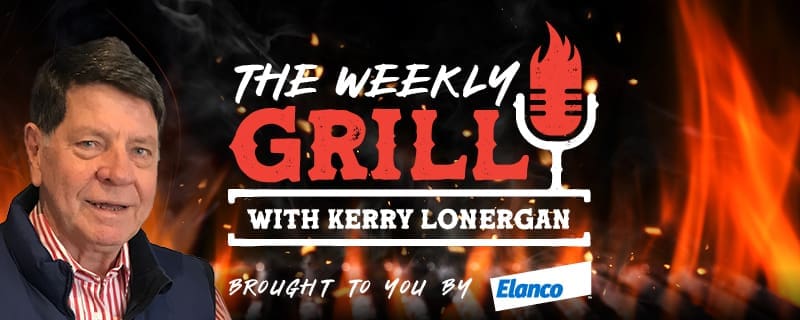 THIS week, Beef Central launches its first podcast, titled The Weekly Grill, to be hosted by veteran agricultural broadcaster, Kerry Lonergan.
The new podcast series is brought to readers with the support of Elanco Animal Health.
Kerry has been a familiar, trusted and authoritative face in lounge rooms across country Australia each Sunday for the past 30 years, having been a permanent fixture on ABC's flagship national rural weekly current affairs TV program, Landline, since its launch in 1991.
He was the founder and inaugural executive producer of Landline, which replaced the earlier Countrywide program hosted by Neil Inall. After a health scare he resigned as executive producer ten years ago, returning to the program in a part-time role as specialist commodities analyst until his departure from the ABC last November.
Kerry came originally out of ABC's Current Affairs department in Sydney, but had a natural empathy, connection and affection for bush people which was clearly reflected in his broadcasting. Recognising his years of service, he was inducted into the Queensland Rural Press Club's Rural Journalism Hall of Fame in 2015.
Each Thursday on The Weekly Grill, Kerry will sit down with an industry identity or two, to chew the fat on topical matters across the meat and livestock industry.
The first Weekly Grill podcast will be uploaded tomorrow. Kerry's first studio guest is Queensland red meat processor, lotfeeder and beef producer Terry Nolan, discussing the current challenging conditions faced by meat processors, Australian beef's global competitiveness, herd rebuilding, the current and future direction of MSA, labour challenges and the potential for automation in agriculture and other topics.
Next week: The Weekly Grill turns up the heat with lotfeeder and supply chain manager, Charlie Mort.