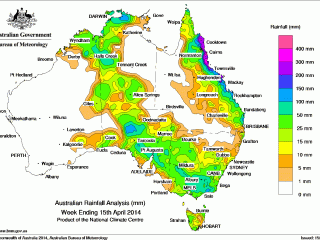 For the seven days until 15 April 2014, rainfall was recorded over southeastern Australia, eastern Queensland and from the Top End and Kimberley through to South Australia.
A large cloudband stretching from the northwest through central and southeastern Australia at the start of the week triggered thunderstorms over central and northwestern Australia. As the surface trough associated with the cloudband moved eastwards, showers fell over the southern Northern Territory, with locally heavy falls over western and southern parts of the Territory. Meanwhile, a low pressure system over South Australia and a broad surface trough near the western border of New South Wales brought heavy falls through much of South Australia, and moderate falls extending into western New South Wales and northern Victoria.
Severe tropical cyclone Ita brought extensive shower and thunderstorm activity to the Cape York Peninsula and parts of the northern Queensland coast during the first half of the week. Ita intensified to a category 5 system before making landfall over Cape Flattery as a low end category 4 system at approximately 10 pm AEST on 11 April. Ita rapidly weakened as it moved inland before tracking along the coast and crossing back over water.
The system continued to bring rain and thunderstorms during the remainder of the week, with widespread cloud extending from the north tropical coast to southeast Queensland and over the Coral Sea.
Rainfall totals over 400 mm were recorded in the North Tropical Coast district of Queensland, with the highest weekly total at Mt Sophia with 418 mm. Falls between 200 mm and 400 mm were recorded in most areas of the Queensland coast from Cape Melville, north of Cooktown, to north of Mackay. Falls between 100 mm and 200 mm were recorded east of Darwin in the Northern Territory, around and west of Coober Pedy in South Australia, along the east coast of Queensland from around Cape Flattery to Gladstone, as well as smaller areas in northern Sunshine Coast and East Gippsland in Victoria. Totals between 25 mm to 100 mm surrounded areas of higher falls and were also recorded in the Kimberley district of Western Australia, western Northern Territory, central and eastern South Australia, most of Victoria, southern and central western New South Wales, much of the east coast of Queensland, and areas of southern, western and northeastern Tasmania.
Most of Western Australia an area extending south from the Gulf of Carpentaria through the eastern Northern Territory, western Queensland, northern New South Wales and the northeast of South Australia received little or no rainfall.
Table of highest weekly totals
State
Highest
2nd Highest
3rd Highest
WA
Kachana
(106 mm)
(East Kimberley)
Truscott
(81 mm)
(North Kimberley)
Argyle
(66 mm)
(East Kimberley)
NT
Oenpelli
(141 mm)
(Darwin-Daly)
Berrimah
(103 mm)
(Darwin-Daly)
Dum In Mirrie
(99 mm)
(Darwin-Daly)
SA
Coober Pedy
(123 mm)
(Northwest)
Moonaree
(95 mm)
(Northwest)
Iron Knob
(92 mm)
(Western Agricultural)
Qld
Mt Sophia
(418 mm)
(Barron)
Tree House Creek
(415 mm)
(Barron)
Hawkins Creek
(390 mm)
(Herbert)
NSW/ACT
Jervis Bay
(119 mm)
(Illawarra)
Mulwara Post Office
(103 mm)
(Riverina)
Corowa Airport
(101 mm)
(Riverina)
Vic
Reeves Know
(140 mm)
(West Gippsland)
Mount Nowa Nowa
(133 mm)
(East Gippsland)
Mount Useful
(129 mm)
(West Gippsland)
Tas
Lady Barron
(64 mm)
(Flinders Island)
Mount Wellington
(52 mm)
(Southeast)
Gray
(50 mm)
(East Coast)

Source: BOM