Coles goes on-line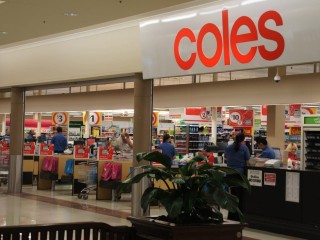 Supermarket retailer Coles is trialling a new program designed to change the way shoppers buy their groceries, by turning its national network of 620 petrol stations into pick-up points for goods purchased online. Under the plan, Coles' customers would buy their groceries over the internet before collecting them at selected Coles Express fuel stations. Coles' entire range of goods includinb fresh meat will be available through the service with customer orders kept in secure, refrigerated lockers until collection. One supermarket analyst suggested this was a smart move as it would be cheaper to run than home delivery in refrigerated trucks. Major competitor Woolworths is also making significant investment in on-line sales, aiming to achieve $1 billion turnover by 2012.
Beef bowl price wars
Retired Japanese meat trader Tadaharu (Bully) Kohno, who monitors movements in the Japanese beef market on a daily basis for Beef Central, reports that a deadly struggle for market share is happening in the country's highly competitive Gyudon quick-service restaurant market.
The popular gyudon segment (rice bowl with cooked beef and vegetables) is turning into a struggle for existence between the big three players – Sukiya, Yoshinoya and Matsuya. Sukiya, supplied out of Australia with beef, in the past few years has gone past former market leader Yoshinoya in size, and continues to surge ahead. During the current price war involving all three, Japanese customers can dine on Gyudon for as little as ¥240-250. That's less that $3 Australian.
Rinderpest officially eradicated
The devastating cattle disease Rinderpest has officially been eradicated after a nine-decade effort, according to the United Nation's Food and Agriculture Organisation. The highly contagious viral disease is also known as cattle plague and has been responsible for major episodes that killed hundreds of millions of animals over time in Europe, Asia and Africa. The AFP media agency reported that the World Organisation for Animal Health will today vote in Paris to recognise that 198 countries have now been declared Rinderpest free. It is the first animal disease to be destroyed in human history.
Producers urged to nominate for MLA board
The Cattle Council of Australia is encouraging producers to consider nominating for one of three independent director positions on the board of Meat and Livestock Australia. Nominations close on June 10. The role of the MLA Board is to provide direction to the management of the company, including marketing and research, strategy development, governance, financial performance and risk management. "Every beef producer has an opportunity to fill one of the director positions that will become available at the end of this year and I encourage producers to consider nominating," CCA president Greg Brown said in a media release. Details can be found at www.mla.com.au
Texas hard hit by drought
The major US cattle and lotfeeding state of Texas is in the depths of a serious drought, which started in December. Early estimates of the State's drought losses have reached A$1.1 billion and are expected to escalate higher as livestock producers continue to sell-off herds and crop conditions deteriorate. "Each day without rainfall is one in which crop and livestock losses mount," said Dr David Anderson, an economist with the Texas AgriLife Extension Service. "Even with the severity of the current drought, estimation of economic losses is difficult given that we are still early in the growing season." Losses include increased feeding costs and lost value of wheat pasture grazing.
Swiss scientists claim AI breakthrough
Swiss researchers are claiming a breakthrough in artificial insemination technology following the development of a sperm capsule that responds to ovulation cycles. The invention involves a cellulose capsule that contains bull sperm and living cells that react at the exact moment a cow is ovulating. Hundreds of capsules can be implanted in the cow's uterus a few days before ovulation. The scientists believe the capsule has the potential to significantly improve conception rates through AI.
Biosecurity push
The Federal Government has committed $445 million in the upcoming financial year to
Australia's biosecurity system to safeguard the economy, facilitate access to overseas markets and protect the environment. "With the movement of people and goods between countries expanding rapidly, Australia needs smarter and more sophisticated biosecurity systems to safeguard our country from the introduction of harmful animal and plant pests and diseases," Ag Minister Joe Ludwig said.
European Union beef exports surge 178pc
A major rise in the tonnage of beef exported to Russia and Turkey in 2010 has turned the European Union into a net exporter of fresh and frozen beef for the first time for almost a decade. Figures published by the Agricultural and Horticulture Development Board also show that beef imported to the EU from South American countries fell back in the same period. In volume terms, EU beef exports rose 178pc to 215,000t, while imports at 203,000t were down 10pc on the year before. Turkey and Russia were the dominant destinations for EU exports accounting for 64pc of the total. A significant reduction in import tariffs was responsible for what AHDB described as a "remarkable increase" in shipments to Turkey – up from 281t in 2009 to 58,000t last year.
RIRDC invests $12.4m in weeds research
The Rural Industries Research and Development Corporation (RIRDC) has boosted its investment in weeds research, commissioning major new projects to advance Australia's response to its on-going weeds challenge. This follows the recent announcement of 33 research projects worth $6.1m. The new projects will be conducted by some of Australia's leading research institutions and government agencies. They will advance understanding of weeds on all parts of the continent, build knowledge on weeds ecology, improve understanding of management approaches at a landscape scale, identify potential treatments, and improve governance and funding to continue the challenge of reducing the impact of weeds on agricultural productivity and the environment.