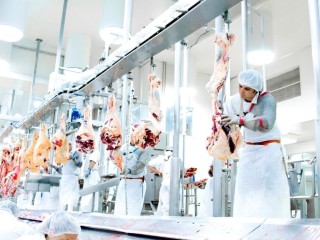 The national beef kill stabilised last week after several weeks of declines.
The national tally for the week ended last Friday, June 3 was 141,549 head, up about 1300 head on the week previous, according to MLA's NLRS processing report issued today.
Most states were virtually unchanged, with the exception of Victoria.
Queensland's weekly kill reached 74,480 head, up just 99 head from the previous week. NSW recorded 36,564, virtually nil change; South Australia killed 7138 head, also nil change, while Tasmania was +1pc with a tally of 1586. Western Australian figures are not recorded by the NLRS service.
Victoria was the big outlier this week, processing 19,069 head to Friday, up 7pc on a week earlier.
Several explanations have been put forward for the rising Victorian kill, and it was probably a combination of these factors:
Cold weather in the south has slowed growth rates in cattle, and some producers may have looked to dispose of killable heavy stock as a result of the slowdown in gain. That comes despite declines in southern price rates last week, especially for grainfeds.
Victorian meatworks buyers have been sourcing some cattle out of southern Queensland selling centres like Roma and Dalby in the past two weeks, as reported earlier on Beef Central
There has also been a flow of Northern Territory cattle into Victorian western district plants recently like Midfield, and JBS plants.
The difficult trading conditions for processors at present would suggest there is little incentive to carry out bigger kills any time soon. Some Queensland processors are again contemplating a 'dark day' or two this week or next, due to the demand vacuum currently coming out of the US and Japan.
An influence on killing patterns next week will also be the Queen's Birthday holiday, held across all Eastern states on Monday, June 13. That could also push slaughter numbers up later this week, as processors anticipate the short kill week ahead, some analysts suggested.
Similarly, Monday prime cattle sales held today showed signs of expanded numbers in some centres, also in anticipation of a fortnight gap before the next sale due to the upcoming Monday holiday.
At a regional level, Rockhampton Show holiday next week could disrupt operations at JBS Australia's Rocky Plant and Teys' Lakes Creek. Teys Biloela missed a shift today, and also has its show holiday on Friday.
Last week's wet weather in areas of southern Australia obviously had less effect on southern kill rates than anticipated earlier.