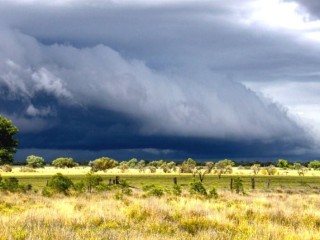 Rarely has the potential timing and intensity of the wet season been of greater importance to the northern cattle industry than it is this year.
With large areas of the Northern Territory, Queensland and northern New South Wales under severe seasonal pressure following the failure of the last summer wet season, the need for relieving rain is now critical.
A clearer picture of how the forthcoming summer rainfall season is likely to take shape will be provided by the Bureau of Meteorology when it releases its next seasonal climate outlook report next week.
A Beef Connect webinar to be held by FutureBeef and Beef Central next Thursday will provide participants across the red meat industry with a unique opportunity to examine the next forecast in detail.
The latest climate forecast will be based on an updated model that builds on the accuracy of the Bureau's three-month outlooks for temperature and rainfall across Australia.
Vikash Prasad from the Bureau of Meteorology will tell webinar participants about the Bureau's new seven-day forecast system.
Dave McRae from the Queensland Government will then provide his seasonal climate outlook, along with the outlook from the Bureau's new Predictive Ocean Atmosphere Model for Australia (POAMA).
While it will focus on Queensland, it will also cover New South Wales, Victoria and the Northern Territory too.
The webinar take place next Thursday, October 24 at 12:30pm AEST (QLD), 10.30am (WA), 12.00pm (NT), 1.00 pm (SA), and 1.30 pm (NSW, VIC, TAS).
Who should register for this webinar?
This event is for anyone involved along the red-meat supply chain including producers, processors, brand managers, supply chain managers, agents, consultants and consumers.
The session will be recorded and a link will be sent to all those who register. So if you can't attend on the day, you won't miss out.
Register now!
Join us on Thursday 24 October at 12:30 pm AEST (QLD), 10.30 am (WA) 12.00 pm(NT) 1.00 pm (SA) and 1.30 pm (NSW, VIC, TAS).
To successfully participate in this webinar:
1. Reserve your webinar seat now by following this link. Or copy and paste this into your web browser: https://www3.gotomeeting.com/register/791424110.
You need to register to receive your personal login details (if you don't receive an automated response within a minute or so, check your junk email folder).
2. Click the option to 'Add to Outlook calendar' to get an automated reminder to join the webinar.
3. Test your computer set-up beforehand by going to this Citrix website (http://bit.ly/citrix_test) and click on the 'Join a session' link. If you have problems, contact your local computer support people or the friendly GoToWebinar support folk (1800 356 792 in Australia).
4. Join 10 minutes early on the day of the webinar. You can interact by typing questions in the Q&A panel or by raising your electronic hand.
This is a BeefConnect event, brought to you through a partnership betweenFutureBeef and Beef Central.