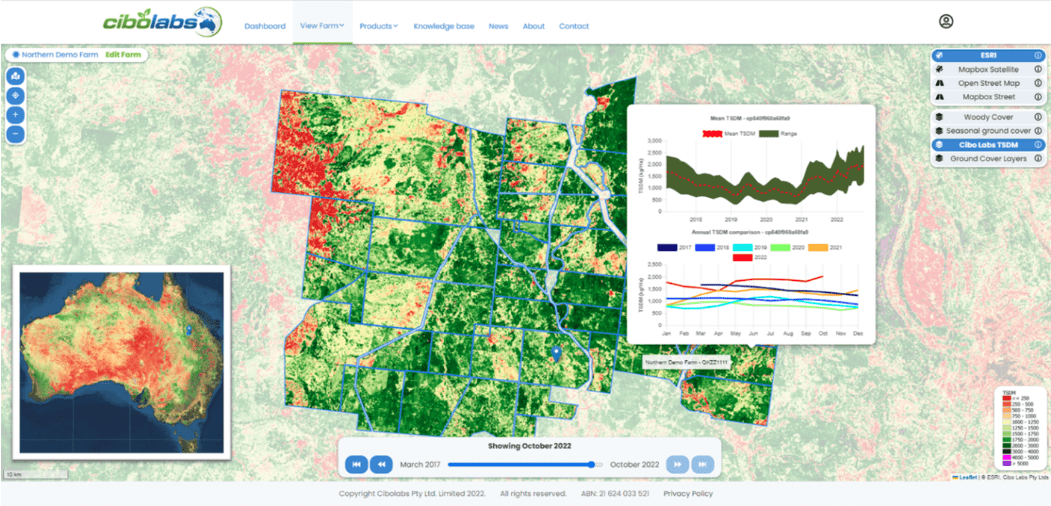 IN THE two weeks since the official launch of the Australian Feedbase Monitor, user uptake across the country has been significant.
A joint project between Cibo Labs and Meat & Livestock Australia, the Feedbase Monitor offers producers a tool to assess pasture biomass at a property level.
The AFM was launched as part of the MLA Updates industry gathering in Toowoomba on 30 November, and has already passed 630 downloads from producers across the country.
The Manager of Extension & Adoption for Cibo Labs, Al Rayner describes the rapid uptake as extremely encouraging.
"We know producers are keen to make better decisions around their pastures and ground cover," he said.  "However traditional methods of assessment, particularly visual assessment can be skewed and not reflect the full range of biomass across a land parcel. The AFM offers a current overview across a land parcel and can be used to develop individual feed curves for a land parcel or for an entire property," he said.
While the rate of uptake has between high, Mr Rayner noted that the Cibo Labs & MLA teams have also received a number of common requests for assistance from first-time users. The most common questions focus on individual producers' MLA membership status and free access to the AFM.
"MLA has made access to the AFM free for all members," he said. "Unfortunately not all levy payers have actually taken up their MLA membership, which does lead to confusion.  It's also common to find MLA members have different email addresses for their membership as opposed to their log-in details for their MyMLA portal. This can lead to producers being advised they are not members and may have to subscribe to access the AFM."
Producers who receive these messages are encouraged to contact the MLA help link, created to assist AFM users on 1800 865 255.
While the questions regarding MLA membership are most commonly raised, Mr Rayner noted several other trends associated with producers being unsure how to interpret the images and data associated with their land parcels.
"The AFM provides whole of property data, at a resolution of one hectare. There are a few producers who haven't read the instructions for the AFM or are unsure about what the layers on offer mean to their location," he said.
As part of the ongoing assistance offered to users of the AFM, Cibo Labs and MLA will be delivering a number of online and face-to-face training sessions over coming months.
The first free online webinar will be held this Wednesday, 14 December at Noon (EDST).
Click on the link below for more details and to register top participate.