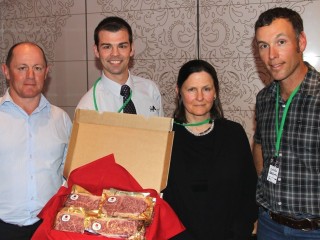 More than 150 Wagyu industry stakeholders, ranging from cattle breeders and genetics marketers to lotfeeders, brand managers and exporters converged on Melbourne for the Australian Wagyu Association's annual conference last weekend.
Delegates came from every Australian state, keen to catch up on latest developments in genetic selection, herd management, respiratory disease management, carcase assessment and other topical issues (See yesterday's story, "Wagyu breeders rekindle interest in certification.")
Delegates also enjoyed a range of social activitiers including a meet and greet function on Thursday evening, gala industry dinner, and field day barbecue lunch on Sunday at David Blackmore's fullblood breeding property outside Melbourne.
During Friday night's dinner, delegates raised more than $12,000 for the Royal Flying Doctor Service through a series of charity auction items.
Among them was two large sample boxes of AA Co Master Kobe marbling score 9 sirloins, which guest auctioneer, WA vet and conference speaker Enoch Bergman knocked down for $2500 and $2100 to Jane Hughes, Hughes Grazing, Nebo and Ian Ball, Victoria.
Beef Central's camera was there to capture some of the confrence highlights. Click on an image below for a larger view and caption.