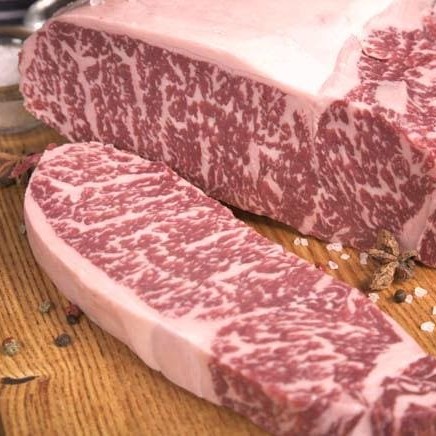 Queensland-based Wagyu beef producer Cabassi & Co clinched its fourth consecutive championship win at the 2012 Sydney Royal Fine Food Show's branded beef competition judged on Thursday.
A sample representing Cabassi & Co's Red Label fullblood Wagyu brand was judged the show's grand champion exhibit, earning the Dick Stone Perpetual Trophy.
A Red Label brand product sample has won each of the show's past four grainfed championships, as well as earning the grand champion exhibit trophy in the two years that it has been awarded.
The late Dick Stone was one of Australia's earliest feedlot pioneers, as well as establishing the nation's first clearly definable beef brand called 'Barley Beef', sold through his network of Sydney retail butcheries in the 1960s and 70s.
Cabassi & Co's win this year underscores a remarkable level of consistency in a competition which attracted many of the best known premium beef brands in the country.
The result also reflects the company's recent strategic move into dedicated premium fullblood Wagyu production, from previous times when both crossbred and fullblood programs were run under parallel brand programs. See Beef Central's earlier coverage of that business move here.
The winning entry this year was from a fullblood Japanese Wagyu steer bred by Greenhills Wagyu, not far from Mossvale in NSW.
The calf was AI-sired by TF151 Itozurudoi, a highly-regarded 50 percent Tajima bloodline sire bred by Takeda Farms. Although now deceased, Itozurudoi became famous when he was one of a small group of Wagyu sires chosen to be cloned in the US some years ago.
The calf produced a +500kg carcase after 600 days grainfeeding on a corn/wheat based, high-roughage Japanese-style ration by specialist Wagyu feeder, Geoff Willett at his Maydan Feedlot outside Warwick.
Maydan is currently operating at close to capacity, with more than 60 percent of pen space currently allocated to Wagyu and Wagyu cross cattle for a range of custom feeding clients. Many are among the nation's largest Wagyu producers.
Mr Willett said the business had made a conscious decision to move to a higher corn component, over wheat, as the grain source in the finished ration, based partly on desirable flavour characteristics imparted in the beef.
The winning Cabassi & Co carcase was boned and packed on July 30 at the Northern Co-operative Meat Co plant at Casino, which carries out Australia's largest Wagyu kill for a number of service kill clients. The carcase produced an MSA marbling score of 980 (equivalent to AusMeat high MB7).
Mr Cabassi said the Sydney result provided valuable independent affirmation of his company's production systems from paddock to plate, designed to deliver an extremely consistent, high quality eating experience.
Different cuts produced under the Red Label program are sold into wide ranging markets, including the US premium restaurant trade, high-end specialist butcheries in Singapore, and various domestic market destinations, both food service and retail.
Mr Cabassi said of all the branded beef competitions in Australia, he regarded the Sydney event as 'the one to win', because of the city's reputation as the foodie capital of Australia.
He said the outcome would be utilised by his distributors overseas and locally in gaining greater penetration into the high-end steakhouse market in the US, for example. The award logo, pictured here, was likely to appear on table-talkers, specials boards and menus, as an endorsement of the Red Label product.
In other significant branded beef results from the show, Nippon Meat Packers scored an impressive double, with two brands generated out of the company's plants in NSW and Queensland earning Gold Medals.
A sample of yearling MSA beef produced under the Manning Valley Naturally brand from Nippon's Wingham Beef Exports plant in NSW earned the only gold medal in the grassfed striploin class. As explained in this earlier Beef Central article, Manning Valley Naturally is a regionally inspired grassfed brand based on British breeds sourced out of the Manning Valley and surrounding regions.
A sample of Oakey Angus Reserve, representing Nippon's Oakey abattoir in southeast Queensland also earned a gold medal, topping the grainfed division. This entry went on to earn the champion grainfed exhibit title.
A second Oakey Angus Reserve sample, this time HGP-free, drawn from the company's EU program, earned a silver medal in the same class (see full results at bottom of page). Oakey Angus reserve is a premium +150-day grainfed program fed at Nippon's Whyalla feedlot, using high-peforming Angus genetics from preferred suppliers.
Another consistent Sydney exhibitor, Stockyard Beef, also earned a gold medal in the grainfed class for a sample of the company's Stockyard Gold brand, an Angus program fed at the company's Kerwee feedlot on the Darling Downs. Stockyard gold also won a gold medal at the Brisbane branded beef awards a few months ago.
Other class wins went to the Australian Agricultural Co's Master Kobe fullblood Wagyu brand, in the shabu-shabu class for entries carrying marbling scores of 7 or higher. (Shabu shabu is a popular Japanese cooking style using extremely thinly-sliced beef cooked in broth.)
Established in 2005, the Sydney Royal branded beef competition judges MSA-certified beef samples representing quality domestic and export beef brands from across Australia. Striploin samples are judged in feed-based classes including grassfed, grainfed and open (effectively, Wagyu). The competition is held in September every year as part of the Spring Fine Food Show.
The branded beef awards will be presented in October as part of Sydney's All Things Fine Food event, part of the Sydney International Food Festival.
Full 2012 Sydney branded beef results, click here.