AA Co, Australia's largest cattle company and owner of one of the world's largest Wagyu herds, would not be the company it is today without the 'genius' of Wagyu bloodlines, CEO Hugh Killen told the Australian Wagyu Association conference in Adelaide on Thursday.
In his keynote speech Mr Killen identified several challenges the breed is facing, while also revealing AA Co's work to develop its own large polled Wagyu herd, and its focus on "marble score plus more" to create premium experiences for customers of its branded beef.
Mr Killen said three key challenges are facing people invested in Wagyu production: the commodification of the Wagyu brand, the need to maintain quality control and to maintain close contact with consumers.
Commodification of the Wagyu brand
The success of the Wagyu brand meant more consumers are willing to pay a premium for the Wagyu name, even without close knowledge of the specific origins, provenance or quality of the meat they are buying.
Examples included Wagyu cheeseburgers selling for $15.95 compared to Angus cheeseburgers at $10.95 in retail outlet Ribs and Burgers, while McDonald's has also just reintroduced its Wagyu burger.
As more and more consumers connect with the Wagyu brand, more food businesses would seek to benefit, and how they did would be significant for the future of the Wagyu industry, Mr Killen said.
On one level the trend presented a useful avenue for selling lower quality by-product, but it also meant it would become harder to rely on the Wagyu name alone to communicate the elite quality of Wagyu beef.
Quality control
The key challenge for the Wagyu industry revolved around how to maintain the benefits of growing consumer engagement with the Wagyu brand without detracting from the elite quality traditionally associated with Wagyu.
Mr Killen said it would be difficult to maintain standards as Wagyu numbers and herds continue to grow.
Each jurisdiction would approach the problem in different ways, he said, which would see serious debate and "a million different ideas around the right way forward for our industry".
"As the Wagyu name gets used more broadly, the temptation will be there to cut costs, dilute the products and therefore potentially dilute the brand.
"An easy answer to this challenge is marble score
"It is objective, it clearly separates the best from the rest, and is generally recognised by both experts and the wider community.
"But this option raises some important questions about the relationship between marbling scores and actual consumer preferences."
This led to the third major challenge – maintaining close contact with consumers.
Within the Wagyu customer base there are consumer segments seeking very different experiences.
A key question AA Co has grappled with is how to maintain contact with a diverse, growing and ever changing customer base.
Mr Killen said the company has found its highest margin customers are increasingly looking for "an experience".
"First and foremost they want eating quality, second they want to know if there is a link to a story about where the product comes from and what makes it special, and finally they want to know the beef has been grown sustainably so they as consumers can be proud as part of the shared story and experience."
"Marble Score plus more"
Another question the AA Co team hd asked itself as it confronts the above challenges was "Does higher Marble Score equate to a better eating experience?"
The answer the AA Co team has come to is "no".
"Based on our experience in the market, we do not believe Marble Score will always guarantee the eating experience expected by our new high end customer group," M Killen explained.
"We know that marbling is a critical facet of quality, but as we probe new markets and new high end customers, we know it is not the only facet.
"To stay in touch with these customers we need marbling score plus more."
Community trust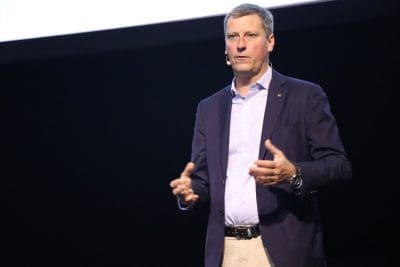 Perhaps the biggest issue of all for the broader cattle industry was the need to maintain consumer trust amidst a backdrop of significantly changing community attitudes.
Exacerbating the challenge was the extent to which recent events like the banking royal commission, ongoing political turmoil and scandals in the church, sporting clubs and in unions have eroded consumer trust.
"You can almost sense there is an assumption of malfeasance as if we are all just waiting for evidence to emerge to confirm the underlying suspicions," he said.
A 'coalition of the reasonable'
Mr Killen said the industry needed to build a "coalition of the reasonable", drawing on many different perspectives, to help navigate through those pushing an anti-meat agenda.
He said AA Co was one of Australia's oldest companies but was combing tradition with innovation to create the customer experience its customers were seeking.
Combining tradition with innovation
This included using Meat Standards Australia as a launching pad to measure the quality of its production from a customer point of view. He said AA Co was also proud of its success in bringing Wagyu bloodlines together with its own unique composite herd. "We believe this produces a herd that captures the best of Wagyu and combines it with our own bloodlines which deliver great eating quality and are uniquely suited to the environment we operate in."
Four years ago the company began designing and implementing a genomics program which had allowed it to embed full genomic breeding values into all of its mating decisions. It was now in the final stages of transitioning its entire elite animal program to SNP parentage and today had five years of GrowSafe feed efficiency data and a significant carcase genotype database.
"We have achieved around 45 percent of our herd improvement gains over the past decade in the past three years, as our technology mix has really come on stream," he said.
"We are really starting to see the benefits of this investment particularly with the difficult weather and operating conditions."
"Like everyone at the moment we are seeing more time on feed and quality animals by size, and therefore hopefully by marbling, are getting preferential access in feedlots across the country.
At the other end of the market we are seeing quality animals hold their prices and justify additional costs.
"In this context, it is especially pleasing that we are seeing the proportion of and number of quality animals is rising across the AA Co herd.
"Quite simply, if we hadn't pushed gentech in this way, we would have lower quality across our entire herd today. This would be exposing us to lower prices and the limited feedlot space many are now facing."
Polled Wagyu
Another change AA Co is making in order to meet customer preferences is through developing its ability to breed high value polled animals from Wagyu bloodlines.
Mr Killen told the audience he "understood the tensions" that went with using Wagyu to describe a polled animal (because there are no polled Fullblood Wagyu animals).
"But I can tell you, our customers simply don't care," he said.
"They want to know that our animals live good lives free of unnecessary pain. and that our people work in a safe environment.
"We have been toiling away for a few years and it will take us some time yet to achieve this commitment, but we will.
"If we could wave a wand and move away debudding, dehorning and damage to our animals  and our people from horns, I would absolutely, do it tomorrow.
"And if the issue emerges in public, as we have absolutely seen with mulesing from our Merino friends, our customers will thank us for moving in this direction too.
"So as I have been saying we will respect our traditions, and we try to live up to them every day, but when it comes to a choice between tradition and innovation which moves us forward, we know what choice se will make."