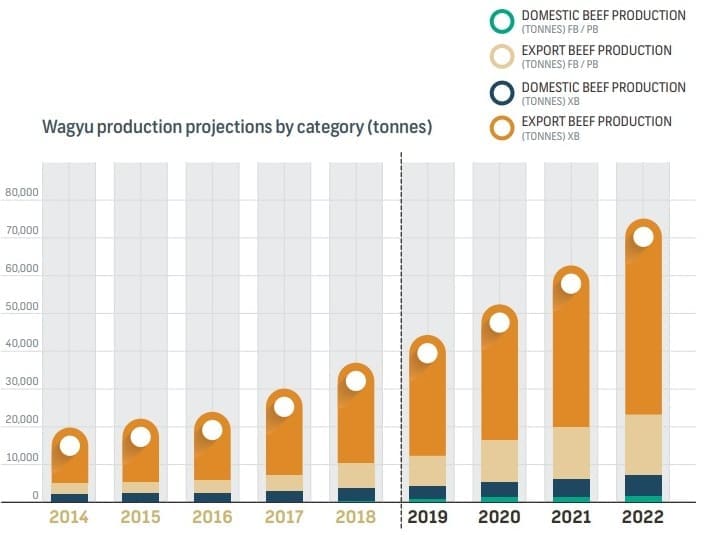 TOTAL Australian Wagyu beef production could grow to 75,000 tonnes carcase weight by 2022, if the industry continues on its recent trajectory, the Australian Wagyu Association suggests.
Production during the 2017 year reached 30,000t, an industry survey suggested, but was likely to increase to 35,000t this calendar year, according to this graph published in the AWA's 2017-18 annual report, issued to members recently.
The Australian Wagyu Association holds its annual general meeting in Armidale this afternoon.
The biggest portion of growth in Wagyu production over the next four years would come in crossbred animals for export markets, followed by Fullblood/Purebred production for export, the survey suggested.
Based on 2017 AWA/MLA production modelling out to 2022, this year's AWA annual report estimated that total Wagyu joinings (crossbred as well as Fullblood/Purebred) this year reached about 370,000, of which about 25pc were Fullblood or Purebred and 75pc crossbred. Joinings are anticipated to rise to 760,000 over the next four years.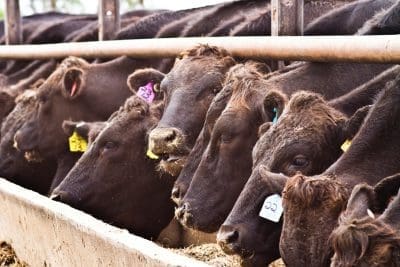 However the AWA qualified the beef production and joinings growth forecasts by saying they were dependent on long-term grain price trends, and subsequent premiums paid for Wagyu and Wagyu cross cattle across all categories. The society noted some significant declines in prices paid for Wagyu feeder cattle this year, under heavy feedgrain price pressure.
More on Wagyu feeder price movements in a separate article on Beef Central tomorrow.
In other highlights from AWA's 2017-18 annual report:
AWA membership grew 15pc during the 2017-18 year to 717.
Herdbook registrations recorded by ARCBA showed that Wagyu is now the fifth largest breed by animals registered in Australia, with a 27pc increase to 13,043 animals.
The breed has experienced rapid uptake of the 50K SNP genomic analysis, with 17,500 genomic profile test requests received by the AWA since 1 July last year. This has increased the number of total genomic profiles held by the AWA five-fold within 2018, with just 4200 profiles accumulated in the five years prior.
Digital carcase assessment has continued with the Meat Image Japan grading camera during 2018 to enable accurate scoring of marbling attributes at levels above the Ausmeat limit of score 9+. The average Fullblood carcase within the AWA database is marbling score 7.8, with about 30pc exceeding score 9. Digital carcase imaging enables accuracy above marbling score 9 to be significantly improved, allowing greater resolution of elite Wagyu genetics.
Trends in BreedPlan EBVs for Wagyu 200-day weight, carcase weight, marbling score and terminal carcase index continue to improve each year. On average, 200-day weight and carcase weight have increased at a rate of 0.1 and 0.5kg respectively per year, for the past ten years, while the marbling score EBV is increasing at 0.016 AusMeat marbling scores per year. The trend in terminal carcase index across the last ten years is an increase of $4.99/year.
In the area of breed integrity, AWA has developed and trademarked the Wagyu trade descriptors providing breed classification for live animals and potentially for product. It has also developed the Wagyu content register and released the Crossbred Wagyu Test enabling a genomic estimation of Black Wagyu content to assist in description of animals of known and unknown pedigree and to enable registration of animals at appropriate breed content levels.