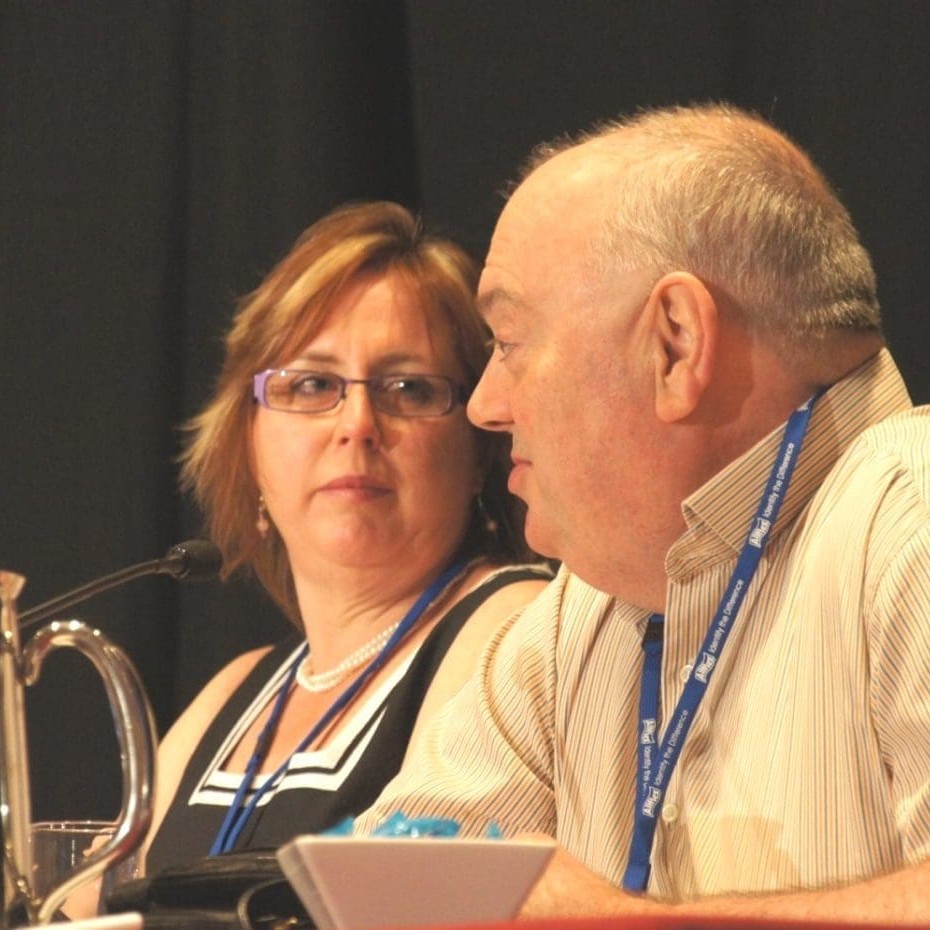 What do consumers think about 'Brand Wagyu'?
This was the general theme of a comprehensive consumer survey, results from which were telegraphed to Wagyu industry members during their recent breed conference on the Gold Coast.
A lack of consumer appreciation about the value attached to words like 'certification' and 'grading' was one of the important trends identified in the survey, commissioned by the Australian Wagyu Association.
While the results showed encouraging growth in awareness of the term Wagyu and appreciation of its qualities, consumers generally do not yet attach a value to a grading or certification process.
The subject matter for the survey takes on added importance as the Australian Wagyu industry again approaches the vexed and historically divisive question of whether it should adopt a certification scheme to protect its reputation, and if so, in what form.
Presenting on the outcomes of the recent survey were food market research specialists Paul Squires and Jodie Hill, from Sensory Solutions. Their company has been closely involved in MLA's MSA sensory taste panel test work, testing more than 90,000 consumers and 600,000 samples in the MSA program over the past decade.
The survey included input from about 1100 beef consumers, 18 to 65, from across Australia.
The process started by trying to gain a broad understanding of consumer perceptions of beef in general, and why they may choose it over other proteins.
"Results showed fish choices were basically made for health reasons, perceived as low in fat and carrying the right fats. There was no strong attachment to pork, while people bought lamb for its taste," Ms Hill said.
Chicken, in contrast, was seen as inexpensive, consistent, and mild in flavour, while beef was about variety, versatility, and offering a healthy proposition including iron and protein.
"The survey also explored the emotional attachment, beyond the rational side: is it going to make me feel good, or am I going to look good for someone? On the emotional side, beef's biggest competitor is chicken, because consumers feel confident about how to prepare and cook it, unlike fish. There is also an element of sociability about beef and chicken, because consumers are confident that everybody is going to like it," Ms Hill said.
The survey also asked consumers what made beef different, in terms of quality.
"The most common answer about what made beef better was not about grading or brands, but in sourcing it from the butcher, instead of a supermarket. We found that interesting – the reason behind it, we believe, is that while there is now a growing awareness of the MSA program and the symbol (lifting from 28pc to 46pc in the past 12 months), consumers generally do not yet understand what grading or certification means in terms of delivering better quality beef," she said.
That was consistent with earlier findings from MLA research into the knowledge (or lack of it) about what makes MSA tick.
Awareness of Wagyu surprisingly strong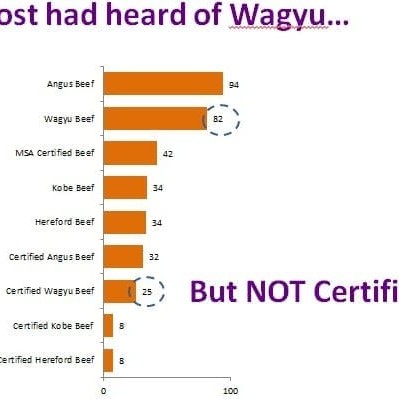 Looking at Wagyu-specific survey outcomes, the good news was that a large majority of consumers (82pc) had now heard of Wagyu. Not surprisingly, even more (94pc) had heard of Angus, thanks partly to heavily-promoted McDonald's and Hungry Jack's burger campaigns.
However awareness dropped away considerably when the word 'certified' was added, in front of either Wagyu or Angus. Just 25pc said they had heard of 'Certified Wagyu', for example, with 'Certified Angus' only a little better at 32pc.
"Perhaps part of the reason that consumers don't feel that 'certified Wagyu' will be of better quality, is that they have not heard of it before now," Ms Hill said.
This showed that to really make certification work within the Wagyu industry, it would require better communication and messaging to raise awareness and understanding of the certification process.
The result may reflect an issue with the word certification generally, and was reflected in a similar low-ranking survey result seen last year referencing 'certified MSA'.
Of the 82pc of consumers who had heard of Wagyu in the latest survey, an encouraging 38pc said they had tried it (Angus rated 63pc, certified MSA, 44pc).
Of those respondents who had tried Wagyu, the largest proportion (54pc) said they had experienced it at a 'high class' restaurant, compared with 28pc who said they had bought it from a butcher and cooked it at home. A smaller number (17pc) said they had tried it at the local pub or club, and fewer still said they had bought it at a supermarket.
On average, consumers said they were willing to pay more for both Wagyu and Angus beef, but showed little willingness to add to that payment if the word 'certified' was included (see graph).
The positive take-home message was that consumers felt comfortable paying at least a $5/kg premium for Wagyu over conventional beef of the same cut, bought at the butcher.
"However consumers don't currently feel that certification provides a good enough reason to pay more, beyond the value attached to the word 'Wagyu' alone," Ms Hill said.
"It could be concluded that this might again indicates that consumers really don't understand what certification is, and what it can do for the product, in terms of delivering a standardised and consistent level of quality."
Other results showed that a strong majority of consumers enjoyed their Wagyu experience 'a lot', and rated the quality of Wagyu beef 'extremely good.' Echoing earlier findings, however, a lesser proportion scored 'certified' Wagyu the same way.
Many consumers had some understanding that Wagyu was a tender and flavoursome product, but potentially consumers thought this of all beef, based on their positive perceptions of beef that earlier discussion of this survey revealed.
"At this point, certification is not likely to have much impact on a consumer's decision to purchase Wagyu, because they were not overly convinced that it provides consistent quality or was worth paying more for," Ms Hill said.
Additionally, the perception of value for money for Wagyu was not great. This presented a challenge to the Wagyu industry, in communicating that Wagyu is a 'much nicer eating experience', building a story around why the consumer can justify paying a premium for it.
"What this means is, if the Wagyu industry is going to go forward with a certification process, it really needs to explain to consumers what it is certifying, and the reasons for doing it. Are you certifying that it is Wagyu, that it is a pre-determined level of meat quality, or it's level of healthiness?"
"That also needs to pass through the various links in the production chain, such as butcher shops or restaurants, to ensure it reaches the end consumer."
But breed is important…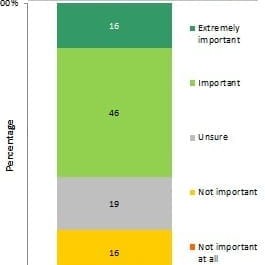 The survey revealed that almost two-thirds of consumers are quite keen to know what breed of beef they are consuming.
Some 46pc of respondents said brand or breed-type was 'important', and a further 16pc said it was 'extremely important.'
This seemed to reflect a previous research outcomes presented at the Australian Meat Industry Council conference last year, where adding some 'provenance' or brand characteristics to a piece of beef ensured a better quality perception and liking of the product among consumers.
In that survey, four identical MSA striploin samples were presented to consumers, carrying the following descriptors:
'beef'
'from the local butcher'
'from the local supermarket,' and
a fictitious 'Murrumbidgee Gold' brand identity, described as "Premium grade steak, grainfed for 200 days, making it the most tender juicy and best tasting steak in Australia, and backed by a satisfaction-backed guarantee."
That taste test proved that building a 'story' around the product greatly improved the consumers' perception of taste, tenderness, juiciness and overall liking. Interestingly, the 'supermarket sourced' product rated lowest, in all categories.
"This information implies that the Wagyu breed should aim to build a bigger story around its breed identity itself," Ms Hill said.
"Tell people what it is, and why it is so good: give them a reason to pay more for it, which seems to be lacking at the moment. There is a really good opportunity there to better communicate the breed's unique brand proposition."
Asked during question-time how much consumers understood about the different quality levels available within the Wagyu beef spectrum, she said the topic was not explored for the purposes of this survey. "But my gut feeling is that they have no idea," she said.
"But if you want consumers to know about different quality levels, for example, you have to educate them."
Social media, as well as communication channels like MasterChef and more traditional media, could be part of that process, she said.