VIRTUAL reality technology has helped international beef customers at the world's biggest food trade show to experience Australia's high levels of animal welfare and clean and green production environment.
More than 170,000 visitors attended the biennial Anuga food trade show in the German city of Cologne last month, and scattered among the 1000 meat protein exhibitors was Queensland beef supply chain Signature Beef, operated by Blair and Josie Angus.
Blair and son David, and niece Tess Camm, the general manager of the Angus family's Signature Beef brand, were kept busy on the Anuga trade stand hosted by their Netherlands-based importers, the Beef Company and Iberdeli BV. Blair literally lost his voice after four days of engagement with current and prospective customers from across Europe and more broadly around the world.
Their site featured the use of Virtual Reality headsets to project short five-minute presentations of Angus Pastoral Co's cattle operations back at home, with an emphasis on the grazing environment and the human/livestock interaction. Angus Pastoral manages close to 162,000ha of grazing country spread across four properties in central and north western Queensland.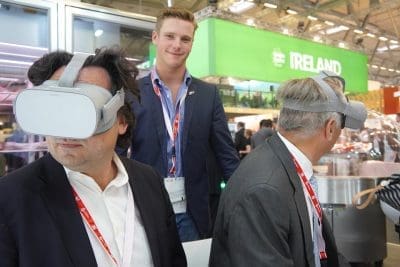 The technology uses footage captured on a specialised 360 degree camera, showing images on the company's North Queensland grazing properties Carpentaria Downs, near Einasleigh, and finishing block Kimberley, further south near Clermont.
One sequence featured a mob of 1200 composite weaners being shifted on Carpentaria Downs a few weeks before Anuga, being managed by just four staff on horseback, plus three dogs.
Conditions seen in the VR images were understandably dry, given the 2019 season across most of eastern Australia, but the cattle were in good order and obviously contented. In one sequence filmed along a tributary of the Einasleigh River, small fresh-water crocodiles can be seen splashing into the pristine creek as the mob passes.
"For a European customer to see this, it blows them away," Blair Angus said.
"It leaves a strong impression about the land, the cattle and the people who manage it – in our case four generations as custodians. We think that tools like VR headsets allow us to bring the 'farm to the fair', and deliver a strong message to customers," Mr Angus said.
After viewing one of the VR sessions, Anuga trade show visitor Martin Vorderwulbecke said the images left a great impression of Australia's natural resources and the manner in which livestock are managed. "Totally unpolluted, and innocent, in a way, showing how clean and unspoilt Australia is," was his response.
Blair and Josie's daughter Madelaine provides a narration on the 360 video recordings while in the saddle, talking about how Angus Pastoral Co produces its beef, and manages its cattle and the environment.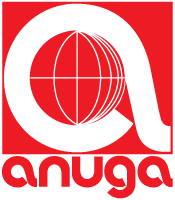 The company first used the virtual reality headsets as part of the True Stories exhibit at this year's Brisbane Show in August, where some 8000 people viewed footage, using 30 sets of VR goggles.
Signature Beef's Netherlands-based beef importer Patrick Burgers, from The Beef Company, said the presentations gave existing and potential new customers a little snapshot of what the environment and cattle handling conditions were like in Australia, reinforcing messages about animal welfare, land management and wide open spaces.
"It's the same story – a picture tells a thousand words, and anyone who has put on the headset and seen the presentation has been impressed," he said.
"The Signature product has a great story behind it to take to customers – a family-owned business that controls the supply chain from start to finish," Mr Burgers said.
European consumers nowadays wanted to know more about the product, and were more willing to try different cuts.
"Five or ten years ago, no customer would ask us for a picanya, flap meat, or an oyster blade. But today there is a lot more interest in different cuts for different cooking applications, and people are more adventurous in what they choose to consume," Mr Burgers said.
"They want to try something different, influenced by TV cooking shows and the purchase of backyard grills and smokers."
Quota access difficulties
Mr Burgers and partner Iberdeli BV sell Angus Pastoral branded beef into more than a dozen European countries, but admits to significant challenges under the current awkward EU quota access arrangements.
"The current quota management system for imported beef is extremely challenging, with the small time-frame for imports each quarter adding burdens all along the supply chain," he said.
"Fortunately, it works to Australia's favour, because Australian beef has such long shelf-life, out to five months, whereas chilled from Argentina, for example, is limited to three months or less."
"Under these current difficult access constraints, the chilled shelf life of Australian beef is a huge advantage. It's a considerable selling point – customers can buy their Christmas orders in early October," he said.
"But nobody knows at the start of the period how much quota there will be. It makes it impossible to plan effectively. There are times when the quota constraints mean we run out of imported Australian beef before the end of the quota period, which is not good for relationships with customers.
"We try to educate our customers that they have to order ahead, and we hold the product in store for them until they are ready to use it."
In three recent quota periods, The Beef Co has resorted to using air-freight to maintain supply continuity for customers – especially for bone-in cuts like Tomahawks where shelf life is a greater issue.
"This whole quota access issue is an enormous pain for Australian beef, and I don't understand why it has taken so long for the EU to reach an agreement with Australia – because the EU will get the better end of the deal," Mr Burgers said.
He also drew attention to the massive impact that China was having on traditional beef trade flows.
"China, like the EU, is an HGP-free market. Increasingly this year, they have outbid European buyers on imported beef. Relationships between buyer and seller are important, and many Australian supply chains which have targeted the EU market over many years remain committed, but for the opportunists, they are increasingly being lured away by bids for HGP-free beef from China."
To illustrate his point, Mr Burgers pointed to an adjacent trade stand at Anuga, representing a pork exporting company.
"There's nobody there, because they are already sold out of pork until March next year, because of the demand out of China following African Swine Fever," he said.