VICTORIAN meat processors will have to cut back production by a third and implement significant workplace safety measures after midnight Friday this week under new Stage Four COVID-19 restrictions announced by the Premier Daniel Andrews today.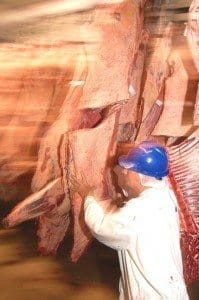 In an effort to slow the growth of community coronavirus transmission across the state, the Premier this afternoon outlined the businesses that will stay open, have to curtail operations or close, for the next six weeks.
Retail outlets except for those that are related to food and essential services will have to close, except for those equipped for take away and drive-through, but Mr Andrews said businesses able to remain open in a scaled-back form will include meatworks.
"We know that meatworks are a really significant challenge for us," he said.
"Whether it be lamb, poultry or beef, they will move to two thirds production, so they will reduce their production by one third, and those workplaces will look very different."
"There will be some of the most stringent safety protocols that have been ever put in place in any industrial setting.
"Those workers will be essentially dressed as if they were a health worker – gloves and gowns, masks and shields," Mr Andrews said.
"They will be working in one workplace only, they will be temperature checked, they will be tested.
"It is a proportionate response to the risk that that industry poses, but given the critical part in keeping Victorians fed and indeed, the nation fed, given that so much activity hubs out of Victoria, particularly given the drought and other challenges in other parts of the country, it is not possible to go below that two-thirds level," Mr Andrews said.
"Cutting production by a third we still believe that people will able to have access to the products that they need.
"Again I can't guarantee that every single product at exactly the volumes that you might like to buy will be there, but there will be enough for people to get what they need – not necessarily what they want, but what they need."
Today's result is considered the best possible outcome by some processors, who feared the government might enforce total closure of meat processing in the state, following the spiralling COVID relapse. More than 300 Victorian meatworkers have been sickened by COVID-19 since April. leading to a series of plant closures.
Meat processing is one of a number of sectors which will operate under restricted conditions under the Victorian Government's Stage Four Restrictions. Others include cold storage, distribution centres, warehousing and construction.
AMIC response
The Australian Meat Industry Council said it had been advised that the restrictions, which take effect at midnight on Friday, included meatworks moving to 33 percent reduction of peak workforce, and increase the utilisation of PPE, temperature testing and other COVID-safe work interventions, most of which were already in place in all Victorian processors prior to today's announcement.
"AMIC has been lobbying tirelessly on our member's behalf to ensure that we remain as an essential service in the supply of food," AMIC chief executive officer Patrick Hutchinson said.
"The impact of these restrictions in Victoria, AMIC believes will lead to a 30 percent reduction in supply chain throughput overall, based on discussions with our membership.
"It is our opinion that this will lead to a reduction in saleable meat in the Victorian community," he said.
Butchers to remain open
AMIC said it welcomed the Victorian Premier's announcement yesterday, which confirmed that independent retail butchers will remain open across greater Victoria, being recognised as an essential service. 45pc of independent local butchers and wholesalers supply essential services, including nursing homes, hospitals or hotels.
AMIC would like to reiterate to all Australians that our members are committed to producing high quality and safe products. According to the World Health Organisation, other international health and food safety authorities, as well as both Australian and New Zealand Governments, there is no evidence that consumers can become infected with COVID-19 through food or food packaging," it said.
VFF response
Victorian Farmers Federation president David Jochinke said VFF and agriculture recognised the gravity of being one of the few industries permitted to continue under Stage Four restrictions.
"We understand the trust that has been placed in our sector and that we are accountable for keeping Victorians fed during this state of disaster.
"We have been in constant talks with government to advocate for farmers and ensure that decision-makers understand the importance of keeping the food supply chain open and those discussions have ramped up over recent days," he said.
"The VFF developed a detailed COVID-19 action plan for our industry which resulted in $410 million in additional Australian and Victorian Government expenditure which has enabled the agriculture industry to continue to operate."
Mr Jochinke said farmers are becoming increasingly concerned about restrictions to their business and business interruption, labour shortages, freight and logistics problems along with issues around access to inputs.
"We know that continuity of business is emerging as a big concern for farmers which is why our discussions with government have focused on four key principles: bipartisan and comprehensive approach to border issues, smoother flow of goods and services intrastate and interstate, strategies to enable the movement of the agricultural workforce and regulatory change to ensure that agriculture and its supply chain is classified as a critical service," he said.