A Northern Territory Beefup forum will be held at the Victoria River Research Station over two days next week and registrations are closing soon.
Hosted by Meat and Livestock Australia (MLA), Territory beef producers and other key industry stakeholders will have the opportunity to hear about the latest in local and world-leading research and technologies for the beef industry.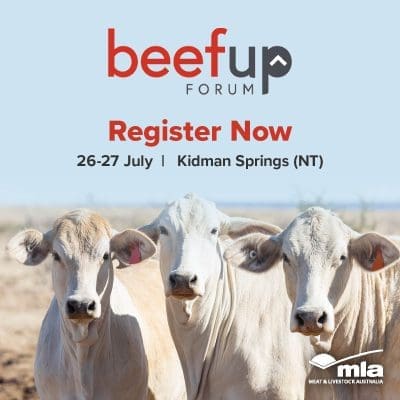 The Beefup forum is set to be a captivating program, relevant to the issues and ongoing industry requirements of the region.
The Forum to be held on on 26 – 27 July has a list of compelling speakers with topics to be covered including:
Cattle, Carbon, and Country
Live Export – Opportunities and Challenges
Calf Loss
Victoria River Research Station Key Research Project Updates
Alongside the formal discussions, attendees will have the opportunity to network with other producers and learn from exhibitors. On Tuesday there will be networking drinks, proudly sponsored by Australian Cattle Enterprises and a casual dinner from 6.30pm.
Registrations are now open for the Kidman Springs Beefup Forum, and you can register now by visiting https://bit.ly/3I07bDa
All enquiries and expressions of interest can be made by contact Beefup Coordinator Rosie Peace on beefup@associatedadvertising.com.au or by calling 08 8942 3388.