Getting discounted for their cattle could be the most valuable thing that could happen to producers, a leading livestock innovator told the opening day of the Livestock 2020 digital forum on Wednesday.
The difference in value between the tail and lead even in very small mobs is very rarely under $500 per head, Dr Rod Polkinghorne said.
The curent 'average-based pricing system' in Australia's cattle industry is "hugely misleading", he said, because it obscures the tremendous range of true value within every consignment of cattle.
Dr Polkinghorne was a founder of the Meat Standards Australia program and has been a long-time advocate of livestock and meat recording and applying science and innovation to achieve consumer-focused production and in turn higher value for all red meat supply chain participants.
He was one of four presenters to address the opening day of the digital Livestock 2020 forum on Wednesday, a three-day online event hosted by the Southern Australian Livestock Research Council with support from MLA, JBS and NAB, which yesterday attracted more than 100 participants.
Producers could not respond to what they were not told, Dr Polkinghorne told the forum.
"If we don't know what the animal was, then how do we pick a good one?" he asked.
Average-based pricing was "just hugely misleading", he said.
"We have looked at it by accident and deliberately over 20 years.
"The difference in mobs that look absolutely identical, little mobs of 10 and 20 head, the difference between the top and the bottom is very rarely under $500 a head, or $1 a kilogram.
"So if you don't know which is the worst one and which is the best one, you just have one price, it is pretty hard to make improvement."
'Feedforward' as important as feedback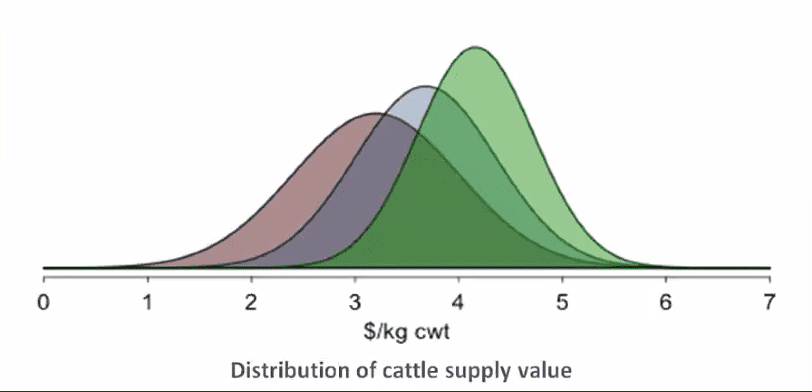 Referring to the above chart, Dr Polkinghorne  said if producers were paid the true value of their cattle they would "soon get rid of that tail on the left".
"And the best in your herd today would be something like the average in five or six years' time," he said.
"There's an enormous amount of money in that.
"It is money that nobody gets but it is there in the industry and it is in that $500 plus per head range, probably bigger.
"If we can actually harvest that we would `be enormously more efficient for much the same cost."
Dr Polkinghorne said part of the reason people were reluctant to put value based marketing systems into place was because they were scared stiff producers would get upset because they would get discounted.
"Well the most valuable thing that could happen to us as a producer is to be discounted, so you can say 'that is one I'll get rid of, I don't want it again, and how do I get the better ones'.
"As long as it is transparent and it is even it is a huge tool for change."
Dr Polkinghorne said the industry had to demonstrate a will to take a kick as well as well as a pat on the back.
"It is about getting premiums in the longer term," he said.
"Right now today, let's say we spent the same amount of money, we got a discount on half our cattle and a premium on the other half.  We should be grateful for that because in five years' time all our cattle will be the same as the premiums and that is what will drive us forward."
Silver tanks versus ruminant agriculture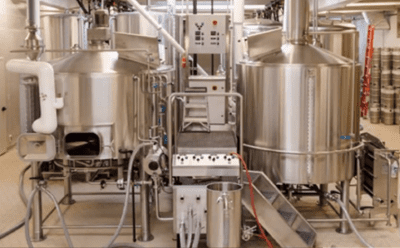 The conventional meat industry is being challenged by the idea that "a bunch of silver tanks with microbes is more efficient than livestock", an idea being driven by a few mega corporations aiming to disrupt agriculture and replace a few million ordinary farmers with the aim of controlling the whole food market.
At the same time scientists such as Alan Savory are arguing the world needs millions more animals to be able to avert climate change, and Dr Frank Mitloehner at the University of California Davis is demonstrating that cattle have an enormous role to play in reducing emissions and providing food from the 70pc of the world's agricultural land that is non arable and cannot grow human food.
"And we have these wonderful things called cows that will eat cellulose, wander around all by themselves and greatly improve the soil, producing a huge amount of high value nutrition."
The future is in the industry's hands but it has to build on its considerable strengths rather than just accepting the status quo.
Dr Polkinghorne said four things the industry should be focused on are:
Delivering consumer value
– UK retailer research shows if a consumer has a negative beef experience it will be six weeks before they come back.
– To produce an excellent product it has to consistent and able to be simply described to the consumer, not as a cut, but as a 'meal result': ie 'what meal would you like, what is the occasion, here is the answer'. "Not 'you should understand your cuts or you should know how to cook' or whatever".
– Australia has led a lot of the world in consumer focused trading, with MSA now at a point where we literally can describe hundreds of beef meals that come off one cow.
– However "we are only using probably 15pc of the actual science we have developed over 20-30 years" and "we need to do better than that".
Doubling production efficiency
– Production efficiency is the real threat to livestock from the "silver tank" food industry.
– "If they are going to promote something that comes out of a great tank as food it doesn't sound that appealing, so they have got to make an enemy of the natural alternative and beef is suddenly is going to ruin the environment, and all sorts of other things".
– Three important areas to consider in driving greater production efficiency are genetics and genomics, with Ireland's single genomic database for all beef and dairy cattle sold in the country the gold standard; grazing systems and value-based marketing.
Maximising the value of every part of the animal
– It was not realistic for Australia to compete on low cost commodity basis so our industry has to ensure it receiving the optimum value for every part of the carcase and its products are – While the industry has the data to do this it only uses the data partially.
Clear communication
– "You wouldn't think it would be too hard to sell the idea that a nice paddock of grass and a happy cow would look a bit better than a bunch of tanks owned by a couple of mega corporations"
– Dr Polkinghorne said the industry had to get better at communicating real facts simply, such as explaining that ruminant agriculture is makes extraordinarily positive environmental contribution.
"You wouldn't think it would be too hard to sell the idea that a nice paddock of grass and a happy cow would look a bit better than a bunch of tanks owned by a couple of mega corporations"
– "We're being painted into this corner because it happens to suit some agendas, a lot of really well-meaning people who are not aware of the facts are easily engaged, but we do need to get it out that we're upgrading a non-human food product into a really nutrient dense human food and we have got a critical role in global food security."
– The industry also needs a common language through the entire supply chain.
– "We all talk something different, something at the abattoir means something different than on farm, what the vets says is different to something, it is has got to stop, and it has got to be digital."