VETERAN NSW livestock and property agent Tony Fountain passed away in Bowral this week, after suffering a stroke on the weekend. He was 72.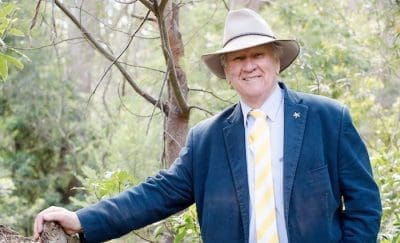 A larger-than-life character, Tony practised as an agent for 52 years, building his business success around close and enduring personal relationships with clients.
Partly due to being a private pilot, he quickly became well-known across a large expanse of eastern Australia, extending all the way from southern Victoria to Central Queensland. He had a particularly close connection with the Shorthorn and Santa Gertrudis breeds during his career.
He joined his father's agency business, Fountain & Co at Bowral in 1965, later aligning with the fledgling Ray White Group, when he spent 25 years working in rural property and cattle marketing.
He held various positions within the Ray White group, including national chief auctioneer, general manager, franchisee and as a Ray White NSW board member.
Tony recently calculated that since 1988, he had conducted more than 35,000 auctions, covering property and pedigreed and commercial livestock across Australia, Indonesia and New Zealand.
He also founded the Fountain Auction Academy, running auctioneering courses across Australia as well as New Zealand, PNG, Indonesia and the United States.
Tony's long and successful career speaks volumes about his committed work ethic, energy, love of people, instinctive marketing skills and pragmatic business sense. He had a deep affection for the rural communities he worked in and with, and his willingness to adopt new sales and marketing methods to stay ahead in an ever-shifting marketplace was well documented. His many loyal clients respected him for his honest, straight-talking approach.
"Tony had a life-long affection for the Shorthorn breed," said one of his long-standing clients and friends, Sue Job from Royalla Shorthorns near Yeovil.
"He was a man of incredible capacity and skill, with far-reaching interests," Ms Job said.
"He was a larger than life personality in so many ways. Personal connection with people was his calling-card in business, and socially. Personally, I think marketing was one of his enormous skills – he was a bloke who thought out of the box," she said.
Shorthorn Beef issued a brief statement saying Tony had been an extremely well-known and much loved supporter of the Shorthorn breed over more than five decades.
"He will be sadly missed by the entire Shorthorn family, both in Australia and internationally," the statement said. "He had many followers and supporters who have shared his journey through the publications of The Drovers Journal and the Dream Chasers."
Outside the livestock industry, Tony took a deep interest in politics, history, and sailing. He was an early national president of the Australian Democrats, back during the party's early days of Don Chipp.
In the 1970s he became arguably the leading pleasure horse auctioneer in Australia, conducting Stock Horse, Quarter Horse and Arabian auctions in most states of Australia.
The veteran estate agent began his Ray White career in the fledgling business in NSW in 1988, later moving to Rockhampton in 2000 to launch Ray White Rural Rockhampton and Ray White Stud Stock Qld franchises.
In 2003 he returned to Sydney to take over the Ray White NSW auction business. Retiring from that position in 2005, he opened a Ray White franchise in the NSW Southern Highlands at Bowral.
Since 2011 he has operated as an independent contractor within the Fountain & Co business.
Ray White co-chairman, Brian White described Tony as one of the Ray White Group 'legends.'
"He was relentless," Mr White said.
Ray White has now launched a Tony Fountain Auction Award to act as a fitting tribute as part of the company's annual NSW Awards program.
"It will be a fitting reminder to all our members of the crucial role Tony played in the continuing development of our national expansion," Mr White said.
Eleven years ago – well ahead of his time – Tony launched his own online blog, the Drover's Journal, using the internet to promote the interests of the Shorthorn and Santa Gertrudis breeds and his southern highlands property business.
Tony is survived by his long-term partner Sam Hudson and his step-daughter Emily, plus his daughter Kylie Fountain and husband Kevin Hall, son Jason Fountain and wife Paula and son Kurt Fountain and his wife Josie and grand-daughters Charlotte and Sybella.
Funeral arrangements will be added to this item when made available.