THE hundreds of people who overflowed from a Brisbane chapel on a sweltering Friday afternoon to pay their respects to Surat grazier Rob Ferris last month, many travelling for hours from western Queensland, many others again from suburbs nearby, was ample evidence he may have underestimated one thing.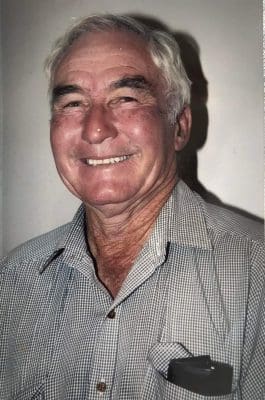 As Rob's oldest daughter Alisa told the gathering, Rob "did not think he was special in any way". His crowded farewell service told a different story.
Touching tributes from his four daughters and 10 grandchildren highlighted the many aspects of a life well-lived of an "uncomplicated, salt of the-earth grazier" who loved his land, his livestock, his friends, his community, his sport, but most of all, his family.
Rob didn't stride the national stage in agriculture, or break major records for wool prices or cattle sales, as far as I know.
But he epitomised the hard-working, community-enriching, country through-and-through family farmers who form the heart and soul of rural districts all over Australia.
Robert Cyril Ferris was born on August 27, 1945, in the Surat Cottage Hospital, the only son of Cyril and Jessie Ferris of Rockton, Surat, and younger brother of Carole.
A talented sportsman, as a young man Rob won a swag of championship trophies in tennis at boarding school at Brisbane Boys College and then at Gatton Agricultural College. He went on to become a highly respected golfer on the fairways of the Maranoa district, as a former Surat Golf Club champion, captain and president.
In 1967 Rob married Cathy Ringold and together they welcomed four daughters to Rockton – Alisa in 1968, Katrina in 1970, Christina in 1971 and Emma in 1976.
As a fourth-generation grazier on the Balonne River property, Rob took great pride in his Merino sheep and Hereford cattle, and had a great affinity for the land.
"He was of that great tradition of graziers who see themselves as stewards of the land. He was a part of it, and it him," Alisa told the packed service.
"To harm the land would have been to wound himself – he took as much care of that land as any grazier has ever cared for a farm."
Rob was one of those people who made everyone he met feel special.
At his core was decency and humility.
Eyes that sparkled with the joy of life, a smile that lit up even a bright summer's day, Rob radiated more natural warmth than a bush campfire.
Even years after our family was no longer in the Surat district, seeing Rob, no matter where it was, instantly gave you a warm feeling of "being home".
As a father of four daughters who all worked alongside him at Rockton in their teenage years, helping with jobs like mustering, dipping, branding, scrub pulling and drought feeding, Rob instilled in his girls a "reassuring belief they could do anything they wanted, the same as any man," Chrissy reflected. "This instilled a confidence and optimism in us that stood us in great stead as we launched into our adult lives."
Rob and Cath also fondly welcomed four sons-in-law to their family over the years, with Rob paying them the ultimate compliment with this characteristically straight-talking recent comment to Katrina: "I love the boys in my family, I haven't got a bad one amongst them – and you can get some bad ones!"
Rob and Cath have spent their most recent years enjoying time close to their children and their families in Brisbane, where Rob was also well known for making friends with strangers on sight.
One of his four sons-in-law recalled with a smile that it took a long time to go anywhere with Rob, even for just a short run to the shops, because he was always so interested in people and striking up conversations with anyone he met.
Youngest daughter Emma paid tribute to Rob "as a soft and gentle dad".
"He embraced his humanity, and the humanity of others with love, kindness and compassion."
From stories of barbecues with his cherished Surat sausages to seeking out meat pies at the Broncos with his grandsons and cheerily driving along a bus-only route to pick up his granddaughter from university, anecdotes of Rob's transition to city life generated as many laughs as tears at his recent farewell.
He never thought he was special.
But then, the most special people never do.
They're too busy seeing something special in everyone else.