Veteran Darling Downs livestock auctioneer and agent Ken Waters passed away on Sunday in Toowoomba, aged 93.
Beef Central wrote the item below about Ken back in 2012, when at age 83, he was still working regularly at Elders Toowoomba weekly sales. At that time he had worked in the stock agency industry continuously for 68 years, having joined the game in 1944.
Ken Waters funeral is being held in Toowoomba tomorrow (Friday 16 September) at St Anthony's Catholic Church at 11am.
When Ken Waters was selling, and in full flight,
A pen every minute would go
Under the hammer – the buyers knew well,
To bid up – the values to grow.
Darling Downs cattlemen trusted that Ken
Would get 'em the best price around –
Ken knew a quick sale was the best method yet,
And his voice had a real "money" sound.
Extract from poem written about Ken Waters by bush poet Denis Scanlon
HE JOINED the agency game in 1944, when World War II was still in full flight. He unofficially retired back in 1995, and called his last auction in 2000.
But Ken Waters reckons he has no plans to wind down just yet, and can still be found working at the Elders Prime Cattle sale in Toowoomba every Monday.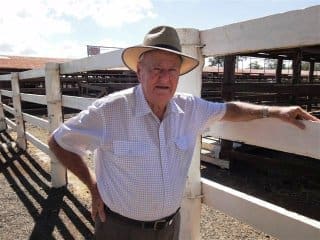 About to turn 83, Ken is one of the oldest active livestock agents working in the field, and says he still loves the rhythm of the auction and the thrill of the deal.
Ken's job these days involves working with buyers and sellers at the weekly Elders Prime sale in Toowoomba and then ringing the prices through at the end of the auction to those vendors who weren't present.
He's then at it again on Friday, booking cattle in for the following week's sale and keeping buyers up to date on the numbers available.
"I really just love the industry," Ken told Beef Central at the Harristown yards recently.
"It has been my life. Over the years I didn't have time to develop any hobbies, so this it," he said.
Ken can't even begin to estimate how many cattle he has sold either by auction or in the paddock over his 68 years in the livestock agency business.
Needless to say it's been a lot, and it has spanned the shift from the dominance of British breeds to the rising influence of European breeds, the sale of cast-for-age dairy cows as 'tinners' for the tinned beef market and the era of genuine vealers when farmers joined dairy cows to Hereford bulls in the 1960s and 70s to produce quality 250-350kg calves as part of their exit from the milking game.
It all began when as a fresh-faced 16-year-old Ken finished boarding school at Marist Brothers College in Ashgrove, Brisbane in 1944 and arrived home in Miles in western Queensland, where his parents owned a cordial factory.
The plan was simple, he said: "I wanted to be a stock agent."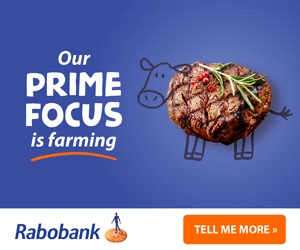 His two applications yielded one offer of three pounds a week from private agency firm Morgan and Kay, and another of one pound seven and six from Mactaggarts. "I took the bigger money," he quipped.
Over the next six years Ken quickly gained experience as a livestock salesman, earning his auctioneer's license in 1950.
At his first selling attempt in March 1950, Ken sold 2000 head drawn from the Miles and surrounding districts.
"I remember one line of 60 two-year-old quality Hereford steers making 30 pounds per head, on account of Harry Brown, Yandarlo, Drillham, which sold to Dave Cross from Texas.
"Dave was a big dealer in those days and he bought half the yarding, so it really put my nerves at rest when I knew he would be operating."
In 1954 Morgan and Kay was taken over by Goldsborough Mort, and Ken continued under the new ownership working a radius from Miles south to Condamine and north to Theodore.
Five years later he transferred to Toowoomba as the Goldsborough Mort auctioneer and stayed there until 1962. Then after several overtures from Leo Lynch, the manager of AML&F in Toowoomba which had a major slice of the Toowoomba business, he eventually accepted an offer to join that company.
Back in those days it was ring selling," Ken recalled. "We would offer up to 600 lots through the ring with a time limit of a minute a sale."
Up to 20 meat processors would operate around the ring with orders of up to 100 head each.
"As well there would be strong backing from Fred Keong of Oakey Abattoir who would have an order for 1200 head from the yarding."
In 1973, the ring selling system was replaced with the saleyard system we know today with cattle sold in pens along laneways and the introduction of liveweight selling.
Some of Ken's most vivid memories relate to the cattle slump on the 1970s.
"Before the slump I remember ringing one of my major clients, the late Roy Staines of Taroom, to tell him that his bullocks sold to average $325/head.
"However six months later, during the slump I had to make the same call to tell him that similar bullocks made $82/head.
"He accepted the money knowing and understood the repercussions of the slump."
Ken became part of the Elders team with the merger of AML&F and Elders and remained in Toowoomba as livestock manager.
In that time he has canvassed cattle from Goondiwindi, St George, Meandarra, Condamine, Miles, Wandoan and Taroom districts.
Some of the processing names he recalls working with include Alan Teys, Jack O'Hagan, Fred Keong, Jim Tancred, Graham Flynn, Frank McMahon, Gordon Menzies and Harry Simpson, while other buyers included Col Gneck, Mick Moore, Col McMahon, and Jeff Seccombe.
And during this time Ken together with wife Pat, reared nine children just down the road from the Harristown yards.
Some of his children are involved in rural industry today including Bernard who owns the meat cold storage facility Rogers Cold Storage, while Terry and his wife Claire own Dumbarton at Taroom.
Another son David is an agricultural engineer, while daughter Maureen is married to Brett Thompson, general manager strategic sourcing, processing & quality with Woolworths' Greenstock.
Pat says she only has one complaint from Ken's long career in the livestock agency game: "he was never off the phone".
Ken believes the secret to being a successful auctioneer comes down to this: "knowing your cattle and knowing values", advice he urges every young up and coming auctioneer to heed.