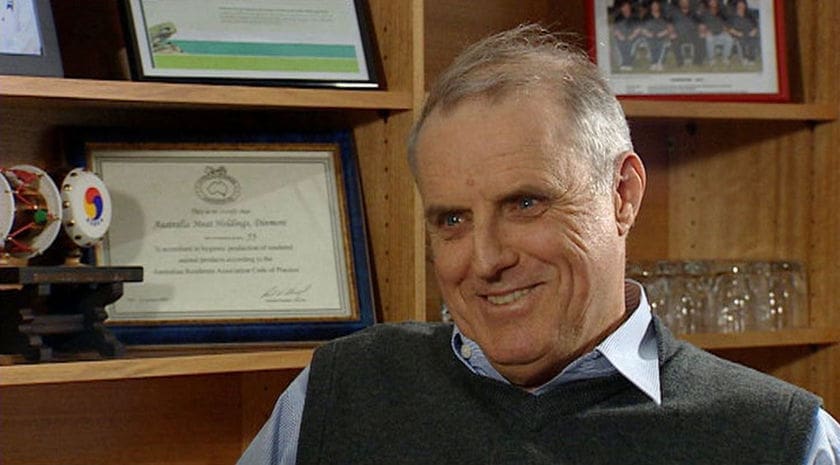 AN indelible 60-year contribution to the Australian meat and livestock industry ended on Thursday following the passing of John Keir, aged 76.
John spent a lifetime in the northern Australian livestock agency and later meat processing industry, rising through the ranks based on his astute understanding of cattle, production cycles, trading conditions, weather and seasonal patterns, international markets and the intricate web that holds all these factors together.
He grew up in the days prior to the wider adoption of liveweight scales, originally buying cattle on a dollars-per-head basis, before the advent of aids like liveweight trading and weight-and-grade processor price grids.
Only the buyers who were 'good judges' were able to thrive in the old dollars per head environment. John was an exceptionally good judge of both store and fat cattle, and the prevailing production and trading conditions in each region that underpinned supply and demand.
Regarded as somewhat dogmatic in some circles, his directness and demeanour could at times unsettle people. However John was driven by a deep sense of loyalty to his employer, and a determination to do his task to the best of his ability.
His application and work ethic was almost legendary.
Even later in his career when working in more senior positions, he could often be found in the rail yards at Dinmore meatworks in the middle of the night, supervising the unloading of a client's cattle. A Sunday morning 'outing' for John and wife Sandra was often a drive to Beef City feedlot outside Toowoomba, where he would walk the pens checking on the progress of client's cattle.
John's word on any cattle deal was always a cast-iron guarantee – but equally, business with any supplier whom he considered had reneged on an agreement was swiftly and permanently terminated.
In an earlier interview with Beef Central, John said he had felt privileged and lucky to have spent his whole working life with just three companies – all of which were great in their time – in Dalgety, Tancred and Australia Meat Holdings.
All three had produced many great meat and livestock industry people, many of whom he worked with, and was mentored by. In a list of industry people he most admired, he listed:
Legendary early northern cattle buyer, the late Jim Jewell
The late Graeme Flynn, who worked across both Tancreds and AMH, as general manager of livestock
Don Ferguson – the CEO he reported to most of the time at AMH while GM Livestock
The late Keith Lawson, who John regarded as a great strategic thinker – executive chairman of AMH, who also held various management positions in Elders
Peter White – originally meat sales and marketing manager, and later Joint CEO of AMH, with whom he worked closely.
Decisions changed industry direction
An intensely private person, John Keir was conservative in his use of words, but when he spoke, people listened. He deliberately stayed out of broader industry affairs in a public sense, but some of the decisions he made as head of the largest beef processing entity in the country had a profound effect on how cattle were transacted, and the performance and safety of that product in international markets.
Slaughter grids had been in place for some years before John became AMH's GM of livestock, but he introduced discipline to the grid system. He introduced a report where saleyards purchases were compared to the grid, and company buyers were given feedback on how they would have compared if sold over the grid.
John enjoyed doing an occasional sale himself, to see how close he could get to the grid result. He also introduced the discipline of only buying on the grid.
Over time, buying cattle on a simple liveweight basis (where the processor bore all of the risk on bruising, meat colour, fatness and other variables) largely transitioned to grid purchasing, based on each carcase's performance. This was a much fairer system for the buyer and the seller, and is almost universally used today in direct sales.
John championed a number of key, industry-changing livestock industry developments during his working life.
He was at the forefront of demanding discipline in the saleyard environment, leading to a headline-grabbing clash with stock agents in 1999, where AMH demanded a strengthened LPA (then in the form of Cattlecare) and compulsory RFID/NLIS in all sale cattle bought by the company. He also drove the development of the first agent/buyer agreement for the purchase of cattle at auction.
AMH's "No NVD/NLIS compliance, no buy" policy was viewed as confrontational and dictatorial in some producer circles at the time, but helped bring these industry programs to the highly credible level where they sit today.
Early life and career
John joined the national stock and station agency Dalgety as a cadet in December 1965, straight out of school in Townsville. He was originally posted as a stock salesman to Homebush yards in Sydney, and later to Newmarket, followed by Naracoorte and Keith in South Australia, St George, and finally Cloncurry in 1970, where he learned the ropes under then branch manager Tony Sutton.
In 1978, at the end of the Beef Slump, he left the agency profession to become a cattle buyer with Tancred Brothers, at that time a major force in Australian beef processing with plants from Melbourne to North Queensland. Noel Mobbs, then head of Tancreds' Australasian Grazing pastoral operations, head-hunted John into making the move into processor buying. He remained a close friend for more than 50 years.
John was initially posted to Tancreds' Beaudesert plant, before transferring 12 months later to its Mt Isa abattoir in Northwest Queensland as livestock manager. During that time he answered to industry legend Graeme Flynn, who became a major mentor.
As history records, Tancreds was one of five large Australian meat processing entities (the others being Metro Meats, Thomas Borthwick & Sons, Smorgon, and FJ Walker (Elders) which rationalised to became Australia Meat Holdings in 1987.
John transferred across to the merged AMH entity, initially still based in Mt Isa, supervising buyers in Northwest Queensland and the Northern Territory, until the end of 1987.
Through the 1980s he spent many summers in Victoria (northern plants in those days often shut for long periods over the wet season, because of road access conditions), sourcing bullocks to slaughter at Tancred's, and later AMH's Queensland plants.
When Graeme Flynn retired in 1988 John was transferred to AMH head office at Dinmore as assistant general manager of livestock, working under Ken McLachlan who succeeded Graeme Flynn in the GM livestock position. Following Ken's retirement at the end of 1989, John became general manager livestock of AMH.
This enormous task involved supervising the acquisition of slaughter stock for AMH Stuart (Townsville), Fitzroy River (Rockhampton), Dinmore, Beaudesert, Beef City (all Queensland), plus Aberdeen and Portland in Victoria. Later Guyra was added to this list.
The job also involved overseeing procurement of feeder cattle for AMH feedlots, at that time including Beef City, Mungindi, Beaudesert and Caroona. Prime City near Griffith came later, built in the mid-1990s.
John stayed in the role of general manager livestock until the end of July in 2001, before handing over to Ross Keane.
After Don Ferguson's retirement as AMH CEO, John was appointed joint chief executive officer of AMH, alongside Peter White. This was a highly unusual arrangement by beef industry standards, but with contrasting and complementary skills in livestock procurement (Keir) and meat sales and operations (White), the pair made the process work.
Both men stayed in that position until the sale of AMH to JBS in March 2007, when they both retired. Ian Mars came from JBS in Brazil to assume the role of chief executive of JBS.
John travelled to the US in 2002 with Don Ferguson and Peter White, delivering a presentation about the AMH business to a number of possible investors in the company. From this and subsequent discussions a deal for its refinancing was put together with new US investors that saw AMH become known as Swift Australia.
In March 2007, he again travelled to the US and presented AMH/Swift Australia's story as part of a wider Swift & Co presentation to a diverse group of interested investors. These meetings included Wesley and Joesley Batista from Brazil. In July 2007 the Batista family through JBS Friboi settled its acquisition of Swift &Co, and as a result the acquisition of Swift's assets in Australia.
During his 21-year term with Tancreds/AMH, there had been nine changes in major shareholders.
Industry identities reflect on John Keir's life and legacy
Former Red Meat Advisory Council chairman Ross Keane worked with John Keir for many years as a buyer, later becoming his successor as AMH's general manager of livestock when John became joint CEO.
"My immediate thoughts of John Keir is he had a tremendous work ethic – the likes of which I have never seen matched by anyone," Mr Keane said.
"He never seemed to relax, was always on the job, always trying to make the business better. We often felt he hated sleep, as early morning (well before daylight) phone calls were common. Those that decided to try to keep up with him were well-rewarded, and they in turn enjoyed the atmosphere of a committed team environment.
"He led from the front, and the rest of us tried to keep up."
As head of livestock marketing for AMP's Stanbroke Pastoral Co – then the largest beef producer in the world – Roger Halliwell had regular dealings with John Keir over 25 years.
"He was a very tough negotiator, but I don't think there was anybody in the industry who did not have an underlying respect for him," Mr Halliwell said.
"Some may have had bones to pick with him, but when it all boiled down, all had respect for his devotion to his task and his great industry knowledge. That over-rode anything else."
"He possessed a very thorough knowledge of the industry – ranging from the cattle themselves to the country they had come off, animal husbandry, prevailing weather conditions and all other variables that impact supply," Mr Halliwell said.
"On top of that he had great knowledge and understanding of rail and road transport systems and networks and the logistics side."
"I don't think I ever saw anybody who was as unbelievably dedicated to the job he was tasked with," Mr Halliwell said.
"He had intimate knowledge about the status of every animal he had bought, even if that meant checking a mob unloading at Dinmore at midnight. But at the same time he could come across as dogmatic, and that inevitably unsettled some people."
"In the buyer/seller relationship, he was never easy to negotiate with, as he was inevitably trying to get the best possible deal for AMH. But there was a high sense of honesty and integrity in any deal he committed to."
As national livestock manager for AMH's biggest competitor Teys Australia for many years, Geoff Teys remembers John Keir as a fierce but very capable competitor.
"He was right there at the forefront leading major change in the industry in areas like NVDs, NLIS and food safety during the residue contamination era," Mr Teys said.
"That is arguably his biggest legacy to the industry."
"There were certain advances in the industry that could only gain traction if processors led the way, and John was prepared to do it – all for the better."
"John wasn't everybody's cup of tea. He was dogmatic and could antagonise people, but he was absolutely committed to a cause once he had made his mind up on the right course of action on an issue.
"He was a real legend in the industry – the likes of which we won't see again."
AMIC remembers John Keir
The Australian Meat Industry Council's Patrick Hutchinson has also reflected on John Keir's passing.
"John was someone I personally admired and spent a great deal of time during my formative years with, in the ever-changing area of livestock procurement and management issues, as well as so much more," Mr Hutchinson said.
"He was dedicated to his company and industry, he was forthright, determined and left no one in any doubt on his views. John was a committed and focused individual at everything he did in the meat industry," he said.
"He knew his livestock and he knew how well they should be performing. Maximising return was important to John and that included the whole supply chain. The red meat industry has changed for the better under his leadership, and we are better for having him within our industry," Mr Hutchinson said.
"I personally will miss him and his counsel, his directness and his clear-eyed vision for our industry."
After retirement from AMH in 2007 Mr Keir took on occasional consultancy work in beef supply chain fields he was interested in, and continued to own and operate a grazing property near Dulacca in western Queensland until recent years.
He remained vitally interested in the industry's fortunes, and was a regular Beef Central reader up until the last few weeks.
"Life, so far, has been very kind to me," he said in a sign-off message only a few weeks ago.
John Keir passed away on Thursday, after a lengthy battle with cancer. He is survived by his wife Sandra, son Murray, a banker, and daughter Justine, a physiotherapist.
As per his wishes, a private family service will be held.