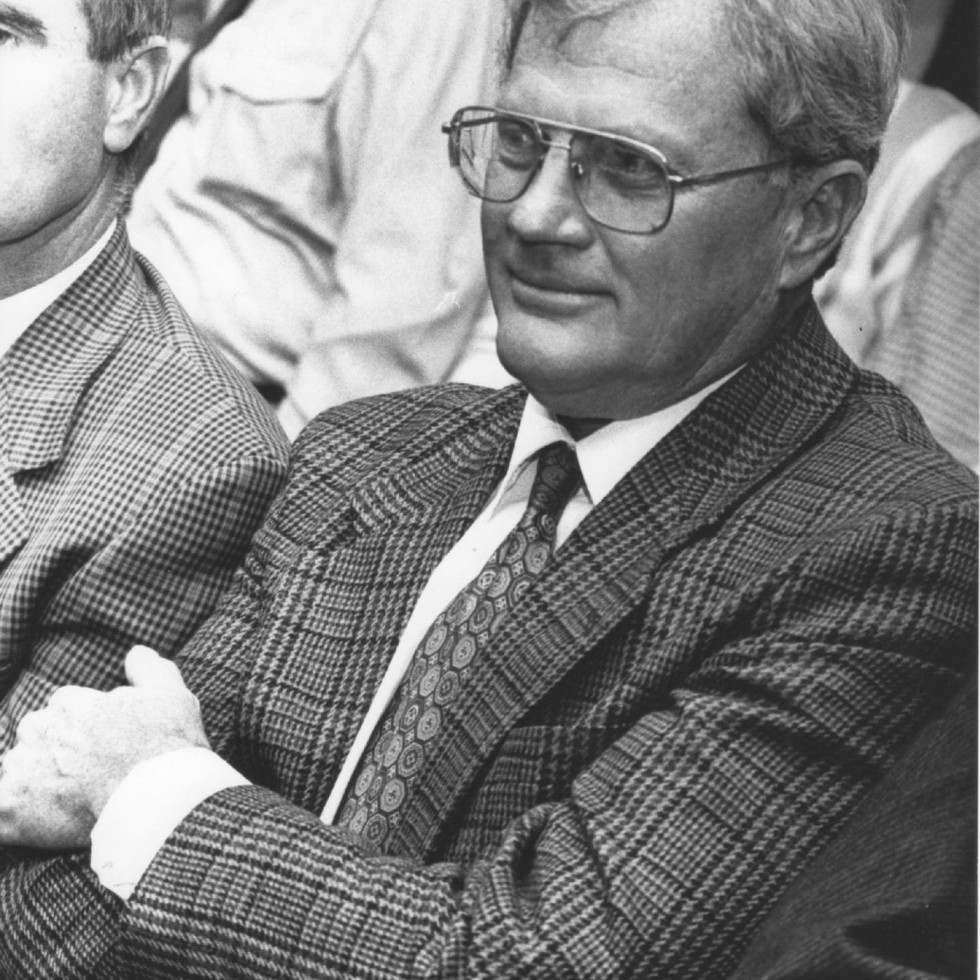 One of Northern Australia's best known and respected cattle industry identities, John Cox, passed away overnight after a long battle with cancer.
Mr Cox is best remembered for heading-up Stanbroke Pastoral Company – at the time the world's largest beef producer – for 14 years from 1989 to 2003.
He was largely responsible for the company's transition from traditional pastoral company cattle operations that had changed little over the preceding 30 years into a modern, vertically-integrated beef producer with a portfolio of blue-chip, large scale breeding and fattening properties spread across northern Australia.
John took over as managing director of the AMP-owned Stanbroke in 1989, succeeding the late Bill Norton.
On leaving Brisbane Boys College in 1958, he joined the Scottish Australian Company as a jackeroo on a company property near Coonamble, NSW.
He spent the next twelve years in a variety of roles with Scottish Australian, which gave him experience in a range of livestock and crop production fields. At the time of his departure he was overseer at Texas Station which was the headquarters for four company properties on the NSW/Queensland border.
John left to seek experience in the wet tropics of Northern Queensland, securing a position as assistant manager at The Orient Brahman stud near Ingham. Shortly afterwards he met Sue Hassall who was to become his wife, and moved on to join the operations of Gunn Rural Management, later to become GRM.
John's first assignment was management of Goodparla station in the Northern Territory. In 1973 he took up a project management role for a project which Gunn Rural Management was overseeing in Ghana, West Africa. After six years of considerable progress with the pioneering beef cattle project, and the arrival of two of their three sons, Richard and Andrew, John and Sue decided it was time to return to Australia where their youngest son, Anthony, was born.
He remained with what was then known as GRM International and was based in Brisbane where his principal role was in the supervision of eleven properties in the NT and Kimberly regions.
In 1985, Mount Isa Mines Holdings was looking for a general manager for its group of northern properties which it had acquired surrounding mining activities in Queensland, NT and Western Australia. John managed MIM's Colinta Holdings business for four years, running some 40,000 cattle and 80,000 sheep at that time.
In 1989 Stanbroke advertised for a managing director to replace the retiring Bill Norton. John was selected from an exceptionally strong list of candidates for the position, seen by most as the 'plum' job in cattle operations in Australia at the time.
The footprint he left on the Stanbroke company was both immediate and long-lasting – both in the way the business functioned, and from a financial perspective.
Records show that despite massive seasonal volatility, the business under AMP ownership recorded profits in all but two of its 40-years of operation. It turned a then record profit of $19.35 million (plus a $16m dividend to AMP) in 1990, when end-of-year cattle numbers reached 324,000 head. That continued through the 1990s, with annual report records showing 1999 producing an after tax profit of $21m, with 150,700 calves branded and total sales of 140,000 head.
His reputation as a shrewd business strategist was sealed during the most significant single land acquisition in Stanbroke's history when the opportunity arose to purchase Queensland and Northern Territory Pastoral Company properties from Bankers Trust in 1997. At the time, the sale price of about $100 million was easily the largest single rural property transaction in Australia's history.
The decision to bid for the QNTP assets through tender was however not taken lightly by the Stanbroke board, given the challenging issues facing the Australian beef industry at the time. These included the Asian currency crisis, which predominantly impacted on live cattle exports, together with food safety issues associated with beef in North America. Both had dampened demand for Australian product.
In addition to this, some board members held concerns that the acquisition of the QNTP properties could have a negative impact on the ability to efficiently manage operations across such a large cattle enterprise. However AMP demonstrated its confidence in the management of the company by backing the decision to proceed with a bid.
The QNTP properties included Barkly Downs and Lake Nash, highly regarded breeding properties on the Barkly Tablelands; Lyndhurst and Carpentaria Downs, similarly well-known in the lower Cape York Peninsula/Gulf country; and Kindon, a large-scale grain and cattle backgrounding property situated near Goondiwindi.
In total the aggregation covered 25,060 sq km and carried 118,000 cattle at time of purchase. There was also considerable potential to increase this carrying capacity further.
The QNTP offering generated a great deal of interest from prospective buyers and in fact it was something of a close call in the end as to who would be successful.
John Cox had gone to Sydney during the day to present Stanbroke's offer. At 10pm when he and the Bankers Trust representatives sealed the deal, offshore interests were in the air, flying into Australia with a view to presenting a competing offer the next morning.
Rumour had it that Bankers Trust offered to pay their airfares home.
The QNTP acquisition in 1997 saw Stanbroke grow from being a 'very significant' player in the Australian beef industry to becoming the largest individual cattle producer on earth. At its zenith, by 2001, not long before John's departure, the total herd size grew to 551,000 head, located on 27 properties covering 126,122 sq km.
During the latter stages of John's Stanbroke oversight, the company launched into a vertical integration process, including investments in large-scale lotfeeding operations, meat processing, retail and live export. While somewhat commonplace in today's context, these were adventurous steps for any beef cattle enterprise in that era.
Stanbroke under his guidance was an early innovator in animal welfare and natural resource management, challenges that would not begin to emerge more overtly for a decade or more. He displayed a rare combination of talent, both as an outstanding day-to-day operations manager, and equally as a deep strategic thinker looking at the company's and the industry's big picture.
John's connection with Stanbroke came to an end in late 2003, when the Nebo Group consortium headed by Peter Hughes and Peter Menegazzo bought Stanbroke from AMP, after the insurance giant decided to divest its interest in agriculture.
He continued over the next decade in an industry consultancy capacity, including putting together and managing cattle properties for overseas and Australian investors.
He sat for some years on the Cattle Council of Australia, which held a seat via the Northern Pastoral Group. He also chaired the North Australian Beef Research Council for five years, providing a vital advisory linkage between producers, the research community and MLA. Internationally, he was a member of the International Stockman's Education Foundation, attached to the International Livestock Congress.
Much respected by his staff, peers and colleagues across the industry, John had a quietly spoken but determined manner, and had considerable presence in front of a microphone. He was equally at home talking to a broken-down grader driver out on a station camp on the Barkly, as he was engaging with the AMP heavyweights around the corporate board table.
Funeral details are yet to be announced by the Cox family, but a service will be held in Brisbane next week. Details will be posted on Beef Central when they become available.