PIONEER northern cattle industry veterinarian John Armstrong passed away on the weekend, aged 85.
Over more than 50 years, John showed a deep love of the northern cattle industry, particularly the iconic 'big runs' and the people who operated them.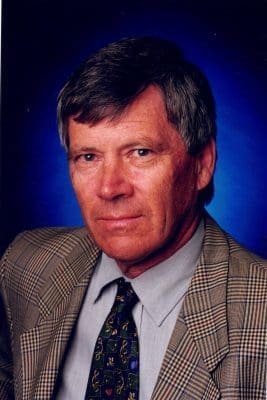 His influence and contribution extended well beyond animal health issues and other veterinary matters to a much broader palate covering genetics, workplace health and safety, new technologies and general productivity improvement.
Shortly after graduating in veterinary science at the University of Queensland, after completing boarding school in Melbourne (Melbourne U did not offer a vet science degree at the time), John joined King Ranch Australia in 1967. King Ranch ran a network of properties across Queensland and the Northern Territory at the time.
His primary role with King Ranch (and later, with another larger norther pastoral company, Queensland Stations) was in the companies' Bovine Tuberculosis eradication programs, prior to the commencement of National TB Eradication campaign which began in 1970 and ran until 1997.
Testing programs were implemented across the King Ranch portfolio including the notable Brunette Downs and Tully River Stations.
Blood Screening tests carried out by a legion of (mostly young) vets across northern Australian involved weeks living rough in swags in remote stock camps, and long distances between mobs which John traversed in his trusty Cessna 182. The work was relentless, and carried out on a military exercise scale.
Australia's National TB Eradication program ranks among the world's great animal disease control projects. It fundamentally changed the northern cattle industry due to the level of herd control achieved by the management and infrastructure development that was necessitated by the TB control programs, and assured market access to key international markets at the time like the US.
The subsequent economic bounty enjoyed by the northern industry is measured in billions of dollars and continues to this day.
John's King Ranch program was recognised as the gold standard for TB testing, and as such was expanded on a contract basis to Queensland Stations, which saw John responsible for the TB testing programs across its vast gulf stations and North Queensland properties including Rutland Plains, Van Rook, Miranda Downs and Strathmore, as well as North Queensland properties Bluff Downs and Dotswood.
Interspersed with this work, John played integral roles in development of husbandry programs in King Ranch's Philippine cattle production program, based on live export Santa heifers out of Australia, as well as ship-board veterinary activities on sheep ships to Iran in the early 1970s.
In 1979 he joined Stanbroke Pastoral Co as senior veterinary officer, taking over from the late Bob Chester. Stanbroke was then the largest beef producer in the world. John was charged, among other things, with eradication of TB from the Stanbroke herds.
This was not an easy ask given the scale of the Stanbroke portfolio as a whole, not to mention the geographic challenges of the some of the properties. He had to contend not only with tough unforgiving environments, but also resistance from tough, unforgiving station managers who were placed under significant stress resulting from the immense workloads required under BTEC.
TB eradication was the agent that effectively tamed the north via effective boundary and internal fencing to segregate cattle. This 'apparently' simple control development was the catalyst which allowed substantial herd improvement via fertility, genetic and productivity advances.
These measures were integral in the growth of Stanbroke to its pre 'break-up' (2003) scale of 530,000 cattle run across 27 properties.
Over time as the industry won the battle over TB, John's responsibilities and influence within the Stanbroke ranks widened beyond animal health.
He was heavily involved in the company's own live export programs into Indonesia with Suntory; early electronic herd recording trials in extensive herds; genetic and genomic testing with geneticist Dr Jay Hetzel; and overall herd performance.
His fingerprints were all over the genetic development of Stanbroke's massive northern breeding herds, and perhaps more surprisingly, its stock horse breeding programs. At its peak, Stanbroke ran more than 6000 horses for stock work, using a disciplined breeding program. Every horse, whether it was a brood mare or destined for the stock camp, was assessed for soundness, temperament and safety, before being handed over.
This later extended into a broader focus on workplace health and safety, that John drove through the company.  He often travelled to distant company locations talking with teams of jackaroos and jillaroos, head stockmen and managers training on WH&S matters.
John maintained a lifelong passion for horses, which extended into his retirement when he bred Thoroughbreds on his property near Bowenville on Queensland's Darling Downs. One of his products, a gelding called Taxing, was a metropolitan winner in Brisbane. He was also an active race horse syndicator amongst his mates, whose most successful horse Zabuan ran in the 1990 Melbourne Cup.
Fellow Stanbroke employee Roger Halliwell remembers John as a highly intelligent individual who maintained a practical down-to-earth approach, sizing-up the challenges and solutions of northern beef operations particularly well.
"Few, if any Stanbroke staff spent as much time in the company aircraft away on the properties as John. He knew the business inside out, for 20-odd years," he said.
Mr Halliwell said there was a cohort of younger Australian veterinarians who had worked under, and been mentored by John, as Stanbroke's senior vet. Many of these, including people like Ian Braithwaite, Sandy Jephcott and Lee Fitzpatrick, went on to become prominent industry identities in their own right.
John continued his close involvement with the northern cattle industry after his retirement from Stanbroke in 1999, with consultancy roles for many of the big industry players in their breeding programs.
Despite being kept  busy developing and operating his own cattle and irrigated farming operation on the Darling Downs, he was always ready to 'down tools' for the greater industry good as he did by playing key roles in the control of the equine influenza outbreak, as well as a localised TB breakdown on his old stomping-ground of Van Rook, and again at Van Rook with a Johnes Disease outbreak.
He later played advisory roles in the Northern Pastoral Group and was involved more broadly in contributing to industry affairs. He maintained a broad contact base with fellow cattle vets and animal scientists overseas, especially in the United States, tapping into their knowledge base as local issues arose.
John was overwhelmingly a people person who felt a special responsibility to younger people in the industry and was active in implementation of training and development programs for all levels of industry with a particular focus on opening pathways for women in the industry.
He believed in, and strived for inclusiveness long before it was fashionable.
John had only retired to Brisbane in recent years where he kept himself busy on the golf course and spending time with family and old friends.
He is survived by his wife Jill, daughters Liza and Rebecca and son Adam.
A funeral service will be held at 10.30am on 23 June at St Andrew's Anglican Church, 89 Fairly Street, Indooroopilly, Brisbane, and afterwards the Indooroopilly Golf Club, Meiers Road.